— -- High turnout among Latino voters -- including a record in Florida -- is being viewed as a positive sign for the Clinton camp, some experts say.
Michael McDonald, a political science professor at the University of Florida and senior fellow at the Brookings Institution, said early voting turnout by Hispanics in Florida bodes well for the Clinton campaign, but cautioned the Sunshine State is still very much a tossup.
Almost 1 million Hispanics have voted early this election, nearly double early vote numbers from 2012, McDonald said, citing early voting figures obtained by University of Florida Political Science Professor Dr. Daniel Smith.
"Those are probably people who are in Clinton's camp," McDonald said. "We know that there's a large Puerto Rican community that's blossomed in Central Florida. We can see that in the data. And even Cuban Americans in the polling do not seem to favor Trump either. So those Hispanic numbers are a good sign for the Clinton campaign."
More broadly, large early turnout by Hispanics helps explain why a traditionally-Republican state like Arizona is being contested as a battleground, McDonald said.
"If we're seeing these numbers in Florida," he said, "it's likely we're seeing them elsewhere in the country."
Florida is one of the closest toss ups, according to the most recent data. The latest Quinnipiac University poll, which was released this morning, has Clinton with 46 percent of the vote among likely voters and Trump with 45 percent. Libertarian candidate Gary Johnson had 2 percent and Green Party candidate Jill Stein had 1 percent, the survey said.
The top of that poll has remained unchanged since the same time last week.
Clinton campaign manager Robby Mook is counting on the uptick in early voting as an indication of a strong base for the Democratic nominee heading into tomorrow.
"What I am paying very close attention to are those early voting numbers," Mook said on "Good Morning America." "We saw just eye popping turnout in Florida over the last two days, particularly in our strongholds of southern Florida, North Carolina and elsewhere so we're very encouraged, very positive."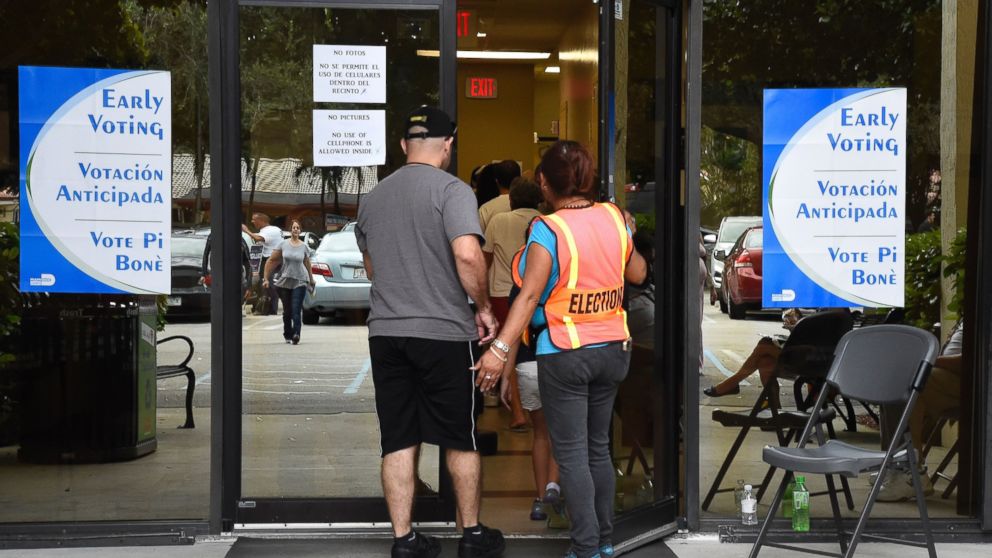 "I think if Secretary Clinton does win this election, and we expect her to do so, it will in part be because of enormous turnout in the Latino community but also the Asian American community. There's really a Clinton coalition that has formed of women, Latinos, Asian Americans and we're really seeing turnout at very record levels," he said.
Early voting by African-Americans in Florida has also seen an uptick compared to 2012, even though it got off to a slower start. While North Carolina has seen a relatively lower turnout by African-Americans compared to the 2012 early vote, McDonald noted that has not been the case in Florida and other states that publish early vote totals by race.
"Whatever happened in North Carolina with African Americans we're not seeing it in Florida, we're not seeing it happen in Georgia, we're not seeing it happen in Louisiana," he said. "So whatever happened there it seems to be North Carolina-specific."
Trump said in Sarasota Monday morning that African-Americans voting early in Florida are voting for him. He also touted his primary finish in the state during a rally in Tampa Saturday.