House Republicans narrowly passed the Parents Bill of Rights Act on Friday, sending the proposal along to the Senate, where it is highly unlikely to receive a vote.
H.R. 5 passed in a 213-208 vote Friday morning, with five Republicans -- Reps. Andy Biggs, Ken Buck, Matt Gaetz, Mike Lawler and Matt Rosendale -- joining all Democrats to vote against the measure. Rep. Julia Letlow, R-La., the bill's sponsor, shook hands and fist bumped rejoicing members upon the bill's passage.
"Today was a win for every mother or father, but most importantly for every student in America," Speaker Kevin McCarthy said at a press conference following the vote, noting thousands of parents supported the bill.
Backers of the bill say H.R. 5 has five core principles: Parents have the right to know what their children are being taught, to be heard, to see the school budget and spending, to protect their children's privacy and to keep their children safe.
"It is not an attempt to have Congress dictate their [schools] curriculum, or determine the books in the library," Letlow explained. "Instead, this bill aims to bring more transparency and accountability to education, allowing parents to be informed and when they have questions and concerns to lawfully bring to their local school board," she said.
The bill would require schools to publish educational materials such as catalogs of books kept in libraries and course curricula. Other provisions establish parental rights to request meeting with educators, address school board meetings and review district budgets.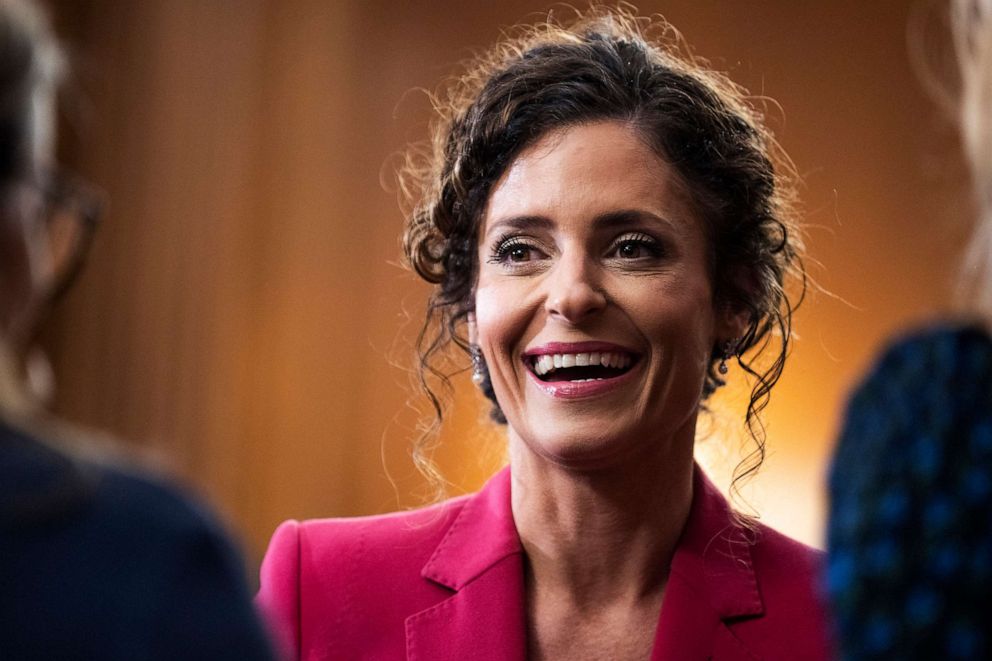 Letlow, a former educator, had over 70 co-sponsors originally, including McCarthy.
"I couldn't imagine someone would oppose a Parents Bill of Rights," McCarthy, who called education the great equalizer, told ABC News.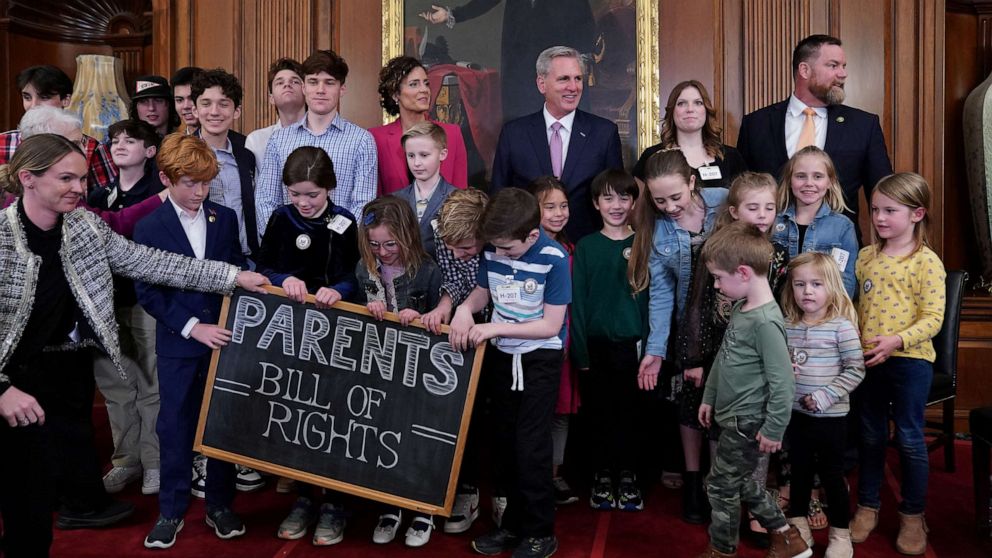 House Education and the Workforce Committee Chairwoman Virginia Foxx, R-N.C., has been a vocal advocate for the issue since gaveling in her first hearing in February. More recently, Foxx, who said the proposal "will help parents steer the educations of their children back onto the correct path where they can learn the skills they need for a lifetime of success," said she feels good about the bill despite Democrats' stated opposition.
"It had a good response in the Rules Committee [despite] the Democrats trying to demonize the bill saying it's 'banning books,'" Foxx told ABC News. "It has nothing to do with that, so, no, I feel really good about it," she said.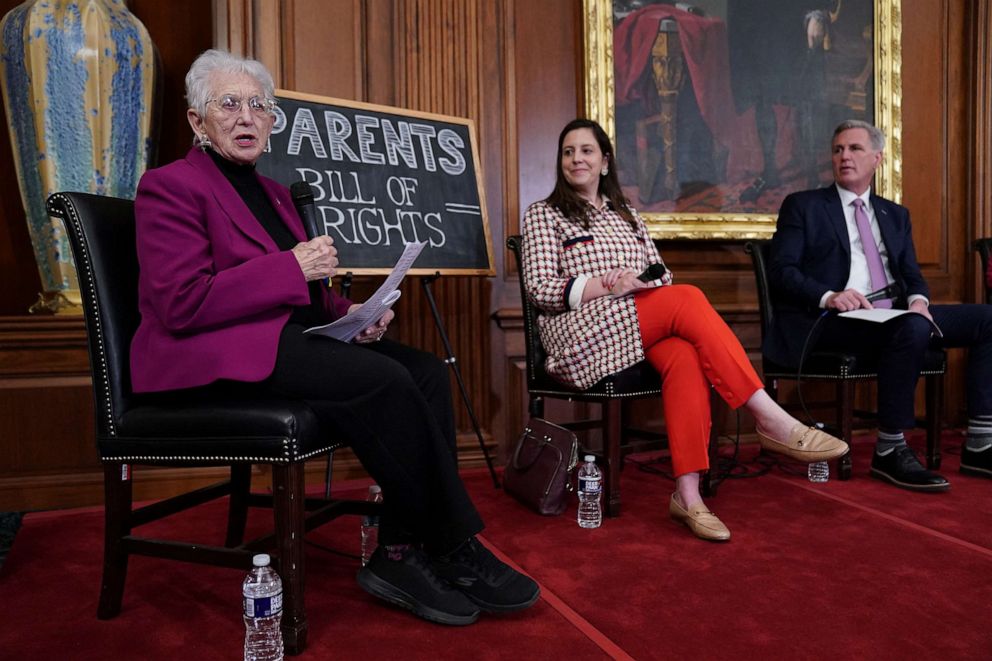 Parents who support the bill suggest the legislation was needed in response to widespread virtual instruction amid pandemic-fueled school closures.
"Parents have the fundamental right to direct the upbringing of their children. This includes their education, medical care, morality and religion," Tiffany Justice, co-founder of Moms for Liberty, said at a House subcommittee hearing. "I want to be clear: These are inherent natural rights. Parental rights do not stop at the classroom door."
But the bill was criticized by Democratic leadership who argued the changes would empower a far-right movement that seeks to ban books.
"Their educational agenda is pretty simple: They want to ban books, they want to bully the LGBTQ+ community [and] they want to bring guns into classrooms, kindergarten and above," House Minority Leader Hakeem Jeffries said after the bill passed.
Senate Majority Leader Chuck Schumer pledged not to bring it up for a vote in the upper chamber.
"The House Republicans' school control bill is Orwellian to the core," Schumer said. "It will not see the light of day here in the Senate."
Democratic Caucus Chairman Pete Aguilar, D-Calif., said he respects parents' voices but worries Republicans' H.R. 5 has become a "highly partisan" issue.
"They [Republicans] want to bring, you know, partisan rhetoric and fighting into the classroom," Aguilar said. "We don't think that's right. We think that they continue to put politics over parents and that that is the focus of this bill and this piece of legislation."
National Parents Union President Keri Rodrigues led a coalition of nearly 50 parents to Washington this week. Her organization traversed the halls of Congress, knocking on members' doors to make their voices heard in opposition to the bill.
"It [H.R. 5] has made a mockery out of what we are trying to do for our children," Rodrigues said. "None of our priorities have been reflected in H.R. 5 because they're attempting to do this to us without us."
Rodrigues' top educational priorities include making sure children are safe at school amid the threats of gun violence, bullying and mental health struggles.
"H.R. 5 is a bill that has been created by politicians in Washington instead of parents that it says they're here to protect," Rodrigues said, donning the group's signature "Nothing About Us Without Us" shirts. "So, again, you're trying to do something to us without our input. We're saying, 'No, thanks.'"
Meanwhile, Rep. Suzanne Bonamici, D-Ore., has also proposed a countermeasure to the GOP bill. Her Bill of Rights for Students and Parents has several sponsors from leading members of the House's education committee and dozens of advocacy groups.
Neither bill seems to have drawn interest from the Senate, and Republicans on the Health, Education, Labor and Pensions (HELP) committee told ABC News the Republican-backed bill's not on the agenda.
Gabe Ferris contributed to this report.