Iowa Governor Falls Ill, Transported by Ambulance to Hospital
The 68-year-old Iowa governor transported to Methodist Hospital
January 26, 2015, 8:35 PM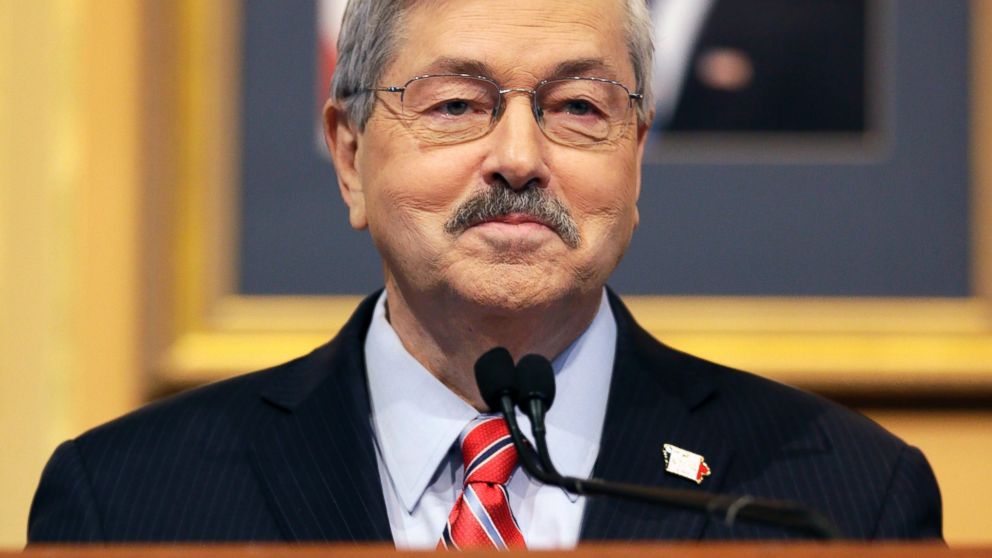 — -- Iowa Gov. Terry Branstad "fell ill" at an event today, according to his office, requiring an ambulance to take him to a Des Moines hospital.
In a statement Monday evening, Dr. Mark Purtle, chief medical officer of UnityPoint Health-Des Moines, who treated Branstad said, "After personally reviewing the governor's medical records, with his permission, and visiting with him and his attending physicians, we believe the governor has a viral illness with dehydration."
"We also conducted a series of tests in which we ruled out other contributing factors, including cardiac issues," Purtle said. "The governor is still receiving fluids and is resting comfortably."
An earlier statement from the governor's office Monday afternoon said he was "currently alert and resting comfortably" at Iowa Methodist Medical Center in downtown Des Moines.
"He is being observed and hydrated after having flu-like symptoms," Branstad's spokesman Jimmy Centers said in the statement. "The governor did have a flu shot this season. The governor has been admitted and will be kept overnight out of an abundance of caution."
Branstad, the nation's longest-serving governor, was transported to the hospital at about 12 p.m. central time. His office said while in the ambulance he was "alert, conscious, and accurately answering questions during transport" and he is being kept overnight for "observation, rest and hydration."
"During the transport, paramedics took the governor's vitals and initial tests indicate that the spell was caused by a seasonal illness," the statement said. "The governor had been suffering from the effects of a cold."
In a statement right after the incident, Branstad's office described the 68-year-old governor as "alert and conscious" as he was transported by ambulance to the hospital.
Branstad spent a long day Saturday at the Iowa Freedom Summit talking to potential presidential candidates, doing interviews, and addressing the large group of activists gathered.
Des Moines Register reporter Jason Noble reported in a tweet Branstad was at one point lying on the ground "in distress."
An aide to the governor told ABC News that Branstad, 68, had been battling the cold and flu in recent days. But during an appearance at his weekly press conference on Monday morning in Des Moines, Branstad's voice was hoarse, but he otherwise seemed fine.
Branstad has a history of heart illness. He had a heart attack in 2000 and 10 years later had a procedure to open a blocked artery. But aides said they did not believe today's incident was anything more than the cold or flu, but would know more after Branstad was admitted to the hospital.
He was holding an event at DuPont Pioneer, an agriculture company.