Following President-elect Joe Biden's projected win in Georgia, Democrats are hoping voters will be inspired to turn out for the Democratic challengers in the state's two Senate runoff elections.
"What we're feeling for the first time in four years is hope -- is the recognition that with (President Donald) Trump departing, we have the opportunity to define the next chapter in American history, to lead out of this crisis, but only by winning the Senate seats," Georgia Democratic senatorial candidate Jon Ossoff told ABC's "This Week" Co-anchor Martha Raddatz.
Ossoff faces Sen. David Perdue, and Democrat Raphael Warnock is up against Sen. Kelly Loeffler, in races that will determine the balance of power in the Senate.
Biden is the first Democratic presidential candidate to win the state in 28 years. While runoffs in the Peach State have historically favored Republicans, Democrats are hoping Biden's win could help inspire Democratic voters and give Ossoff and Warnock the momentum they need to win the race on Jan. 5.
"There's massive enthusiasm for Joe Biden here," Ossoff told Raddatz on Sunday, adding that the excitement he has witnessed at his campaign events is "off the charts."
In a tight race during the general election, Perdue won roughly 49.7% of the vote in Georgia, while Perdue won approximately 48% of the vote -- both falling short of the 50% margin needed to win the seat.
Despite receiving nearly 100,000 fewer votes than Biden and ending behind Perdue by 86,528 votes, Ossoff said that he's not worried about galvanizing voters in the runoffs, noting Democrats' unwavering support from Black voters in Georgia, who are an influential sector of the Biden coalition and make up a third of the electorate in the state.
"This was the closest Senate race in the country," Ossoff said. "That really reflects the power of Black turnout here and the determination of Black voters in Georgia to make a change in this country," he added.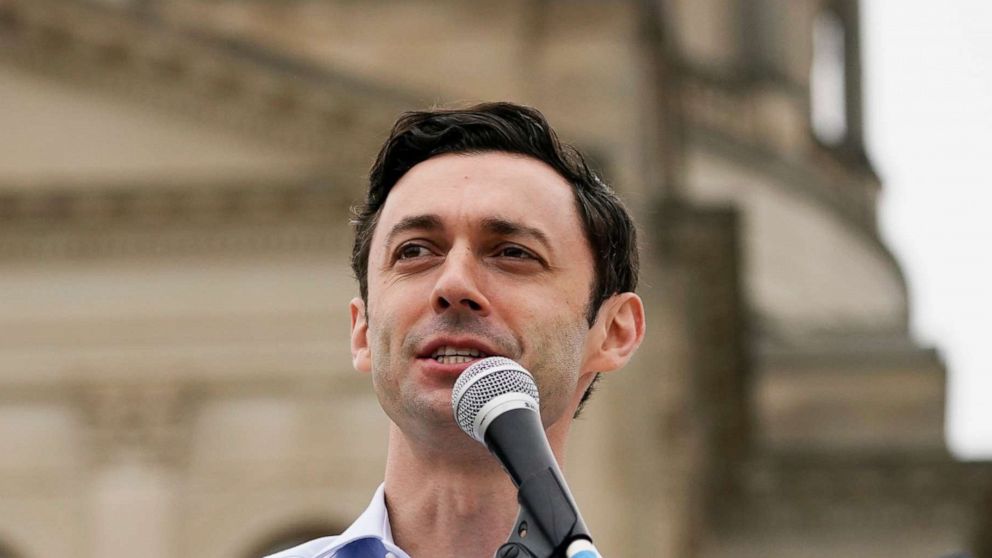 Tharon Johnson, senior adviser for Biden for President Georgia, told reporters on a press call Friday that the state campaign focused heavily on mobilizing and engaging Black voters in metro-Atlanta areas and in rural South Georgia. He also said the campaign made inroads with disaffected suburban voters.
Johnson told reporters that they can expect to see the same level of outreach from Democrats for the Senate runoffs.
The runoffs come as Georgia undergoes a risk-limiting audit, an election integrity process implemented by the state's Republican Secretary of State Brad Raffensperger, which requires a hand recount of ballots accepted for the Nov. 3 presidential election.
Trump, Loeffler, and Perdue have all criticized the process of the audit and claim that fraud has taken place without providing any specific evidence to support their allegations.
In a tweet Sunday, Trump called the state's hand recount a scam that "means nothing" because signature-matching is not being done again as part of the audit.
"Must see fraudulent signatures, which is prohibited by stupidly signed & unconstitutional consent decree," Trump wrote.
When asked about the president's remarks, Ossoff told Raddatz that Trump is in "denial" of the fact that he lost the election.
Officials from the Georgia Secretary of State's offices have consistently maintained that no widespread fraud has been detected in the voting process.
"Trump is leaving, whether he knows it or not. And the question now is how we're going to contain this pandemic, which is raging out of control and spreading at an accelerating rate," Ossoff said.
"That's why it's so important to win these two Senate races so that the incoming presidential administration can govern, can lead and can enact the solutions necessary to contain this virus and invest in economic recovery," he added.
Since the beginning of the runoffs, Loeffler and Perdue have been running a joint campaign that they are calling, "save our majority" and drawing some high-profile Republicans to stump for them, including Florida Sens. Marco Rubio and Rick Scott.
The Republican National Committee is also rallying behind the two incumbent Republican senators, funding over 600 staffers in the state with an investment of at least $20 million ahead January, The Associated Press reported.
They describe an imperative to stop radical, socialist policies from the Democrats, name dropping Rep. Alexandria Ocasio-Cortez, Senate Minority Leader Chuck Schumer and House Speaker Nancy Pelosi more than their Democratic challengers.
During a campaign event with Scott on Friday, Perdue underscored the unity between his campaign and Loeffler's.
"I win, she wins. She wins, I win. It's as simple as this: Kelly and I are asking you to stand with us, stand in the breach against socialism, stand in the breach against Chuck Schumer," Perdue said.
Vice President Mike Pence is scheduled to visit on their behalf this coming week.