No, Michelle Obama's Mom Will Not Receive a Pension for Living in the White House
The fake news story has been all over Facebook recently.
January 13, 2017, 11:32 AM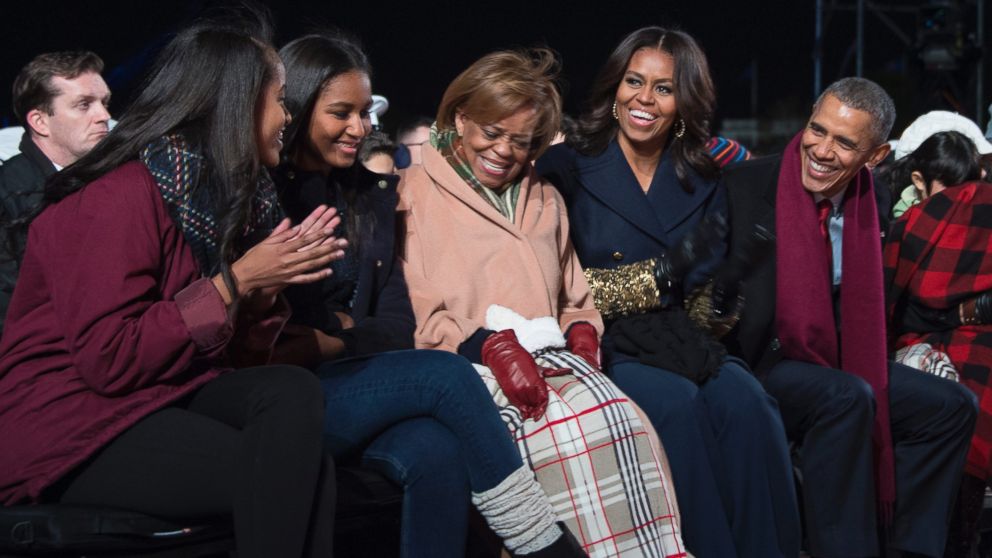 — -- It's completely false -- but that hasn't stopped this fake news story from going viral on social media over the last few weeks. The story states that Michelle Obama's mom will receive a government pension after living in the White House.
It's not true.
Several recent articles falsely claimed that Marian Robinson, the mother of Michelle Obama, who indeed has been living in the White House over the last eight years, is eligible to receive a $160,000 pension from the federal government. The articles, with headlines like "WE WILL RIOT! Michelle Obama's Mom Will Receive $160k Every Year Out Of Taxpayers' Pockets!" and "Michelle's Mom Will Get $160,000 For Being a 'Grandma,'" claim that she "got to live better than a royalty [sic] in the White House."
The articles were posted on ENHLive.com, U.S. Postman, Snoopack, GOP The Daily Dose and USA Snich, as well as several other questionable news websites. ABC News did not immediately receive a response to a request for comment from any of the organizations, though no contact information was available for USA Snich. So, ABC News dug into the story -- and here's what we learned:
What We Know About Michelle Obama's Mom, Marian Robinson
Marian Robinson did move into the White House in 2009 after living in Michelle's childhood home in Chicago for decades.
"Mrs. Robinson will be coming with the family to help the girls get acclimated, and she will determine in the coming months whether or not she wants to stay in D.C. permanently," Katie McCormick Lelyveld, a spokeswoman for the first lady told ABC News at the time. She decided to stay with the Obamas.
She remained a private figure for much of the Obama presidency, but did appear with the family at some events, at the National Christmas Tree ceremony in 2010, a basketball game in 2013 and on a trip to China in 2014.
Why This Story Is False
The fake news story claims: "First Grandma Marian Robinson, 79, will get a big fat check for a lifetime worth 160K government pension when she takes off the White House next year, as concluded by congressional budget statements."
The articles say she will get the pension for -- in the words of an invented report -- "services rendered as full-time/in-home caregiver." That quote doesn't come from any actual source -- a quick Google search of the phrase shows it appears only in this article and ones like it.
Mrs. Robinson is not a federal employee and does not and will not receive any kind of pension for living in the White House. The Former Presidents Act allows for President Obama -- and every former president -- to be paid an annual salary. However, that does not include any members of the former president's family. It's also not clear where the $160,000 figure comes from.
Other websites have posted similar stories with similar headlines since mid-October, when it appears to have surfaced for the first time on a now-defunct website called The Boston Tribune.
Signs to Watch For
Comments on the bottom of a similar story express outrage. "Someone needs to stop this from happening," one comment reads. "This is worse than ridiculous," another says.
But these articles include several telltale signs of fake news stories. Here's how you can make sure you aren't duped by future stories like this one:
The articles are also riddled with grammatical mistakes. An apostrophe in the first sentence is used to make "Obama" plural. And awkward wording and fractured sentence structures are widespread in each of the stories. Media investigations into the origins of fake news stories have found that many of them are written and published from outside the United States.
The information in the articles is not found in any major media source, while the text of the fake news story appears verbatim on several different websites.
The U.S. Postman story makes its bias clear, calling Obama "the worst President of all time" in the middle of its story.
One headline actually attempts to incite a riot. It's worth noting that ENHLive does include a disclaimer on a separate page, saying its articles are "published in good faith" but the organization "does not make any warranties about the completeness, reliability and accuracy of this information."
ABC News has launched "The Real News About Fake News" powered by Facebook data in which users report questionable stories and misinformation circulating on the platform. The stories will undergo rigorous reporting to determine if the claims made are false, exaggerated or out of context. Stories that editorial partners have also debunked will then appear flagged in your News Feed.