Trump, DeSantis and more address Moms for Liberty conference
The group, started in 2021, has already become influential on the right.
PHILADELPHIA -- They call themselves "joyful warriors" -- but this controversial group of conservative moms are mad and getting the attention of some of the Republican Party's most prominent politicians.
The members of Moms for Liberty, which formed just two years ago in Florida and has since branched out nationwide, say they're mad at their teachers, their principals, their president.
And now, as they see it, they're fighting back through school boards, local elections and -- if they get their way -- their next president.
The multi-day Moms for Liberty conference that began last week showcases how local issues like school curriculum and COVID-19 restrictions in the classroom can have tremendous, galvanizing influence among GOP and GOP-leaning voters.
Gov. Ron DeSantis, former President Donald Trump and former U.N. ambassador Nikki Haley -- all of whom are seeking the 2024 Republican presidential nomination -- tried to woo nearly 700 attendees of the over 150,000-member group on Friday.
Several key breakout sessions at the center of the group's mission, such as "Protecting Kids from Gender Ideology" and "Getting Flipped School Boards To Take Action," were kept behind closed doors, with media access barred.
Outside, protesters denounced the conference -- a sign of the controversy the group also provokes in its push for what it calls increased parents' rights, which critics say veils campaigns against COVID-19 measures, LGBTQ and race-related issues and more.
Florida GOP Chair Christian Ziegler of Sarasota, Florida -- whose wife, Bridget, was a co-founder of Moms for Liberty before stepping away to focus on her duties as a Sarasota school board member -- told ABC News that the group's groundswell over the past two and a half years is reflective of how the issue is playing out politically.
The national conference in Philadelphia is "probably doubled" in size from the group's gathering last year in Tampa, Florida, Ziegler said.
The Democratic National Committee slammed the group and participating Republicans on Friday morning.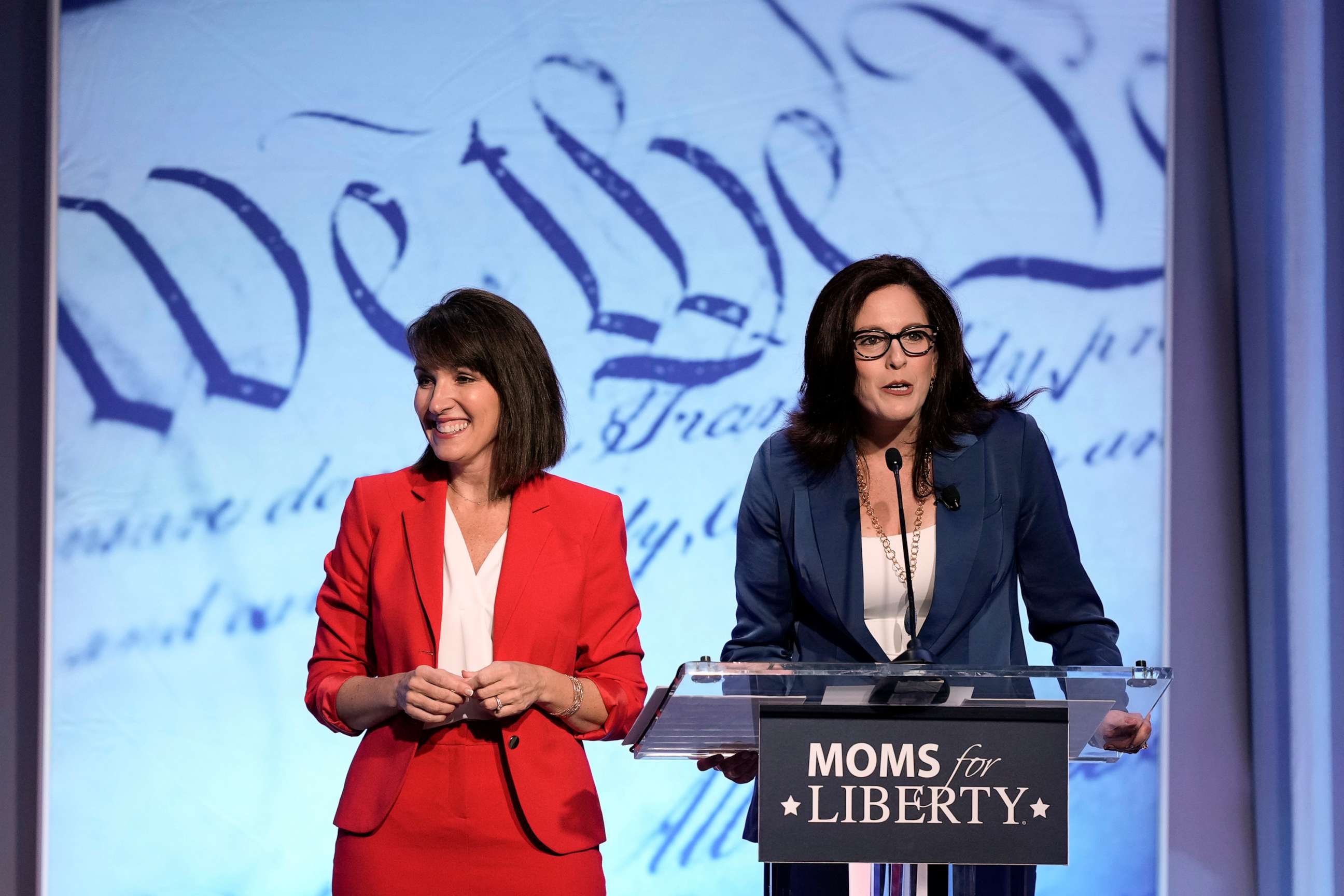 "Donald Trump, Ron DeSantis, Nikki Haley and Vivek Ramaswamy are celebrating the Fourth of July weekend with one of the nation's most notorious anti-freedom, history-erasing, book-banning groups," the DNC said. "While President Biden and Vice President Harris are running to safeguard Americans' rights and freedoms, MAGA Republicans are more concerned with catering to right-wing extremists than addressing the real issues that working families face."
Katie Gorka, wife of former Trump adviser Sebastian Gorka, told ABC News that the presence of key Republican candidates is a testament to how powerful conversations around education -- including what is and isn't appropriate for students, such as lessons on racism, sexuality and gender identity -- will be next cycle.
The growing influence of Moms for Liberty shows that they "had touched a nerve" on the national pulse, Katie Gorka said.
"Parental rights and education in general are going to be a key election factor, both this November in local elections as well as next November in the presidential election," she argued.
Trump, DeSantis speeches
Nearly all attendees jumped to their feet in raucous cheer as DeSantis on Friday touted the various divisive policies he's enacted in Florida.
"I think what we've seen across this country in recent years has awakened the most powerful political force in this country: mama bears. And they're ready to roll," DeSantis told the crowd in the ballroom of the Philadelphia Marriott.
While the group might seem fertile ground for a culture warrior like DeSantis, the crowd at the conference seemed to be Trump's to lose.
One Florida mother told ABC News that she wished DeSantis stayed in the Florida governor's mansion and felt slightly betrayed that he is spending much of his time on the campaign trail.
Moms for Liberty remains untethered to a particular candidate, and the group is unsure about its plans to endorse in 2024. Even still, signs of MAGA were everywhere, from bedazzled "TRUMP" lanyard pins to the classic red-and-white chapeau. Lines to hear the former president's keynote address snaked around the mezzanine floor up the escalator.
Before Trump began speaking, chants of "WE LOVE TRUMP" echoed across the hall for the sole candidate of the day to receive a multi-minute standing ovation before his address.
After the civil rights watchdog Southern Poverty Law Center (SPLC) recently labeled the group an anti-government group -- saying they spread "hateful imagery and rhetoric against the LGBTQ community," which Moms for Liberty leaders previously maintained to ABC News as "nonsense" -- Trump hit back at the characterization.
"The radical left is even slandering Moms for Liberty as a so-called 'hate group' ... but Moms for Liberty is no 'hate group.' You are joyful warriors and fierce patriots," Trump said to applause.
"You're not the threat to America; you're the best thing that's ever happened to America. ... And together, we are going to throw them out of office on Election Day 2024," he continued.
Republican support with Moms for Liberty members could help them make up lost ground with female voters, some experts say -- even as Democrats seek to paint these moms as members of the GOP base rather than swing voters up for grabs, highlighting how Moms for Liberty has backed book bans.
"Moms are the key political force for this 2024 cycle -- we have an opportunity to harness all the energy, all the concern," DeSantis said in his remarks.
Data shows how influential women voters have recently been, according to FiveThirtyEight senior elections analyst Geoffrey Skelley.
"Different groups of women voters -- and women as a whole -- were pretty pivotal to Biden's win. Women make up a solid majority of the Democratic Party's voter base, around 58% of Biden's voters, per the exit poll, and the party would struggle to win elections if only men voted," Skelley explained.
"Had Trump done even a tad better among suburban women, it's easy to imagine him having carried some of the very tight races in states like Arizona, Georgia and Wisconsin," Skelley said.
Conference attendees speak
Becky Mccarron, a grandmother from Phoenixville, Pennsylvania and two-time Trump voter, finds herself as a small part of a much larger movement. As she tells it, she is fearful yet ready to fight.
"If you don't stand up for your kids and who else is going to do that for you?" she told ABC News. "I'm really worried for my grandchildren. And it seems to me like there's more of an ideology [in schools] and parents don't have the say over what their kids are being taught anymore."
Mccarron said she is still all-in for the former president despite not being completely sold on his disposition. She attributes his bravado to his roots: "New Yorkers are a different breed."
Chris Birde, a mother from Brevard County, Florida, where Moms for Liberty began, said she was taken with the group from the jump, attending last year's summit in Tampa and vowing to not miss another meeting going forward. She brought her daughter, Reagan, and her daughter's friend, Ryleigh Seibel, both juniors in high school, along to Philadelphia.
She sees education at the "forefront" of this election cycle and thinks the mom vote will be make or break come next November.
"They know that moms hold the power. In most elections, women are the ones that influence," Birde said.
When it comes to her Election Day choices, Birde would prefer DeSantis to stay in Florida and is bullish for another Trump term, saying she sees the former president as the "fighter" she, and the country, needs.
Ziegler, the Florida GOP chair, said he believes a focus on pushing back on COVID-19 restrictions and scrutinizing what is going on in schools were leading factors for his party to bring in decisive victories in Florida, a perennially purple state that shifted overwhelmingly red last year.
"I don't think you have to look farther than Florida," Ziegler said. "We have proof."
Editor's note: This story has been updated.
ABC News' Abby Cruz, Hannah Demissie and Isabella Murray contributed to this report.