It is one of the most powerful "bromances" in the world -- and the friendship between President Barack Obama and Canadian Prime Minister Justin Trudeau has played out on an international stage for months.
Interested in
?
Add as an interest to stay up to date on the latest news, video, and analysis from ABC News.
Today, the two leaders continue to build their relationship as Obama heads to Ottawa for the North American Leaders Summit, where he will meet with Trudeau and Mexican President Enrique Pena Nieto.
In honor of the so-called "Three Amigos Summit" in the Canadian capital, here's a look back at some of the most memorable moments shared between Obama and Trudeau.
Their First Encounter at the APEC Summit
The two met formally for the first time following Trudeau's election at the Asia-Pacific Economic Cooperation (APEC) Summit in the Philippines in November 2015. While there, Obama teased Trudeau, whom some have called the "APEC Hottie," about the looks that earned him that nickname.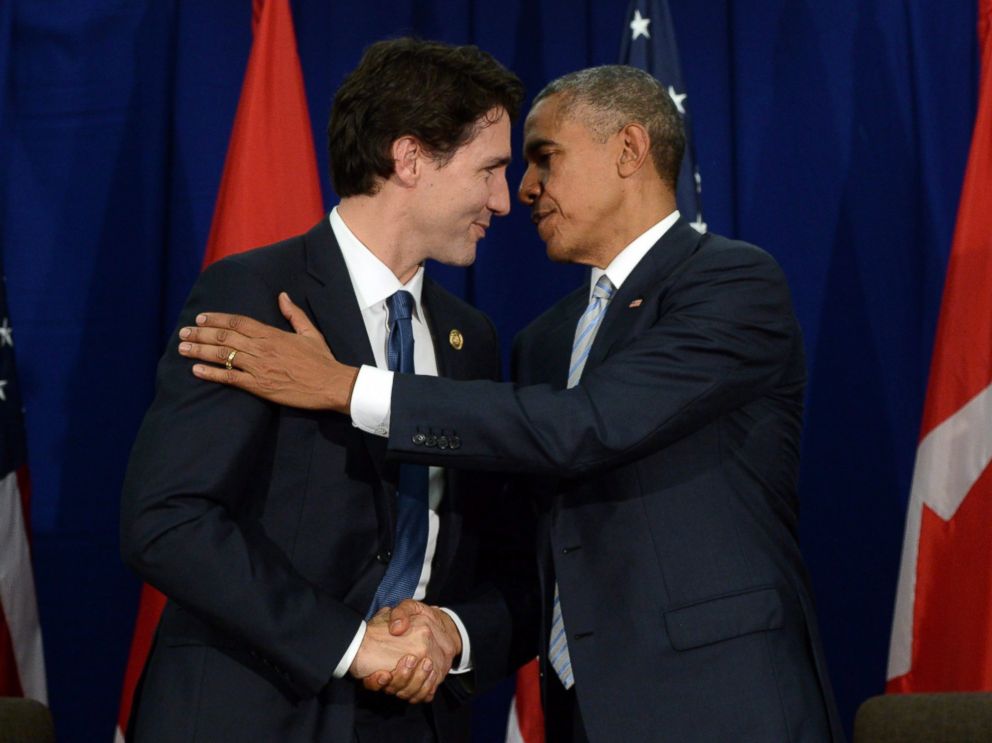 "I just want to point out that I had no grey hair when I was in your shoes seven years ago," Obama said. "And so if you don't want to grey like me, you need to start dying it soon."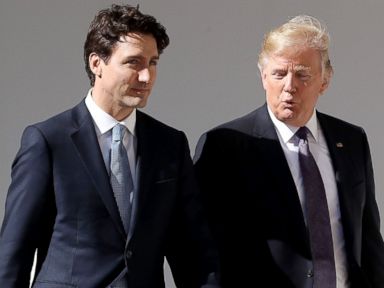 Their Friendly Jabs at the White House
Obama and Trudeau met again when the latter traveled to Washington, D.C., in March for an official state visit. In addition to setting social media abuzz over a photo of them holding a baby, the two leaders traded good-natured jabs during their remarks at the arrival ceremony.
"There are some things we will probably never agree on: Whose beer is better. Who's better at hockey," Obama said before taunting Trudeau over the Chicago Blackhawks' Stanley Cup win.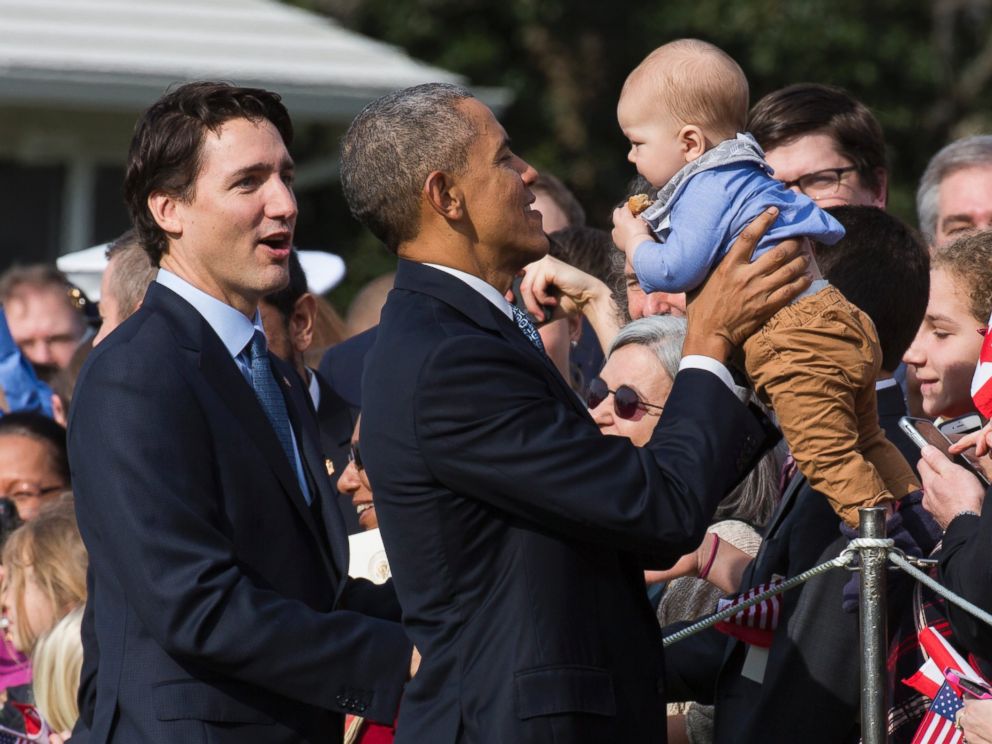 Trudeau fired back with a quip about "high demand for Canadian goods" in the United States.
"A few that come to mind that President Obama just rightly recognized as being extraordinary contributors to the American success story is Jonathan Toews, Duncan Keith, and Patrick Sharp of the Chicago Blackhawks," he said.
.@POTUS to Canadian Prime Minister Trudeau: "Where's the Stanley Cup right now? I'm sorry, is it in my hometown?" https://t.co/ap5rD2eldY

— ABC News Politics (@ABCPolitics) March 10, 2016
The Lavish State Dinner
The banter between the leaders continued at the state dinner held at the White House during Trudeau's visit. Both leaders poked fun at the other famous Justin from Canada -- Justin Bieber.
"After today, I think it's fair to say that, here in America, you may well be the most popular Canadian named Justin," Obama remarked. Trudeau added that "that kid has had a great year," saying "leave it to a Canadian to reach international fame with a song called 'Sorry.'"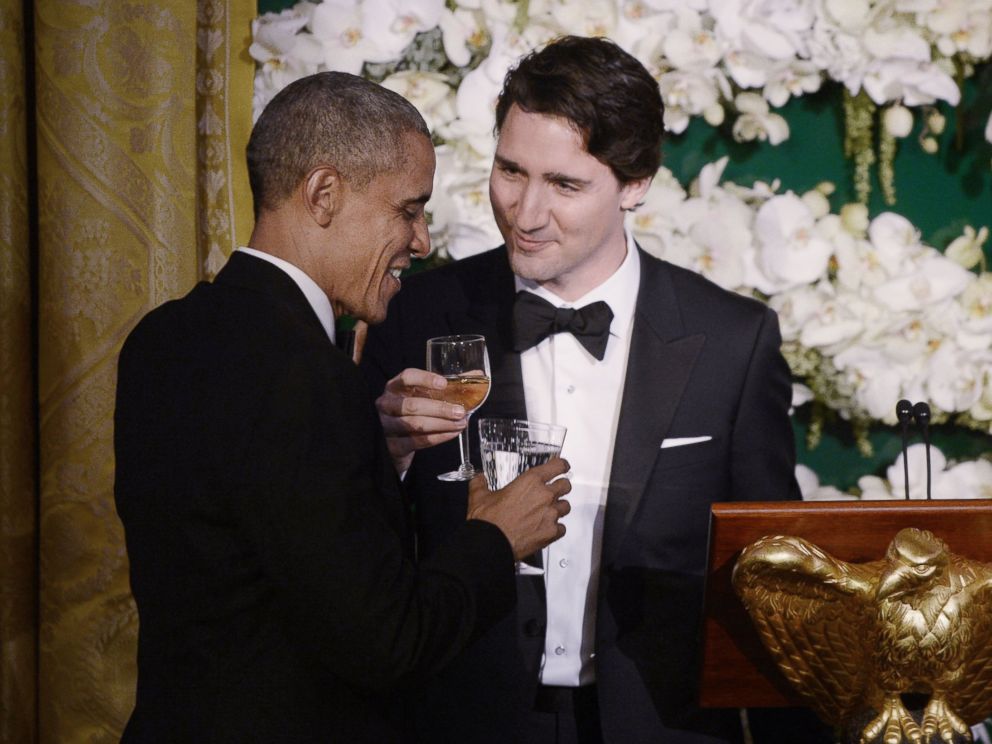 Trudeau also used the opportunity to tease Obama about his APEC advice.
"May the special connection between our two countries continue to flourish in the years to come, and may my grey hair come in at a much slower rate than yours has," he said during his toast.
However, it wasn't all joking between the two. Trudeau, who is the son of former Prime Minister Pierre Trudeau, offered encouraging words for Malia and Sasha Obama -- both of whom were attending their first state dinner.
"I admire you very much, both of you, for your extraordinary strength and your grace, through what is a remarkable childhood and young adulthood that will give you extraordinary strength and wisdom beyond your years for the rest of your life," Trudeau said. "The one thing that you have received from your extraordinary parents is the tools to be able to handle the challenges and the opportunities in front of you. So thank you very much for joining us tonight."
Trash Talking Over the Invictus Games
Social media trash talking was the name of the game ahead of the Invictus Games, an international athletic competition between injured veterans. Trudeau got in on the fun with a video taunt of his own, aimed not only at the Obamas, but the royal family as well.
Dear @POTUS, @FLOTUS and @KensingtonRoyal - did someone say "bring it?" Canada's ready for @InvictusOrlando.https://t.co/TxBAMPvTYs

— Justin Trudeau (@JustinTrudeau) May 2, 2016
"I just thought I'd show our friends in the U.S. and the U.K. how Canada brings it. Your Majesty, Prince Harry, President and Mrs. Obama," Trudeau said before dropping to the floor to do a pushup and metaphorically drop his mic. "Boom! Orlando. Invictus Games. Canada's ready," he added while still in a one-armed pushup.
Sharing Condolences in the Face of Tragedy
Following the attack in Orlando earlier this month, Trudeau called Obama to express his condolences, offer his country's assistance and "re-affirm Canada's solidarity with the people of Orlando, with the families and friends of the victims, and with the LGBTQ community," according to a statement from the prime minister's office. During the call, Obama shared his condolences for the death of Canadian citizen Robert Hall, who was recently killed by terrorists in the Philippines.
The prime minister and his wife Sophie also left condolences in a guestbook at the U.S. Embassy in Ottawa.
"Being friends is about celebrating together in the good times, but even more about being able to lean on each other in during the toughest times," Trudeau's message read.