President Trump signs tax bill into law
Trump and Republicans are celebrating their legislative accomplishment.
December 22, 2017, 11:12 AM
— -- President Donald Trump signed the $1.5 trillion rewrite of the tax code into law at the White House on Friday capping off a victory lap before leaving to spend the holidays in Mar-a-Lago.
"Everything in here is really tremendous things for businesses, for people, for the middle class, for workers. And I consider this very much a bill for the middle class and a bill for jobs. Corporations are literally going wild over this," Trump said.
Trump indicated that he was going to wait until after the new year to sign the bill, but when he saw reports on the news speculating about the timing he "immediately called and said let's get it ready."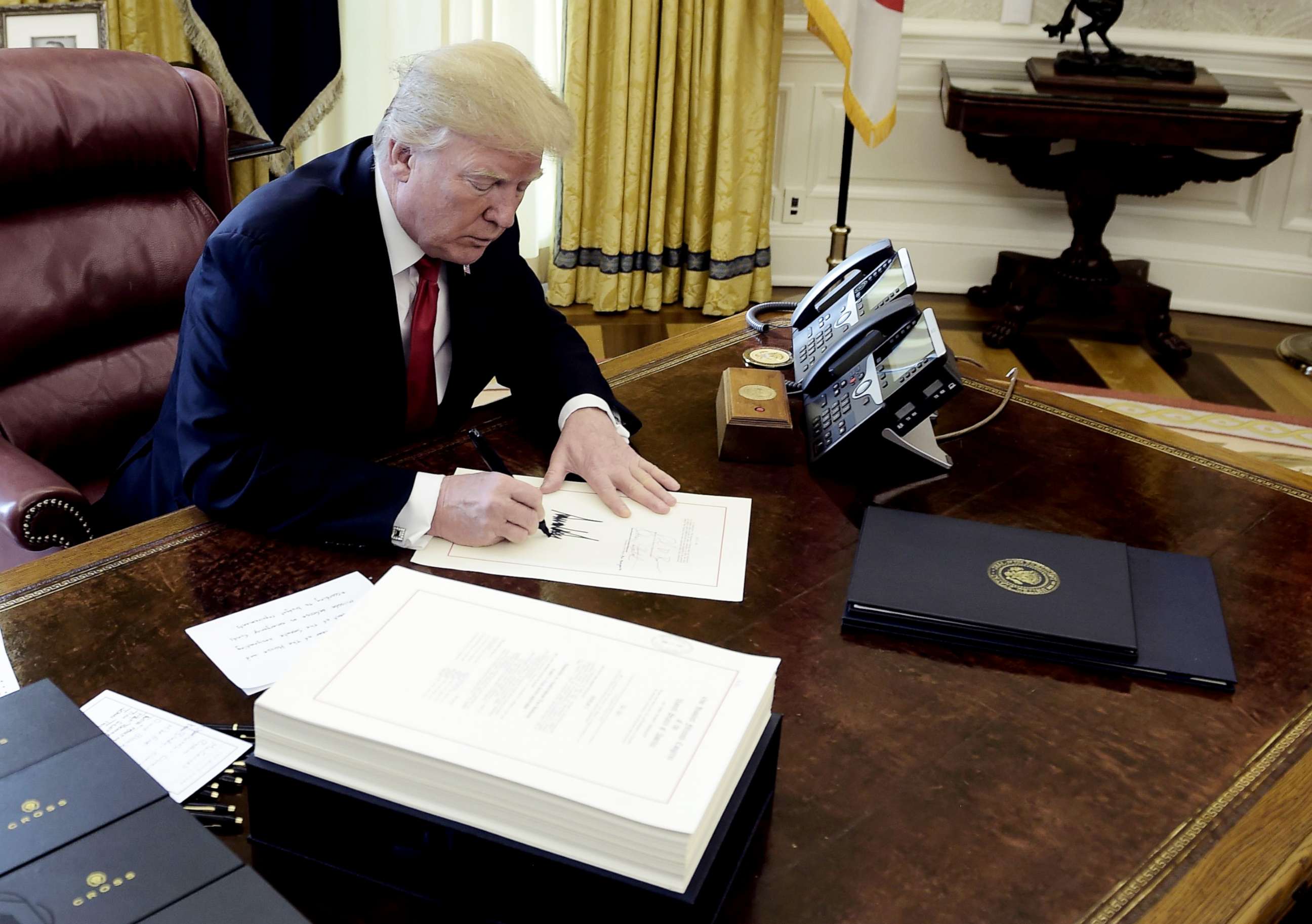 "I'll sign this today rather than having a big formal ceremony in two weeks when we were going to do it. I didn't want you folks to say I wasn't keeping my promise. I'm keeping my promise," Trumps said. "I'm signing it before Christmas. I said the bill would be on my desk before Christmas. And you are holding me literally to that. We did a rush job today. It's not fancy. But it's the Oval Office."
The measure, known as the the Tax Cuts and Jobs Act, is being hailed by the GOP as the biggest legislative achievement for Trump and congressional Republicans. After the bill's passage, Trump celebrated with Republican lawmakers at the White House's South Lawn.
Trump thanked Senate Majority Leader Mitch McConnell and House Speaker Paul Ryan, among other Republican lawmakers for their efforts to get the bill passed.
"I don't think I'm going to have to travel too much to sell it. I think it's selling itself. It's becoming very popular," Trump said.
Some 55 percent of Americans oppose the tax bill, while 33 percent are in favor according to a CNN poll released Tuesday.
Ryan and McConnell held an enrollment ceremony for the bill on Thursday at the U.S. Capitol.
Trump also on Friday signed a one month-long stopgap spending bill aimed at keeping the government running until January 19. The "continuing resolution" passed both GOP-controlled chambers on Thursday and maintains current government spending levels. The bill also includes a $4 billion defense funding provision.
This is a developing story. Please refresh for details.