— -- President Donald Trump on Tuesday made his first pardons since wiping Sheriff Joe Arpaio's contempt of court conviction in August.
One pardonee, referred to as "Drumstick" by the White House, is a heavy-set, white male with a wingspan of about five feet. A gorgeous gobbler of the species Meleagris gallapavo, Drumstick beat out fellow fowl Wishbone to be honored at the annual presidential turkey pardon ceremony, stuffing his opponent in a landslide 20-point victory on a White House Twitter poll.
Happily for the runner-up, both turkeys will be spared the knife this Thanksgiving.
"Today, in the spirit of Thanksgiving, I will grant a presidential pardon to a Turkey," said President Trump, flanked by wife, Melania, and son, Barron, at the Rose Garden ceremony.
The two providential poultry will join last year's lucky birds, Tater and Tot, at Virginia Tech's Gobbler's Rest exhibit, "to live out their days in the folds of the Blue Ridge Mountains," according to the university.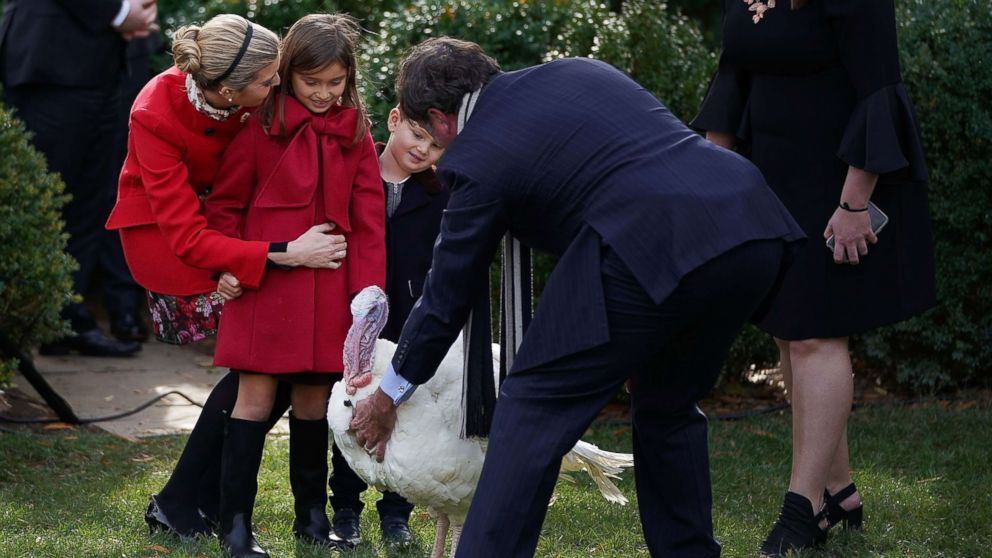 "As many of you know I have been very active in overturning a number of executive actions by my predecessor," Trump said. "I have been informed by the White House counsel's office that Tater and Tot's pardons cannot under any circumstances be revoked so we are not going to revoke them. Tater and Tot, you can rest easy."
The focus then turned back to the turkey of honor. "Drumstick, you are hereby pardoned," Trump told the bird. As applause erupted, the bird lifted his head to gobble at the crowd.
History
According to the White House Historical Associatiohn (WHHA), the practice of presidents saving turkeys from becoming holiday meals may date back to Abraham Lincoln.
In 1865, White House reporter Noah Brooks recounted an anecdote Lincoln told him: A live turkey was brought home for Christmas dinner, but Lincoln's son interceded on behalf of the animal. "The argument was that the turkey had as good a right to live as any body else, and his plea was admitted and the turkey's life spared," Brooks wrote.
President Harry Truman was the first to be given birds by the National Turkey Federation, the same organization that presented President Trump with Wishbone and Drumstick -- but Truman likely dined on his.
"It was 70 years ago that the national Turkey federation first presented the national Thanksgiving Turkey to President Harry Truman, who I might add did not grant the pardon," Trump said. "He refused; he was a tough cookie."
The Kennedy, Nixon and Carter administrations reportedly turned away turkeys they were presented with, and sending them off to farms became common practice under President Reagan, according to the WHHA. In 1989, President George H. W. Bush became the first to make the pardon explicit.
"But let me assure you, and this fine tom turkey, that he will not end up on anyone's dinner table, not this guy — he's granted a residential pardon as of right now — and allow him to live out his days on a children's farm not far from here," Bush said.
President Obama began the current tradition of pardoning two turkeys in 2009. But just as today, only one bird is honored at the annual ceremony. Recent honorees were chosen by vote on social media.