Ron DeSantis' wife joins him on the campaign trail as voters say they want to 'see the man'
Winning in primaries often includes up-close-and-personal events.
Florida Gov. Ron DeSantis pitches himself as a "fighter" for conservative values. But as he continues his initial presidential campaign swing through three early nominating states, he's working to highlight another side -- as a dad and husband -- as he adjusts to the intimate events often required to persuade primary voters.
At one Wednesday morning event in the western town of Salix, Iowa, DeSantis and his wife, Casey, engaged in a living room-style conversation, swapping anecdotes about their three young kids that sought to give voters a rare glimpse into the home life of Florida's leader, who has generally avoided the mainstream press.
Seated in grey armchairs on a stage inside a vast welding warehouse, where a massive green John Deere served as a backdrop, the couple, each in jeans, told stories that elicited laughs from the audience of roughly 100.
The governor joked that when he and Casey, a former TV reporter, brought two of their children to Japan in April on a trade mission, "We never got on a schedule time wise, so they'd be up at 2 in the morning."
"The one thing I learned is I learned when breakfast room service starts -- because they needed food," he said of his kids.
He then remembered a solo parenting outing, going to visit a new Tallahassee restaurant, and the curveball moment when his 3-year-old daughter needed to use the bathroom.
"So we're literally just in a drive-thru just sitting there. And so she had to go, so I was like, OK I'll take her inside, so we go in and we get in there, and she shakes her head and I'm like, 'What?' And she's like, 'Little potty, little potty.' And I'm like, 'They don't have little potty in Slim Chickens!'" he said.
The chat, designed to emphasize its informality, followed a 30-minute, policy-dense stump speech from the governor bashing bureaucratic Washington and liberal institutions that mimicked his remarks the previous night, at his kickoff event at a large church near Des Moines.
But even in a setting meant to reveal a relatable side of the governor, DeSantis sometimes slipped back into speech mode, touching on his and Casey's efforts to combat the spread of fentanyl and touting his decision to appoint conservative board members to a small Tampa-area college.
The battle over the New College of Florida, with an enrollment of less than 700, reached the pages of certain national news outlets, but it's unclear how much Iowans were aware of the controversy, billed by DeSantis as another of his efforts to fight the "woke."
"So we've got a small liberal arts college in Sarasota called New College. I don't think anyone in this room probably heard of it," said the governor, who admitted to having never known of the institution until being informed of its "ideology."
Dave Christensen, a 58-year-old attendee and a Navy veteran, told ABC News before the event that he was drawn to DeSantis' policy stances and was hoping "to see the man."
"I want to see what's he's like, what his personality is like," Christensen said. "I want to see him talking to me."
As he left the venue, Christensen, who interacted briefly with DeSantis as the governor worked the crowd, seemed satisfied, though he acknowledged he was staying "open-minded" about who to support for the Republican nomination early next year.
"So far, he's answered everything I was kind of after, today anyway. He answered my questions," Christensen told ABC News.
The governor did not replicate the "fireside chat" with Casey at his other three events on Wednesday, opting to spend his time behind a lectern, ceding the stage to his wife for several minutes at each stop to share more about their life as parents.
A spokesperson for the campaign said the Salix event was not the first time the couple has held informal conversations on the trail about their home life, saying they did so before the governor announced his candidacy for president.
The spokesperson did not answer a question about whether the campaign plans to feature similar events in the future. DeSantis campaigning with Casey is not unusual: Candidates include their spouses on the trail in order to show a different side of themselves to the public.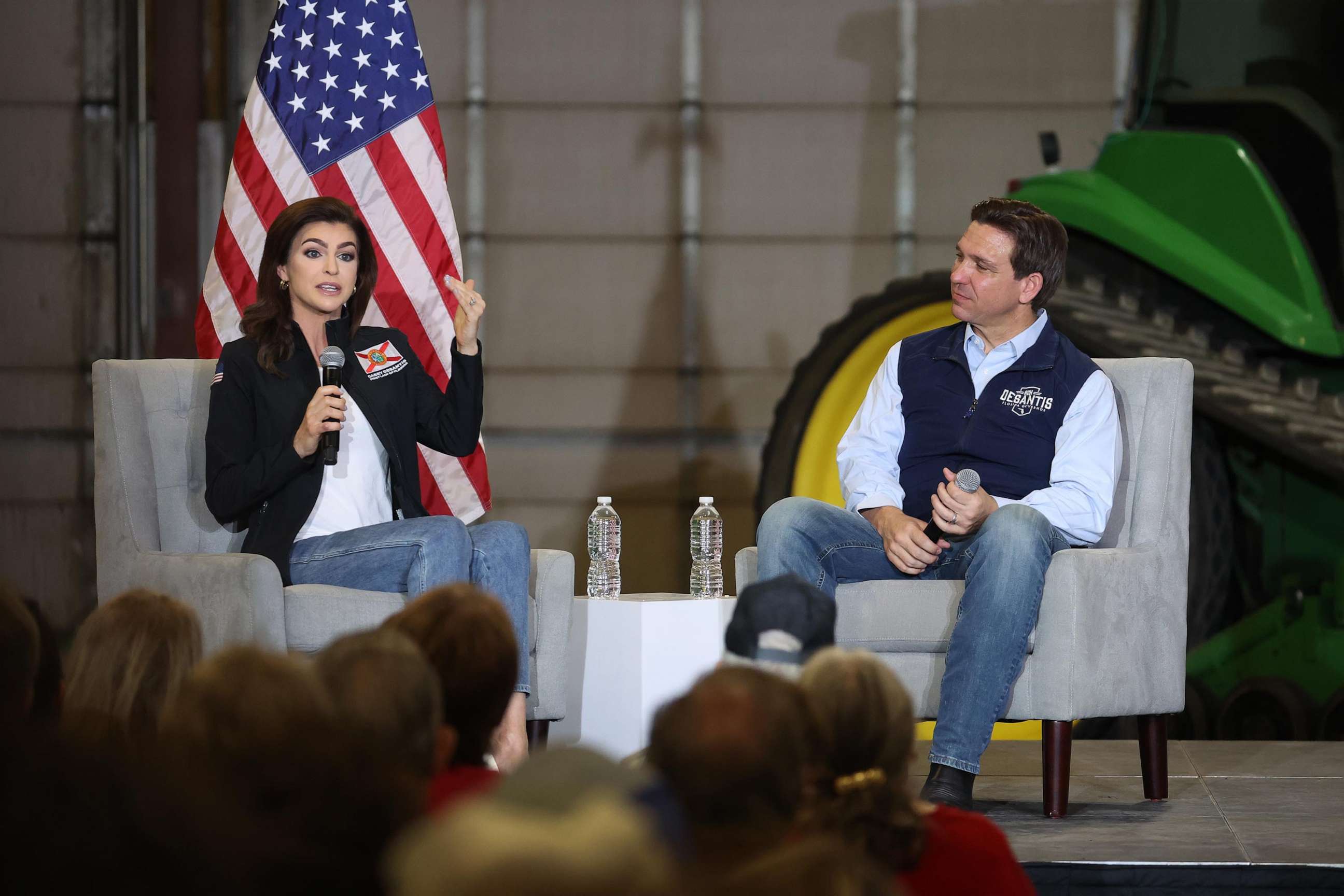 Katie Dodge, 31, a resident of Omaha, Nebraska, who crossed state lines to see the governor speak in Council Bluffs, said she was "all in" on DeSantis, whom she called a "no-nonsense politician" who "just goes in and lets the work that he does show for where he stands and what he's fighting for, and I think that he's fighting for all Americans."
Dodge's mother, Mindy, also a DeSantis supporter, acknowledged there was space for the governor to appear more personable but insisted he offset that quality with his policies and work ethic.
"OK, does he maybe need some more charisma to connect with audiences? Yeah, probably. But you know what he does have? He's a hard worker and he gets things done. And more than anything right now, that's what we need," she said.
Before DeSantis' kickoff rally on Tuesday night in Clive, Alex Greadel, 45, said he had "seen [DeSantis speaking with voters] in some of the video interactions that I've seen online, but that doesn't concern me at all."
Still, the scrutiny continues: In New Hampshire on Thursday, DeSantis was making the round with attendees at one stop when a reporter with the Associated Press asked him why he didn't take questions from voters.
Video shows DeSantis asking the reporter, "What are you talking about?"
"I'm out here [with] people," he said. "Are you blind?"
ABC News' Hannah Demissie contributed to this report.