The hit revival of the ABC sitcom "Roseanne" was canceled Tuesday, hours after the show's star Roseanne Barr's racist tweet about former Obama adviser Valerie Jarrett.
Barr's post early Tuesday morning, which has since been deleted, said that Jarrett, who is African-American, was a product of the Muslim Brotherhood and "Planet of the Apes" -- "muslim brotherhood & planet of the apes had a baby=vj." She has since apologized.
The tweet sparked a public firestorm, including from "Roseanne" star Sara Gilbert. It also prompted Wanda Sykes, a consulting producer, to quit the show in the leadup to the cancellation.
"Roseanne's Twitter statement is abhorrent, repugnant and inconsistent with our values, and we have decided to cancel her show," said Channing Dungey, the president of ABC Entertainment, in a statement.
In a tweet, Bob Iger, chairman and CEO of Disney, said there was "only one thing to do."
ABC television group and ABC News are both owned by Disney.
Iger called Jarrett before publicly announcing that the show was canceled.
At an MSNBC town hall on racism Tuesday night, Jarrett thanked Iger for calling her. "I want to mention Bob Iger, who is the CEO of Disney called me before the announcement, he apologized, he said he had zero tolerance for that sort of racist, bigoted comment and he wanted me to know before he made it public that he was cancelling his show and so I appreciate that they did that so swiftly," she said, adding that she thought it was the right move.
Barr's comparison of Jarrett, a longtime Obama family confidante and lawyer, to an ape and the assertion that she has a connection to the organization Muslim Brotherhood, which she does not, stoked immediate anger on social media.
Barr tweeted an apology to the show's writers and actors late Tuesday, saying, "I just want to apologize to the hundreds of people, and wonderful writers (all liberal) and talented actors who lost their jobs on my show to my stupid tweet." She also said she would be doing an interview on Joe Rogan's podcast, "The Joe Rogan Experience," on Friday.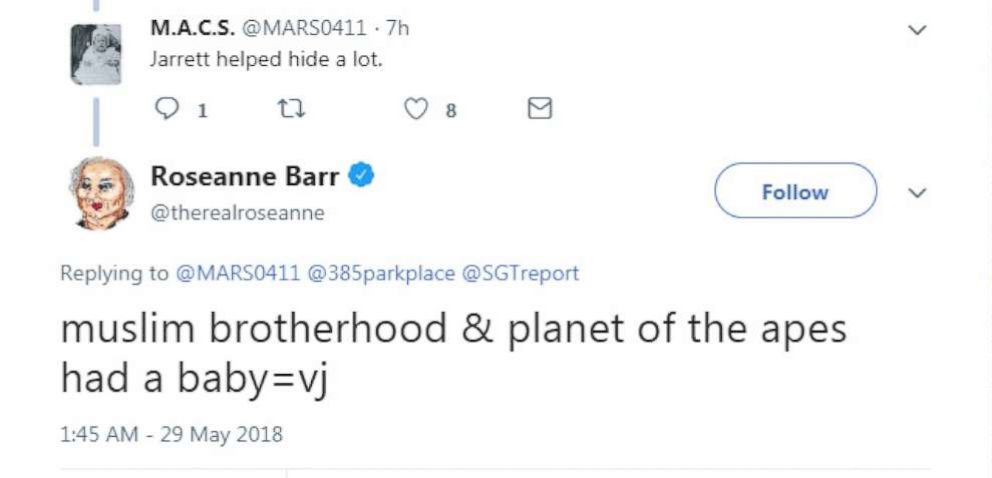 Gilbert, who played Barr's daughter on the show, condemned Barr's tweet. "Roseanne's recent comments about Valerie Jarrett, and so much more, are abhorrent and do not reflect the beliefs of our cast and crew or anyone associated with our show," she tweeted.
In another post, she mourned the end of the sitcom reboot on Twitter.
Before the cancellation, Twitter users called the remarks racist and bigoted, asking ABC's television group and Disney if she would be allowed to continue on the show.
And amidst the backlash, Sykes, an African-American actress and consulting producer on the show, tweeted that she wouldn't be returning to "Roseanne."
Jarrett, who is from the president's hometown of Chicago, is not Muslim and is not a member of the Muslim Brotherhood, Egypt's oldest and largest Islamic organization, according to research by the fact-checking website Snopes.
The unsubstantiated claim that she practices Islam arose at times during her tenure in the Obama administration.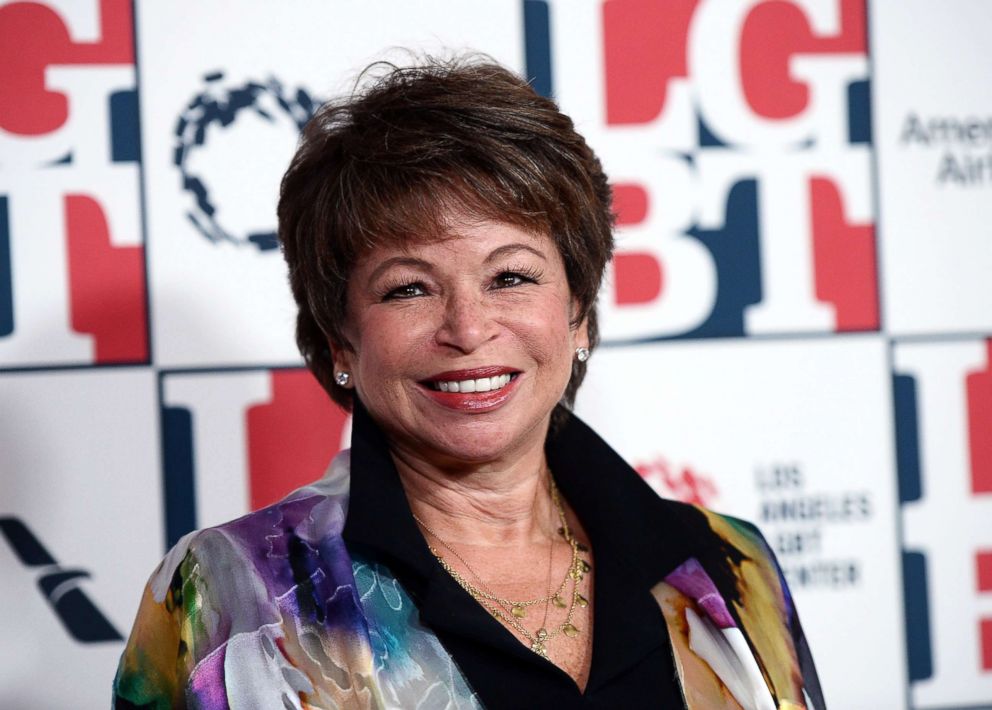 Barr deleted the initial tweet and apologized hours after the original comment, though not before tweeting that Islam is not a race and includes "EVERY RACE of people," an apparent dispute to calls that the tweet was racist. Islam is the religion practiced by Muslim people around the world.
In her apology, Barr called the tweet a "bad joke about her politics and her looks." She also said she was "leaving Twitter," but didn't specify if that meant deleting her account.
Barr regularly tweets about politics and is an avid supporter of President Donald Trump, as is the character she plays on the ABC sitcom.
On Monday, Barr falsely tweeted that Chelsea Clinton was married to Democratic donor George Soros' nephew. She later corrected herself. The daughter of former President Bill Clinton and presidential nominee Hillary Clinton is married to Marc Mezvinsky.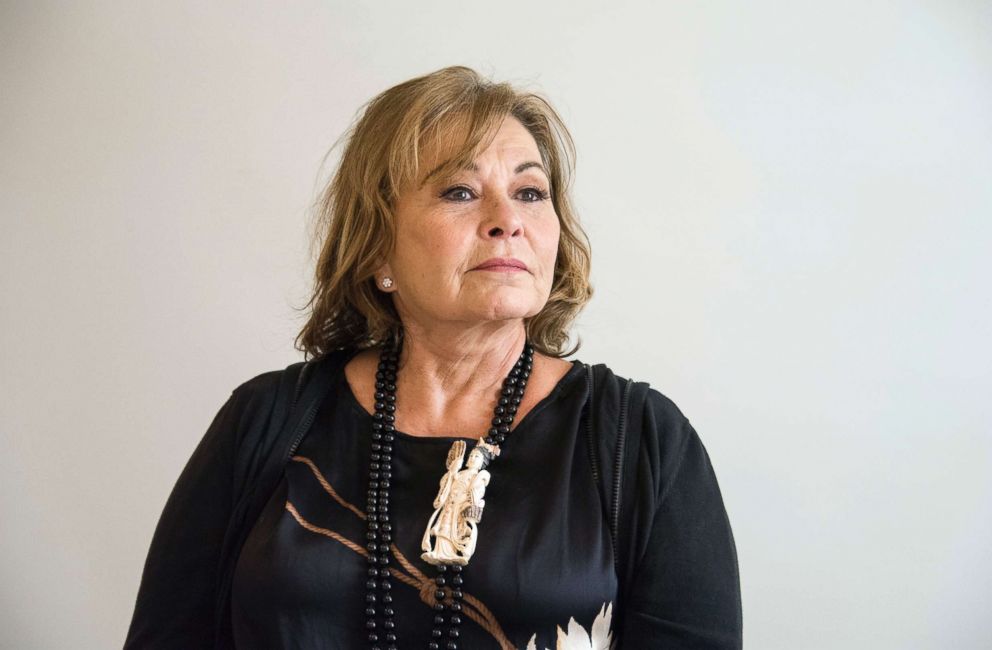 On "Good Morning America" in March when the show "Roseanne" first aired its hit reboot, Barr told ABC News' Chief Anchor George Stephanopoulos that she received a congratulatory call from Trump, who she said she's known for a long time.
The call was "exciting," she said, and in the interview, she reflected on a need for more "civilized" conversation in the country.
"That's what we need to do as a country is figure out what we don't like, talk to each other and discuss how we're going to get it changed or fixed," Barr said. "I really hope that it opens up civil conversation between people instead of just of mud-slinging. I really do because I think we need to be more civilized in that," she said.