— -- Alabama U.S. Senate candidate Roy Moore made fiery claims on Wednesday night about who is to blame for the sexual misconduct allegations bogging down his campaign.
Moore, the Republican nominee, spoke at the Magnolia Springs Baptist Church in Theodore, in southwestern Alabama near Mobile, and delivered more of a sermon than a campaign speech.
He has been plagued by sexual misconduct allegations since The Washington Post reported that he allegedly sexually assaulted a 14-year-old girl while he was 32 in the 1970s.
On Wednesday he echoed a familiar refrain of blaming "liberals" for the allegations. But he also blamed gay people and socialists in an aggressive address.
"They're liberals. They don't want conservative values," Moore said of the people he says are trying to ruin his campaign. "They are the lesbian, gay, bisexual, transgender who want to change our culture. They are socialists who want to change our way of life and put man above God and the government is our God."
The comments garnered applause from the church's congregation.
At one point in his speech, Moore was interrupted by a male protester, who was quickly removed.
"Jimmy Kimmel Live!" regular Tony Barbieri, aka Jake Byrd, a comedian who often disrupts newsworthy moments, was also escorted out of the church after asking the candidate about the allegations of misconduct.
As has become rote on the trail, Moore again denied knowing any of the women accusing him of sexual misconduct and, as at a rally earlier this week, called the allegations "dirty politics."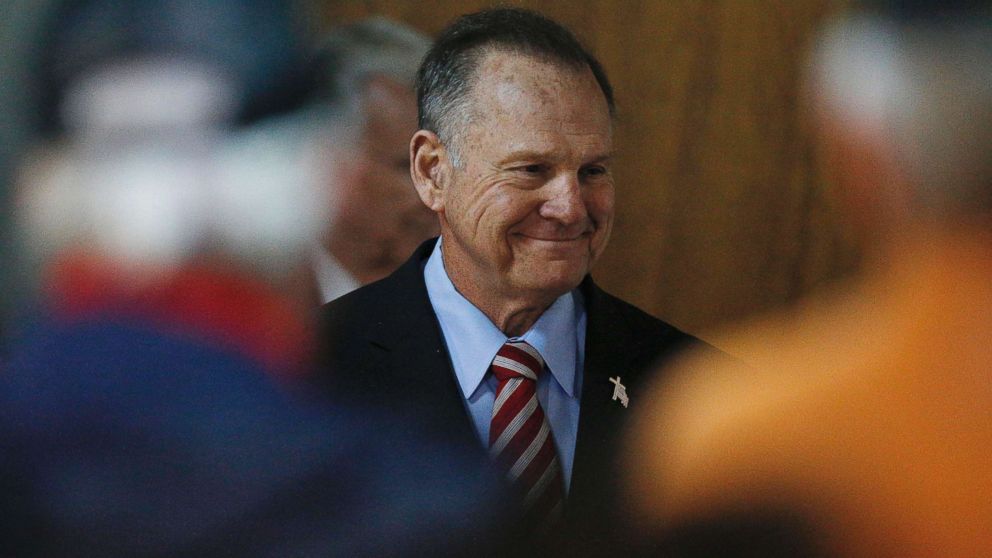 "Let me state once again I do not know any of these women, did not date any of these women and have not engaged in any sexual misconduct with anyone," Moore said. "This is not only odd that things like this occur. It's simply dirty politics."
Moore also said the reason people in Washington don't want him in the Senate is "very, very simple. They don't want to hear about God, and they don't want to hear about the Constitution of the United States and its foundational principles in God."
He is in a closely contested race with Democrat Doug Jones for the seat held by Republican Luther Strange, who has filled the seat vacated by Jeff Sessions when he became attorney general in January.
Moore defeated Strange in the primary.
When not deflecting misconduct allegations, Moore has criticized Jones for his values and what he called a lack of faith.
"Doug Jones is a true liberal, a Bernie Sanders Democrat, so out of touch with Alabama voters," campaign adviser Brett Doster told ABC News.
The general election will be Dec. 12.
ABC News' Tom Llamas contributed to this report.