Zelenskyy to ABC: Russia could sabotage nuclear power plant to halt Ukrainian advances
Outside groups are monitoring but have said there is no imminent risk.
Russia could stage an explosion at the Zaporizhzhia Nuclear Power Plant to halt Ukrainian advances on the battlefield, President Volodymyr Zelenskyy warned in a wide-ranging new interview with ABC News that was previewed on "World News with David Muir" on Thursday.
Speaking to ABC News' Chief Global Affairs Correspondent Martha Raddatz, Zelenskyy addressed fears that the power plant, which is the largest on the continent, could be sabotaged -- with Ukrainian officials sounding the alarm that Russia has allegedly mined the facility in preparation for a false-flag operation to sabotage the plant and blame Ukraine.
The United Nations' International Atomic Energy Agency has said they have not seen evidence to back up Ukraine's claims but they have also demanded more transparent access to the facility, which Russia took control of early in the invasion, as a matter of urgency.
"Are you concerned that the Russians might use explosives in the nuclear plant?" Raddatz asked.
"Are other explosives on the site? Yes," Zelenskyy said. "Can they see explosives currently? No. Are there enough people who are ... unbiased to make any conclusions with regard to how much of the site is contaminated with mines? No."
He also said that there is a possibility Russia will blow up the plant in order to prevent Ukrainian advances from an ongoing counteroffensive, launched last month, that is aimed at retaking as much territory as possible in the eastern part of the country.
More from Raddatz' interview with Zelenskyy in Ukraine will air on ABC's "This Week with George Stephanopoulos" on Sunday.
Ukrainian officials previously blamed Russia for sabotaging the Kakhovka dam and hydroelectric power plant in June, which led to widespread environmental damage and loss of life in both Ukrainian- and Russian-controlled areas.
Experts described the fallout as a "huge catastrophe for the ecosystem."
Russia has denied responsibility and instead blamed Ukraine.
The American Nuclear Society issued a statement on Thursday saying that they were monitoring the situation at Zaporizhzhia but did not foresee bombardment or sabotage resulting in "radiation-related health consequences to the public."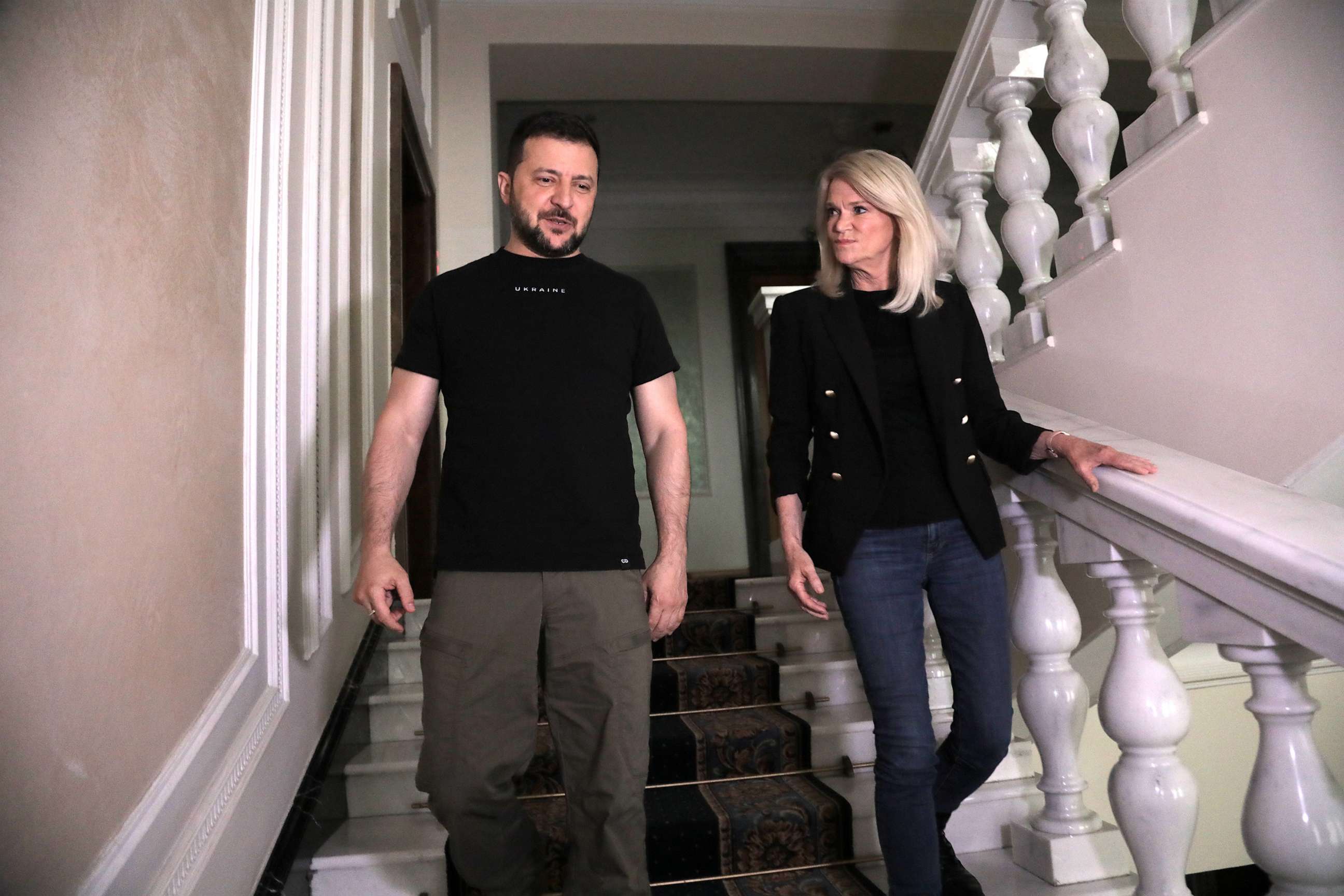 "In the unlikely event that containment structures were breached, any potential release of radiological material would be restricted to the immediate area surrounding the reactors," the statement said.
"In this regard, any comparison between ZNPP and 'Chernobyl' or 'Fukushima' is both inaccurate and misleading," the group continued, referring to two infamous nuclear accidents.
Ukraine's intelligence chief on Thursday told Reuters there was a "decreasing" threat of such an attack but that could change.
"We are analyzing everything that is going on," Zelenskyy told Raddatz. "Can we, based on this information, think that Russia is planning to explode the mines there in order to stop Ukrainian action in the battlefield? Well, yes, because if they lose even more initiative that they have, they will make some additional steps in order to make the entire world afraid of the global nuclear disaster and in order to stop all military action in the battlefield."