The famed Conservative Political Action Conference (CPAC) touts itself as "the largest and most influential gathering of conservatives in the world," but its attendance list this year -- and the presidential hopefuls staying away -- reflects instead a broader reckoning over the Republican Party's future.
The gathering, a longtime window into the grassroots of the GOP, in recent years has morphed into a prominent stage for allies of former President Donald Trump and is anticipated to heavily promote his platform this week, including offering him a prime time speaking slot Saturday.
Yet, as other current and potential 2024 presidential candidates flock to Maryland's National Harbor to address activists at the conference, which began Wednesday, over a half-dozen prospective contenders are instead choosing to keep their distance.
Trump, former South Carolina Gov. Nikki Haley, entrepreneur Vivek Ramaswamy and former Secretary of State Mike Pompeo, all of whom are either running or have said they are mulling a 2024 bid, are slated to speak at CPAC. Current lawmakers on the schedule include firebrand Reps. Matt Gaetz, Marjorie Taylor Greene and Lauren Boebert. Former lawmakers include some of those outside the U.S., like former Brazilian President Jair Bolsonaro.
Kari Lake, the 2022 Republican Arizona gubernatorial nominee and election conspiracy theorist, is also slated to speak.
But Florida Gov. Ron DeSantis, former Vice President Mike Pence, South Carolina Sen. Tim Scott, Virginia Gov. Glenn Youngkin and South Dakota Gov. Kristi Noem, who are seen as possible 2024 hopefuls, are among those staying away -- with some opting instead to attend a donor retreat hosted by the anti-tax Club for Growth.
"Ten years ago, [CPAC] was an opportunity to test your messages to conservative leaders and influencers all over the country and to have a big audience get to know you from the podium. And I don't think that's where it is today," said one aide to a possible 2024 candidate. "Last time I was there, it almost felt more like a college crowd than it did a serious thinker crowd."
CPACs of yesteryear featured notable moments, including Ronald Reagan's "city upon a hill" speech, and strategists who spoke with ABC News, who asked not to be quoted by name, reminisced about past conferences they said offered a more representative cross-section of Republican voters.
Defenders of the conference counter that CPAC still offers a marketplace of ideas.
"Traditionally you've always had your libertarian conservatives, your free market, laissez fair-type of conservatives, you had your hawks and foreign affair guys, you'd have your Rand Paul-libertarian types. Now you have your MAGA types, and then you have your ultra MAGA types. I think CPAC is a classic example of growing pains," said former Michigan GOP Chair Saul Anuzis, who first attended CPAC in 1978 and has been to almost every conference since.
But given that, the benefits of attending, even for those eyeing a presidential campaign and activist support, could be diminished, the strategists said.
"Now it's kind of turned into a one-trick pony," said a source familiar with Pence's thinking. "It's not like where it was 20 years ago, where it was conservatives from all over the country who were influencers from all the different states."
When reached by ABC News to explain DeSantis' absence from CPAC, an aide said he was instead attending GOP dinners elsewhere.
The person declined to comment further when asked why the Florida governor chose to attend those events, including the Club for Growth retreat, over CPAC.
Candidates who travel to CPAC also have to contend with the prospect of being tied to an event helmed by Matt Schlapp, the conference's chairman, who is currently mired in controversy.
A former staffer to Herschel Walker's 2022 Senate bid has alleged that Schlapp "groped" and "fondled" his crotch while he was driving Schlapp back from a bar in Atlanta, according to a report from The Daily Beast. The staffer also filed a lawsuit against Schlapp and his wife, Mercedes, seeking $9.4 million for sexual battery and defamation, according to a report.
A statement from Schlapp's attorney at the time said the complaint is "false" and the "Schlapps and their legal team are assessing counter lawsuit options."
The source familiar with Pence's thinking told ABC News for this story that the decision to not attend was made before the allegations about Schlapp emerged, but Anuzis, the longtime CPAC attendee, said the scandal could be a factor in deciding whether to appear.
"There'll be some people who I think are taken aback by that and will want to be cautious about participating in one way or the other, and that's just the way politics works," he said. "He's a potential liability at this stage of the game and so it's safer for some folks who are really worried about that to stay away."
GOP strategist Doug Heye put it this way: "The most valuable asset any candidate or potential candidate has is their time. And so they're making very real decisions, whether it's on this or certainly moving forward on other things, on where they're spending their time."
"Obviously, the Club [for Growth, holding its own event] has become a bigger and bigger funder on the Republican side, and if you're running for president or if you're running for Senate, that's an important audience for you to address," Heye said.
CPAC organizers, meanwhile, brushed off any perceived snubs.
"It's a missed opportunity for any potential Presidential Candidate to not address the thousands of grassroots activists at CPAC this year. Luckily, CPAC attendees will get to hear from every announced Presidential candidate and over 100 premiere speakers, including over 30 elected officials," CPAC spokesperson Megan Powers Small told ABC News on Saturday.
And for its part, Trump's campaign is seizing on the way the former president has shaped CPAC, casting it as a sign of his continued hold on the GOP as he ramps up his third presidential campaign.
"CPAC is the embodiment of the conservative movement as well as the Republican Party. ... The conference has always represented the 'springboard' for the presidential primary season, and President Trump's outsized influence at this year's conference combined with recent polling success shows just how dominant his candidacy is as we approach 2024," said Trump senior adviser Jason Miller.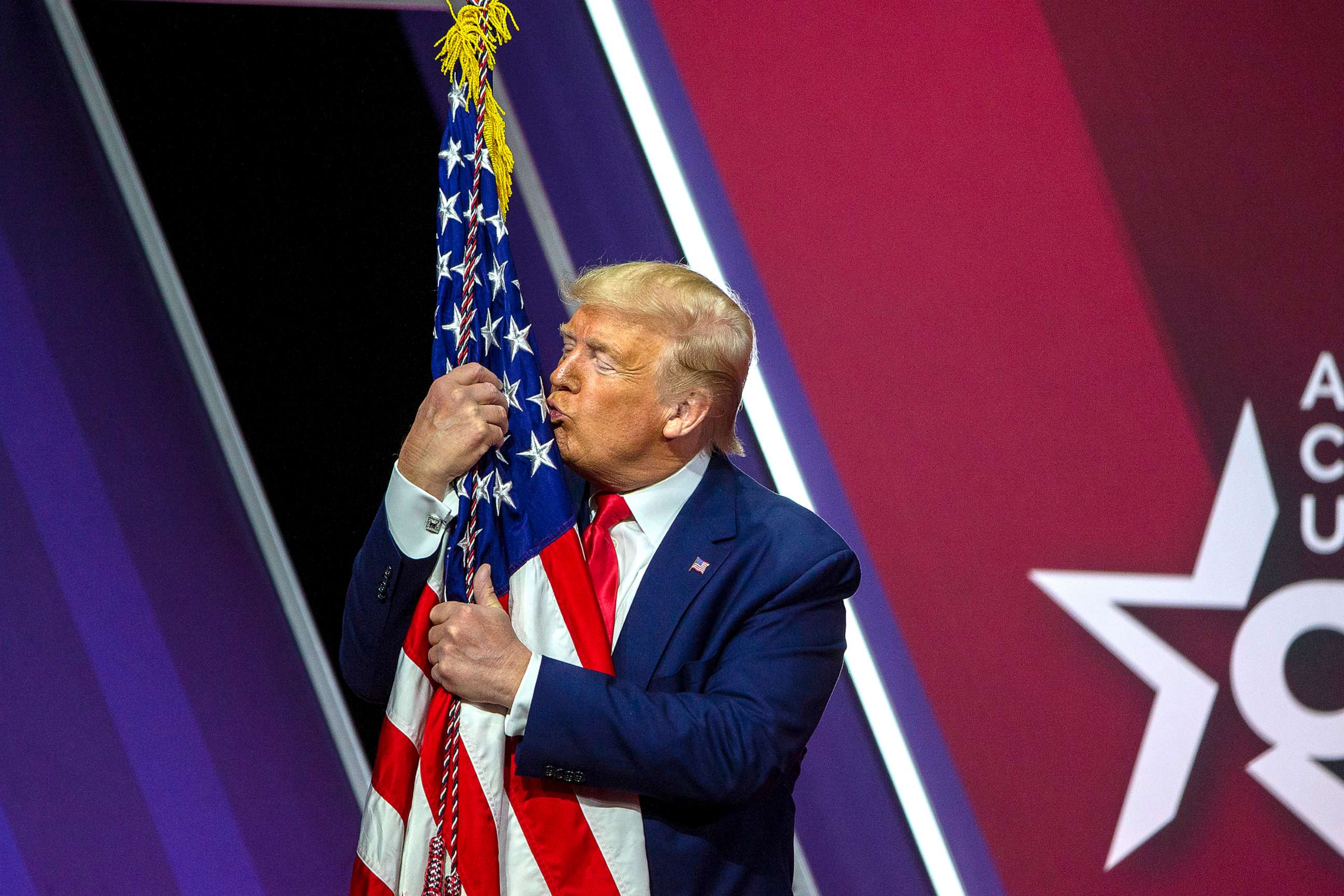 Yet should would-be candidates continue to avoid CPAC, operatives said that could change the media perception of the event which could result in fewer headlines.
"One of the things that we're going to have to see after the fact is, how much coverage does all of this get?" Heye said. "If you're not getting that, it makes it easier to potentially turn down."
"It has certainly morphed into more of an event that is just giving rally speeches to a crowd, and that had proven to be popular. But at a certain point, there are diminishing returns," he added. "There are obviously greater concerns about how effective of a tool this has been and whether or not it's a political version of the Star Trek convention."
ABC News' Olivia Rubin contributed to this report.