The Trump administration is moving forward with a rule that could drastically curb legal immigration by limiting who is allowed to enter and stay in the United States based on that person's need for various public benefits.
The "public charge" rule is part of the Trump administration's broader push to favor skilled applicants and those who are less likely to rely on public assistance. The government estimates some 380,000 applicants would be immediately subject to review under the new guidance after they are finalized in October.
Critics vowed to challenge the regulation in court, charging that it unfairly penalizes low-income immigrants -- particularly those of color -- and warned it would stoke fear in immigrant communities.
California Attorney General Xavier Becerra called the rule "vile" and an "attack on families and lower income communities of color."
"It will harm our communities, schools, and workplaces by weaponizing essential healthcare, housing, and nutrition programs," he said in a tweet. Becerra also said he is "ready to take legal action to protect the rights of all Californians."
Bob Greenstein, president of the left-leaning Center on Budget and Policy Priorities said the rule "essentially puts a price tag on obtaining lawful permanent residency in the United States, shifting it away from family-based immigration toward one restricted to people who are already relatively well-off or highly skilled when they enter the country."
"In doing so, it ignores our nation's centuries-long experience -- one still true today -- of immigrants coming to our shores, building a better life for themselves and future generations, and contributing to our economy," he said.
President Donald Trump has long tried to curb both legal and illegal immigration and used racially charged language to make his case, frequently referring to border crossings as an "invasion." In announcing his bid for presidency, Trump said people from Mexico crossing into the U.S. were "bringing crime" and were "rapists." Last year, he questioned in a private meeting with lawmakers why the U.S. was accepting immigrants from Haiti and Africa rather than places like Norway. In May, he proposed a plan to move toward a merit-based immigration system, moving the U.S. away from favoring family connections.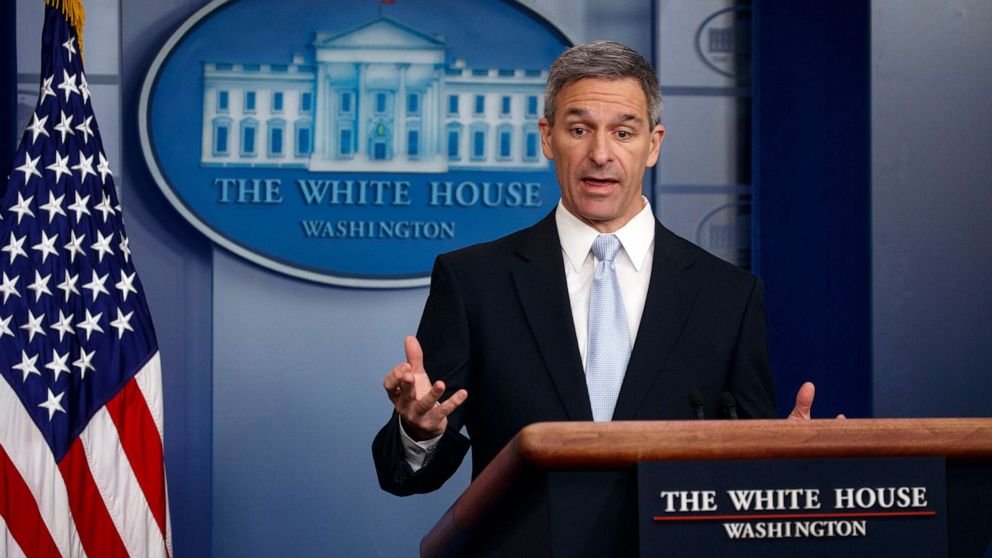 Ken Cuccinelli, acting director of the U.S. Citizenship and Immigration Services (USCIS), pushed back against allegations that the administration was purposefully trying to limit access by poorer immigrants. He said Monday morning that the latest rule, expected to take effect in October, would focus on whether a person is "self-sufficient."
"Through the public charge rule, President Trump's administration is reinforcing the ideals of self-sufficiency and personal responsibility, ensuring that immigrants are able to support themselves and become successful here in America," he said.
Diane Yentel, head of the National Low Income Housing Coalition, countered that the rule would target immigrants of color and widen racial disparities.
"Immigrants already face significant barriers to securing affordable homes, from racism and discrimination to language or education barriers," Yentel said. "The public charge rule will exacerbate these challenges and put affordable homes further out of reach."
The announcement comes just a week after the Trump administration announced sweeping immigration raids in Mississippi. U.S. Immigration and Customs Enforcement announced it arrested 680 individuals at seven different worksites across the state, in what officials called the largest single-state immigration enforcement action in history. This rule, in additional to last week's operations could signal an increased effort to target immigrants who are already in the United States.
The new rule, according to USCIS, will now take into account whether a person qualifies for certain forms of Medicaid, Social Security Income, and Supplemental Nutritional Assistance Program (SNAP) -- or food stamps -- are all considered as public benefits under the new rule, among other things. The use of Medicaid and SNAP were not disqualifying factors under the Clinton, Bush or Obama administrations.
Following the announcement of the final rule, the National Immigrant Law Center has announced it will file a lawsuit against the policy.
"As a leading national organization fighting to advance and defend the rights and opportunities of low-income immigrants, we will fight with every tool we have available to ensure that everyone in our communities has the freedom to thrive and the necessary resources to do so," said Marielena Hincapié, executive director of the National Immigration Law Center, in a statement.
"We look forward to seeing Trump in court -- again -- and to seeing justice prevail as we defend immigrant families and our democracy," Hincapié added.