Former President Donald Trump made his campaign debut for his 2024 run on Saturday in two key early-voting states.
Trump's first stop was in New Hampshire, where he teased a ramp-up in campaign events, laid out an agenda focused on crime, immigration and education and criticized the investigation into classified documents found at his Mar-a-Lago estate.
"This is about the beginning. You know, this is it. We're starting. We're starting right here as a candidate for president," Trump said as he delivered remarks at the New Hampshire Republican Party's annual meeting.
"To save America, we need a leader who is prepared to take on the forces laying waste to our country, and we need a president who is ready to hit the ground running on day one -- and I am, boy am I hitting the ground."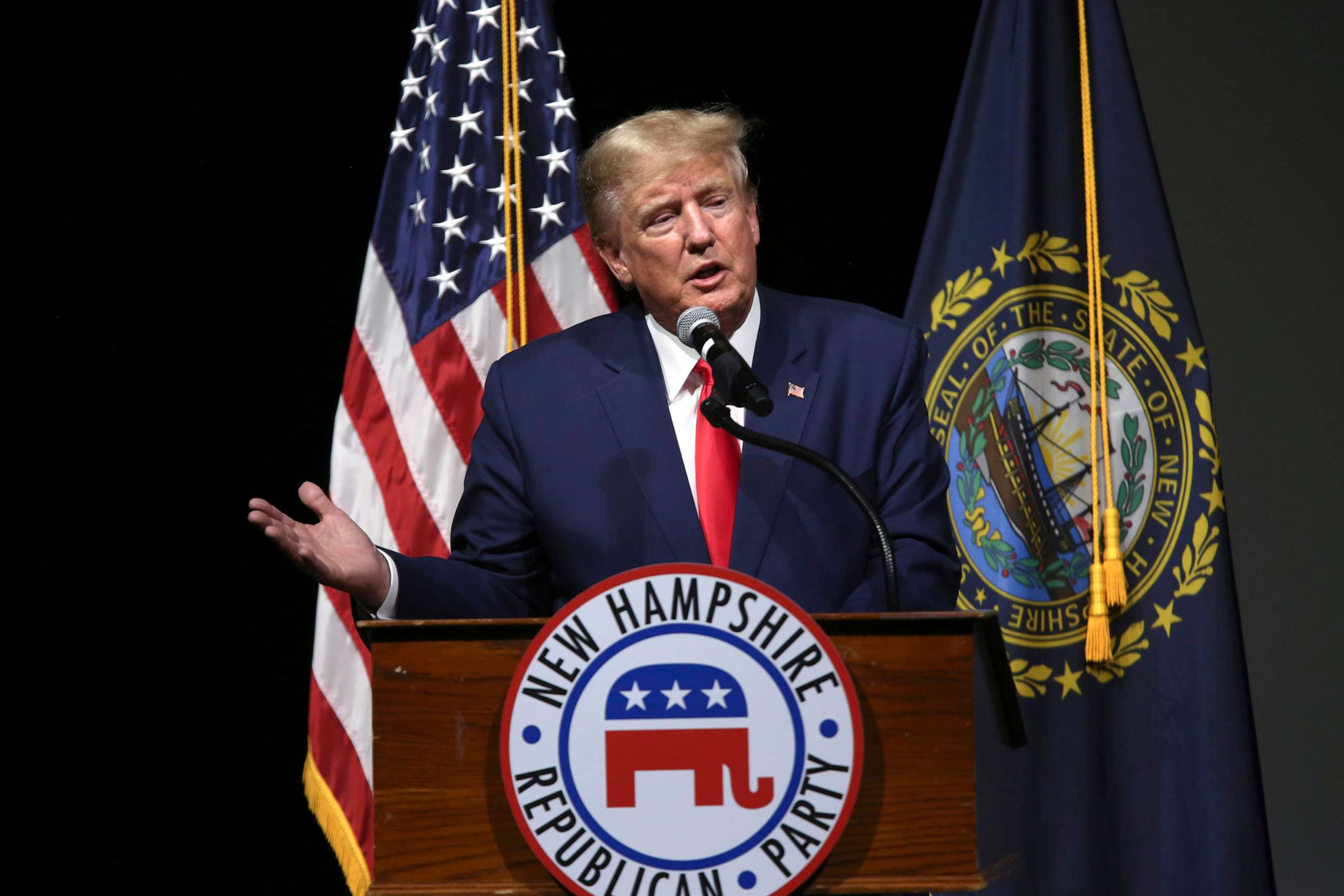 Looking to reenergize his campaign, Trump addressed skepticism and criticisms that he hasn't been on the road since his announcement back in November.
"They said, 'He's not doing rallies, he's not campaigning. Maybe he's lost that step.' We didn't. I'm more angry now. And I'm more committed now than I ever was," Trump said to cheers.
Trump also took aim at Democrats, slamming the party for their planned 2024 presidential primary calendar, which would strip New Hampshire of its first-in-the-nation primary status. Trump said if elected, he would ensure New Hampshire remains first in the nation for Republican primaries and he named outgoing state GOP Chairman Stephen Stepanek as his senior adviser for his New Hampshire campaign.
Saturday's campaign stops were also filled with not-so-slight digs at potential Republican contenders as Trump looks to dissuade other Republicans from launching presidential bids. The former president projected confidence in his ability to win the next presidential election, telling the crowd he doesn't "think we have competition this time either."
Speaking to reporters after his New Hampshire appearance, Trump told ABC News and other outlets that he would view a presidential run by Florida Gov. Ron DeSantis, for example, as "disloyal."
"When I hear he might run, you know, I consider that very disloyal," Trump said. "But it's not about loyalty, but to me it is, it's always about loyalty."
Trump, the only declared GOP candidate in the race so far, also said that widely expected challenger Nikki Haley, a former ambassador in his administration and former South Carolina governor, had called him recently to say "she'd like to consider" a run for president in 2024.
"I said, 'Look, you know, go by your heart if you want to run,'" Trump told reporters. "She's publicly said that 'I would never run against my president.'"
Following his event in New Hampshire, Trump sent out a fundraising email seeking to capitalize on his return to the campaign trail.
"I will officially be the FIRST Republican presidential candidate to campaign in the two early primary states of New Hampshire and South Carolina. No other candidate is working this early to win every last vote and save America from Biden's destruction," the email stated.
But Trump's third run for the White House also comes as he faces multiple investigations, including a Department of Justice probe of his handling of classified documents while out of office and a criminal investigation in Georgia into efforts to overturn the 2020 presidential election result -- a case in which decisions regarding potential charges are "imminent," the prosecutor leading the investigation said earlier this week.
"I'm not worried," Trump said Saturday when asked about the possibility of charges in the case. He insisted that, because he was president at the time, "I had an obligation to criticize or to ask questions" about the election.
Trump also spent time during both his campaign stops Saturday criticizing the court-authorized FBI search of Mar-a-Lago and the investigation into classified documents found at his estate. It comes as classified materials have also been found at the residences of former Vice President Mike Pence and President Joe Biden.
Attorney General Merrick Garland has appointed two special counsels to investigate Trump and Biden whereas the DOJ has been reviewing the material found at Pence's Indiana home earlier this week.
In South Carolina for his second event of the day, Trump spoke to a small, packed room filled with hundreds of people where he announced his leadership team for the state and spoke to the importance of its early role in the primary process.
"As the famous saying goes, 'South Carolina picks presidents,' you've heard that a little bit before, right?" he said.
His South Carolina Leadership team includes Sen. Lindsey Graham, Gov. Henry McMaster, Lt. Gov. Pamela Evette, Treasurer Curtis Loftis, Rep. Joe Wilson, Rep. Russell Fry, Rep. William Timmons, former Lt. Gov. Andre Bauer, former U.S. Attorney Peter McCoy and former Amb. Ed McMullen.
"We believe in common sense. We believe in the Declaration of Independence. We believe in the Constitution. We believe in the Bible, and we believe in you," McMaster said, pointing to Trump.
"How many times have you heard 'we like Trump policies, but we want somebody new.' There are no Trump policies without Donald Trump," Graham added.
On policy, Trump said Saturday he would "eliminate federal funding for any school that pushes critical race theory or left-wing gender ideology," restore every border security measure of the Trump presidency "within hours of my inauguration," investigate "radical left-wing prosecutors" and said he supports a constitutional amendment to impose term limits on members of Congress.
"This is just the beginning of our agenda. I look forward to returning many times," Trump said as he ended his remarks in New Hampshire.