Former President Donald Trump sat down for a prime-time town hall on CNN on Wednesday, a day after he was found liable for battery and defamation in the E. Jean Carroll civil case.
A New York jury awarded Carroll a total of $5 million in the lawsuit, finding that they found Trump did not rape Carroll but sexually abused her. When directly asked Wednesday night about the verdict by moderator Kaitlan Collins, "CNN This Morning" anchor and former CNN chief White House correspondent, Trump continued to deny knowing Carroll, at one point declaring "I swear on my children."
In the exchange with Collins, Trump also mocked the version of the sexual assault incident that Carroll's lawyers told jurors.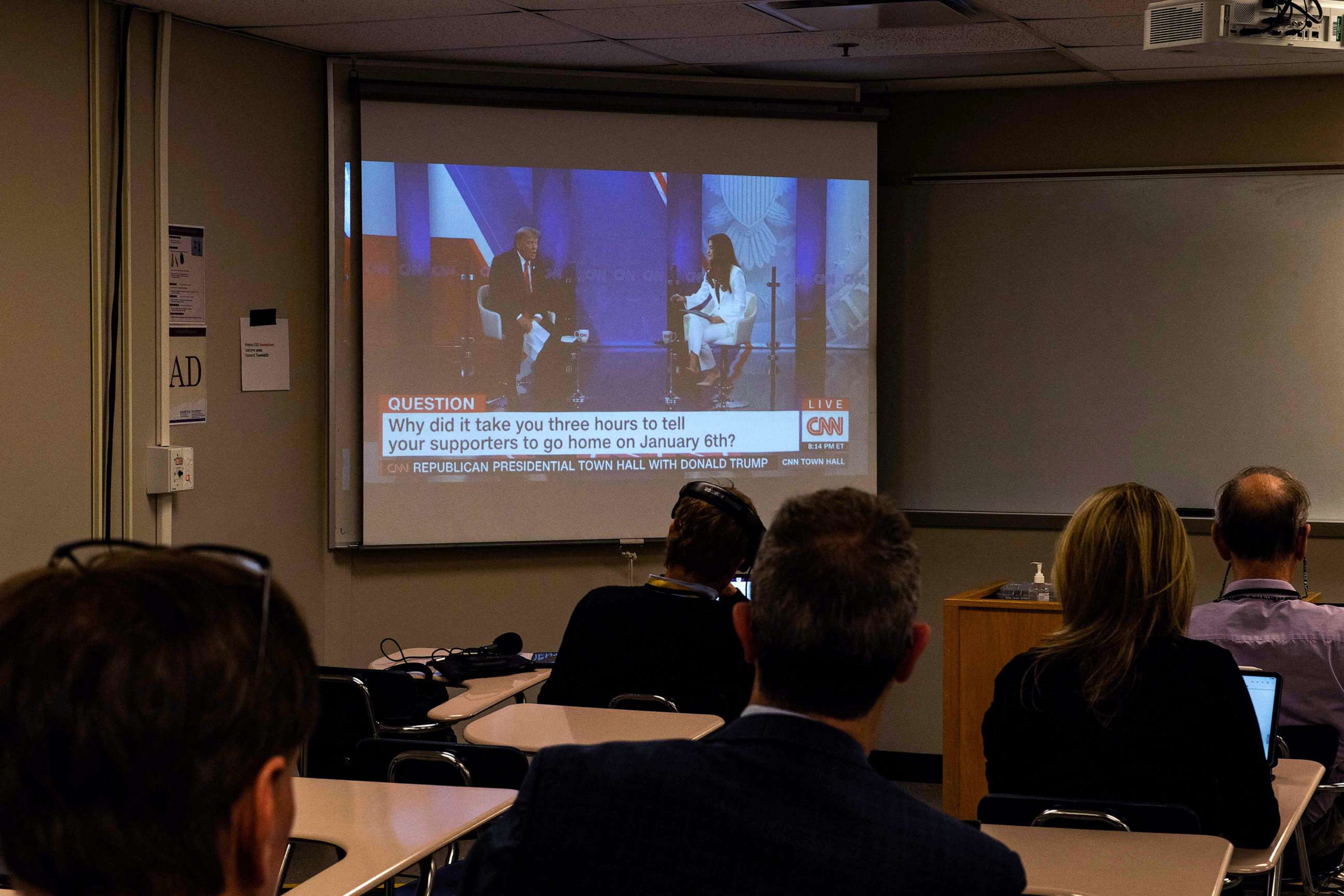 The live town hall was held in New Hampshire, home to the first-in-the-nation GOP primary. The audience at Saint Anselm College in Goffstown was made up of Republicans and undeclared voters -- those who are not registered as Democrats or Republicans -- who plan to vote in the state's 2024 GOP presidential primary, CNN said. No questions were off the table, Collins said Wednesday night.
In addition to the Carroll case, myriad legal issues loom over the twice-impeached former president's third White House bid. Trump was indicted by a Manhattan grand jury last month, becoming the first former U.S. president to face criminal charges. He pleaded not guilty to 34 felony counts of falsifying business records.
Trump additionally faces multiple investigations, including into his efforts to overturn the 2020 election and the handling of classified documents at his Mar-a-Lago residence.
During the roughly hour-long town hall, Collins asked Trump if he still has any classified documents in his possession.
"I don't have any," Trump responded. "I have no classified documents."
Trump, the current GOP primary front-runner, is the first candidate CNN provided a town hall setting to as part of a series of such forums during the 2024 presidential cycle. It marks the first time Trump appeared on CNN since the 2016 presidential campaign.
Critics of CNN said it should not be giving Trump a live, prime-time platform -- normalizing him as just another presidential candidate -- while CNN has stated it was only giving Trump the same platform it would be giving other 2024 presidential hopefuls.
President Joe Biden took to social media following the town hall to campaign for his re-election bid, tweeting: "It's simple, folks. Do you want four more years of that? If you don't, pitch in to our campaign."
ABC News' Isabella Murray contributed to this report.