Trump Calls Capt. Khan a 'Hero' Amid Blowback Over Remarks to Family
The GOP nominee tweeted that people need to "get smart" about terrorism.
— -- Republican nominee Donald Trump, facing backlash over his controversial remarks about the family of slain Army Capt. Humayun Khan, continued to aggressively push back against critics this morning.
"Mr. Khan, who does not know me, viciously attacked me from the stage of the DNC and is now all over T.V. doing the same - Nice!" Trump tweeted today in reference to an appearance that Khizr Khan and Ghazala Khan, the slain soldier's parents, were making on CNN's "New Day."
Khizr Khan used the opportunity to praise his son, describing him as a "wonderful, patriotic, deliberate" person. He criticized what he said was Trump's ignorance of the Constitution and said that Trump wanted "one set of rights for himself and another set of rights for others," referring to the First Amendment.
In an interview with ABC News affiliate WSYX, in Columbus, Trump said he had "great honor" for Humayun Khan and called him a "hero." But he defended his remarks based on his claim he was attacked.
Trump said his perceived lack of respect for the family of a fallen U.S. soldier served as a distraction from issues that were more pertinent to the presidential campaign.
"This story is not about Mr. Khan, who is all over the place doing interviews, but rather RADICAL ISLAMIC TERRORISM and the U.S. Get smart!" Trump tweeted in reference to the appearance.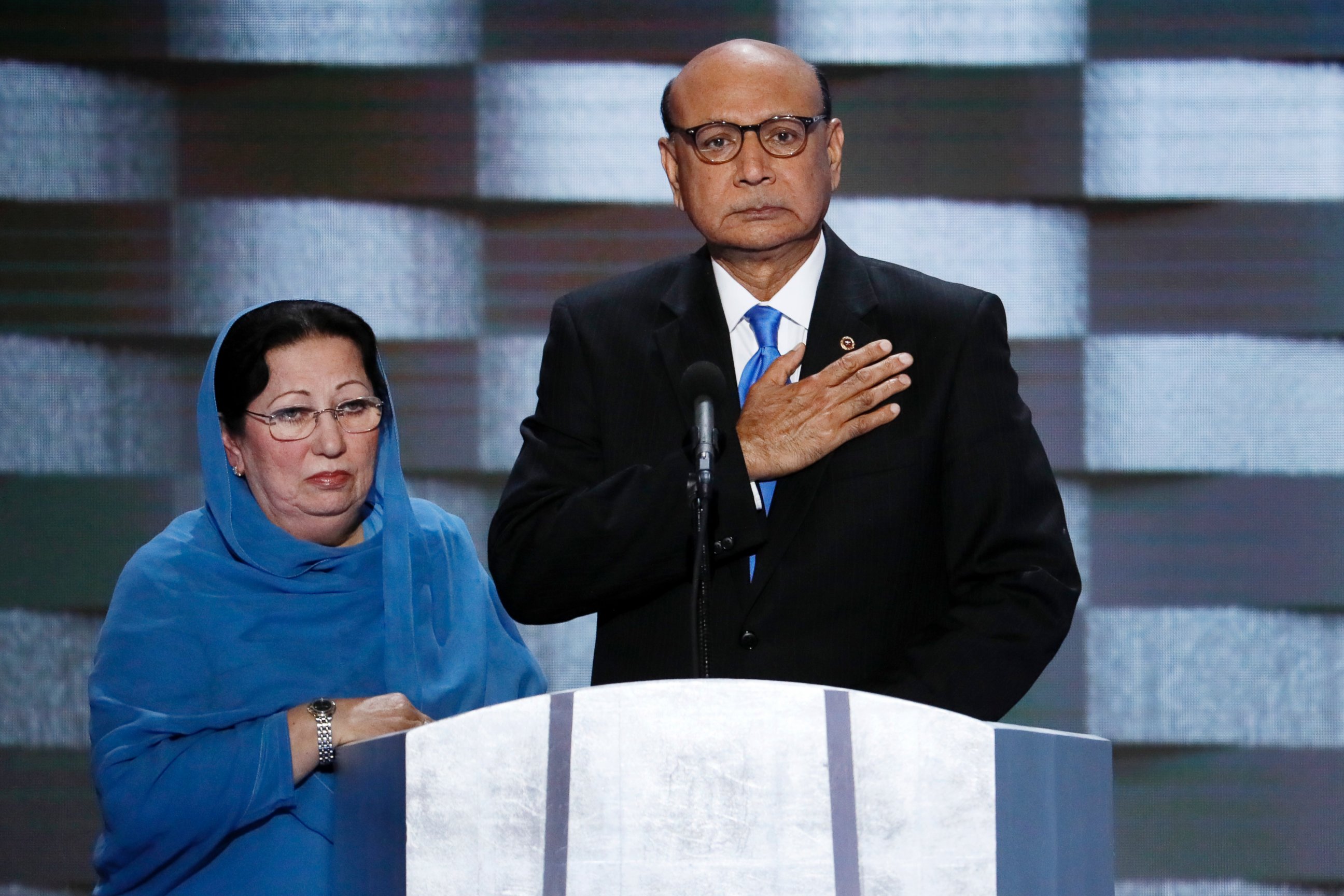 RNC Chair Reince Priebus said on CNN that Gold Star families were "precious, and they are to be honored and loved and cherished." He also said the Khans "should be off-limits."
"There is just nothing more sacrificial than that, and we believe that and we know that and I believe that Donald Trump and Mike Pence also know, and understand that," he said.
"That's why I think that we just, we don't go there and I don't go there."
The families of 11 fallen service members have demanded an apology for "repugnant" and "personally offensive" remarks made by Trump, in a letter published by VoteVets Action Fund, the progressive advocacy wing of the political action committee for VoteVets.org.
Senate Majority Leader Mitch McConnell and Speaker of the House Paul Ryan praised the sacrifices made by the Khan family, in statements made over the weekend. Without naming Trump, they implied that his criticism of the Khan family and his proposal to temporarily bar Muslims from entering the U.S. ran contrary to American values.
"All Americans should value the patriotic service of the patriots who volunteer to selflessly defend us in the armed services. And as I have long made clear, I agree with the Khans and families across the country that a travel ban on all members of a religion is simply contrary to American values," McConnell wrote.
In a similar statement, Ryan said, "America's greatness is built on the principles of liberty and preserved by the men and women who wear the uniform to defend it. As I have said on numerous occasions, a religious test for entering our country is not reflective of these fundamental values. I reject it."
Ghazala Khan told CNN this morning, "I'm so happy to be saying that I'm a Muslim woman. I'm very glad to be in this country."
"Someone has to pay a price for this freedom that we have," she added about her son's service.
Editor's note: This story has been updated with the correct spelling of Humayun Khan's name.