Despite signing an executive order on Tuesday to end the practice of separating immigrant children from their parents, President Donald Trump doubled down on his hardline immigration rhetoric at a campaign rally in Minnesota.
"They're not sending their finest. We're sending them the hell back! That's what we're doing," he told the crowd of nearly 9,000 supporters. "And, by the way, today I signed an executive order. We will keep families together, but the border is going to be just as tough as it has been."
Trump then pummeled congressional Democrats, alleging that they don't care about Americans' safety, jobs or well-being, falsely blaming them for his administration's actions.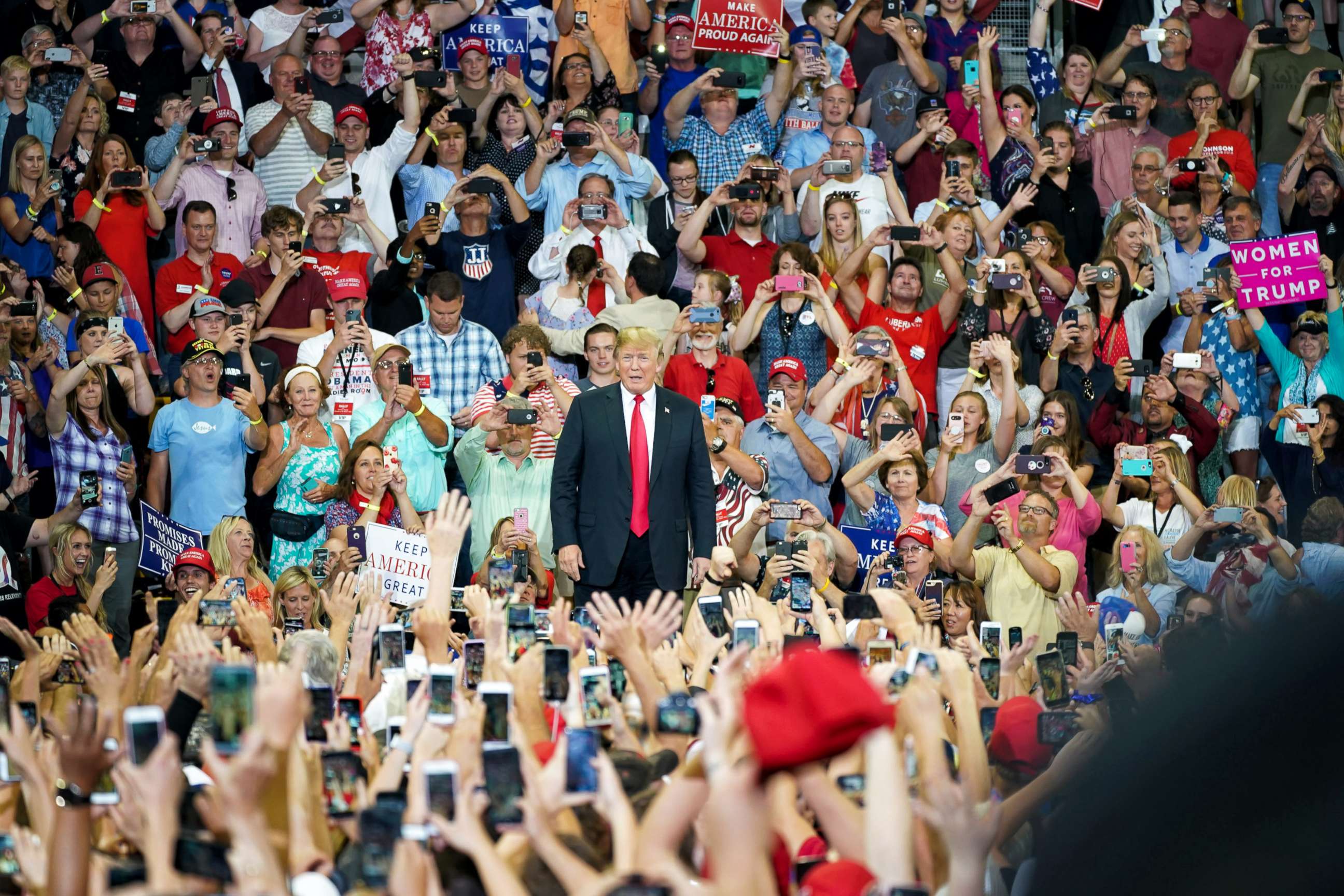 "So the Democrats want open borders," Trump said. "'Let everybody come in, let them come in from the Middle East, let them come in from all over the place. We don't care.' We are not going to let it happen."
The president's campaign rally in Duluth was meant for retired police officer and county board member Pete Stauber, a Republican candidate for Congress running in the traditionally Democratic 8th District.
Feeling very reminiscent of his campaign rallies in 2016, there were chants of "lock her up" when Trump mentioned "Crooked Hillary" and chants of "build the wall" when Trump talked immigration.
When a couple of protesters were booed and escorted out of the arena, Trump mocked them, telling one of them, "Goodbye darling. Go home to mommy."
He also bashed the media, leading the crowd in raucous boos and chants of "CNN sucks."
Trump also laid into cancer-stricken Republican Sen. John McCain.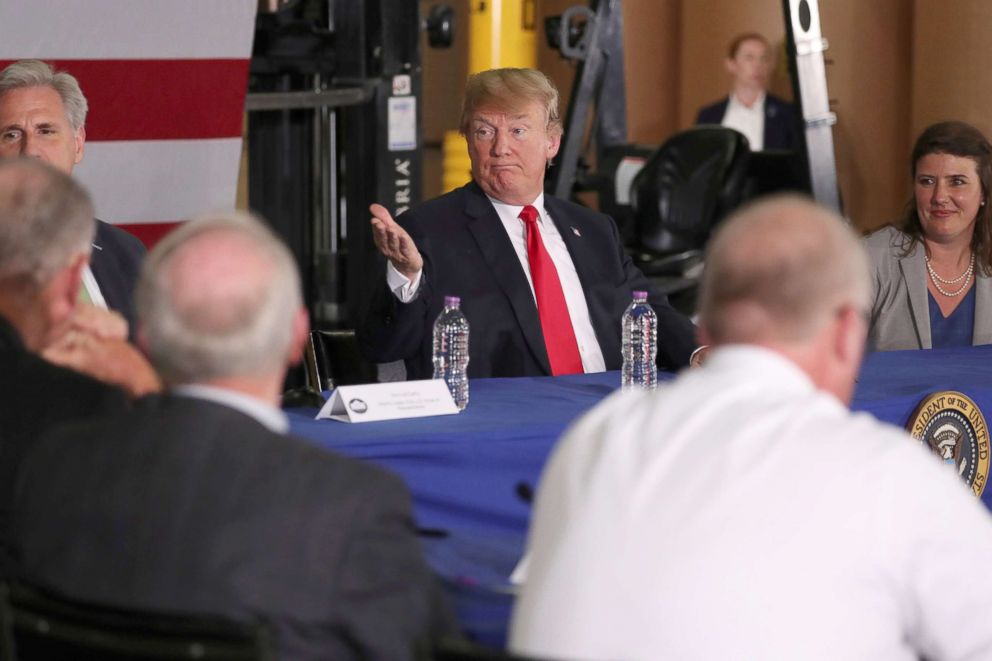 Without naming him, Trump criticized the Arizona senator for his "no" vote last July on the GOP-led legislation to repeal and replace Obamacare. McCain is battling brain cancer and has not been seen in the nation's capital for several months.
"We had a gentleman late into the morning hours, that was not a good thing he did for our people or our country, whether Democrat or Republican. Everyone said it, we have his vote, we have everyone's vote. We were going in for a routine repeal and replace, and he went thumbs down. Not nice," Trump said.
ABC News spoke to several Trump supporters gathered outside of the arena ahead of the president's rally. They echoed Trump's repeatedly false claims over the past week about forced separations at the U.S.-Mexico border -- and who's to blame for them.
"It's really sad. And that's why the Democrats need to start getting going and get something passed to get it taken care of," said Denise Anderson of Esko, Minn.
For James Williamson, a retired military veteran, it was clear cut: "Are we a nation of laws? If we are, I support any president that supports them."
He added: "Obviously Obama and Bush and Clinton didn't support the laws."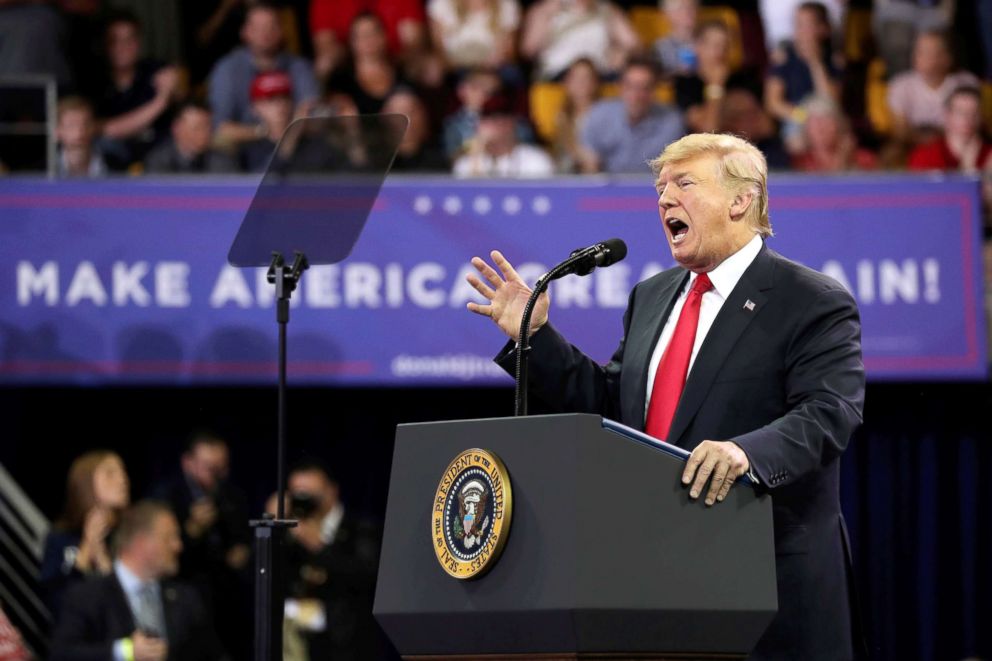 When ABC News asked if the images of children in cages bothered him, Williamson responded: "No! Because they're well cared for. We're paying $700 a day per child. If a person goes to prison, they are separated from their children. If Congress doesn't like it, let them pass new laws! You want a president that supports laws?"
And Heidi Johnson, who took a three-hour bus ride from the town of Bemidji to see Trump in person, agreed with his America First mindset.
"I think that we have a lot of issues at home that we need to take care of before we start taking care of other people's," she said.
Despite overwhelming and obvious support for Trump and his policies, the chilling images of children in cages did affect some people who spoke to ABC News.
"It makes me feel sad a little bit," Noah Lesner, 19, said. "But, at the same there are laws. Yeah."