Trump's latest praise for strongmen includes Rodrigo Duterte, Vladimir Putin and Kim Jong Un
He's done this before.
November 14, 2017, 11:24 AM
— -- President Donald Trump's 13-day trip to Asia included meetings with a host of world leaders, and while he praised many of his international counterparts, his interactions with some of the world's best-known strongmen have raised consternation.
Trump's kind words for Philippine President Rodrigo Duterte and Russian President Vladimir Putin, and the apparent softening of his language toward North Korean leader Kim Jong Un came in contrast to the concerns others have expressed about those leaders.
But dictators and authoritarian rulers were not the only ones to receive compliments from Trump during the Asia trip, which wraps up Tuesday. He praised Vietnamese President Tran Dai Quang, saying the country "has truly become one of the great miracles of the world and it's very impressive."
Earlier in the trip, Trump also said he and first lady Melania Trump were "having a great time" in Beijing with Chinese President Xi Jinping, talked about his friendship with Japanese Prime Minister Shinzo Abe and the "great cooperation" Americans are receiving from the South Koreans before a meeting he had with President Moon Jae-in.
Despite such widespread praise, however, the unyieldingly kind words for such controversial figures as Duterte and Putin have gained the most attention.
Trump has taken a different tact than previous U.S. leaders when it comes to dealing with their less peaceful or less democratic counterparts, Jamie Kirchick, a visiting fellow specializing in foreign policy at the Brookings Institution, said.
"All American presidents have had relationships -- oftentimes friendly -- with authoritarian leaders," Kirchick told ABC News. "It's part of the job.
"What's different about Trump is that he often seems to genuinely admire these leaders."
It's been "a pretty bipartisan aspect of American foreign policy" that among U.S. presidents who are forced to deal with such authoritarian leaders, "there's always an understanding that we would like to do better in the realm of human rights," Kirchick said.
"Trump is different because he … likes the swagger, he likes the toughness, he likes the hostility towards the opposition and the media. And that's something new. We haven't really had a president who doesn't seem to express the concerns over human rights that his predecessors had," Kirchick added.
Rodrigo Duterte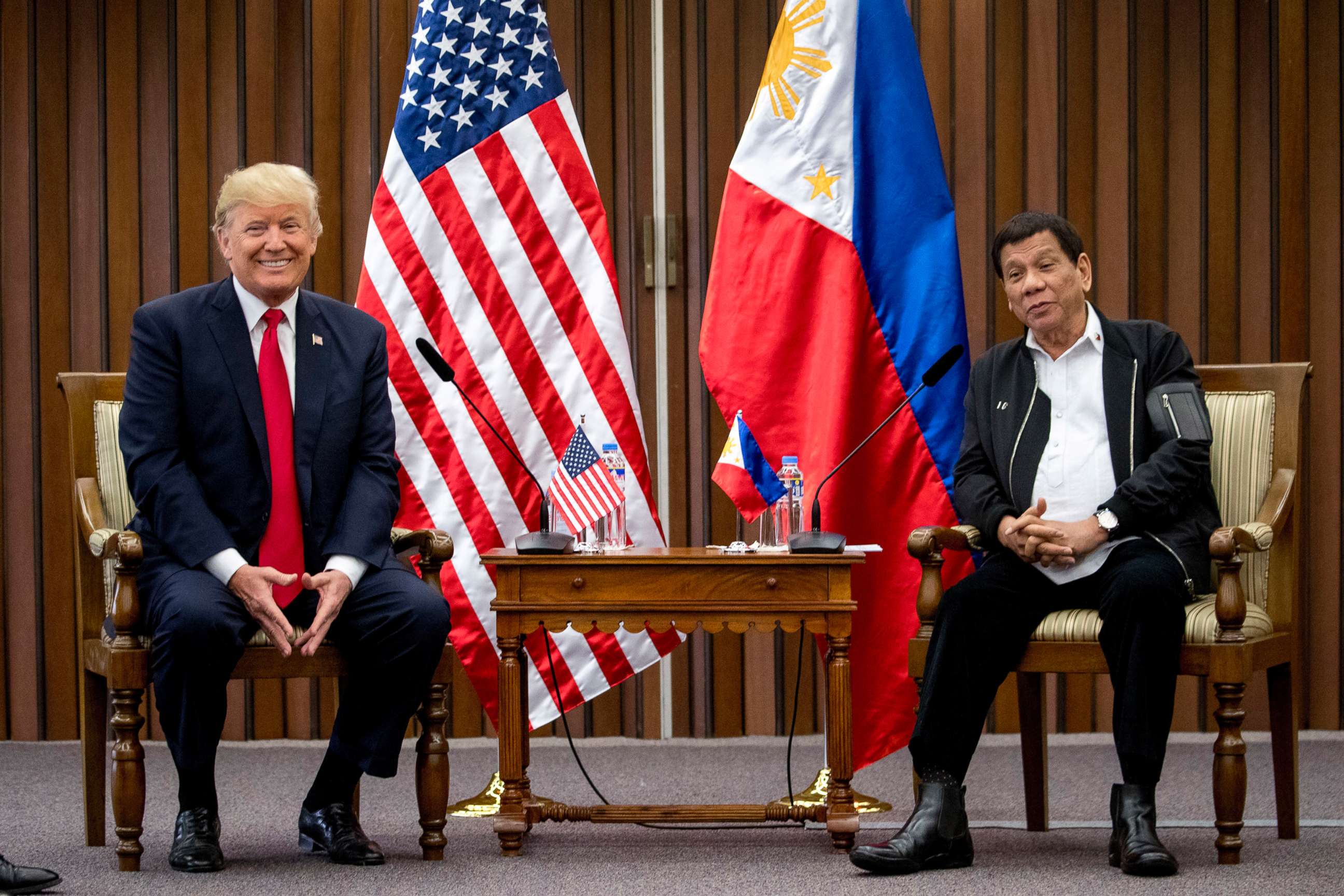 The Asia-Pacific Economic Cooperation conference wasn't the first time that Trump has shared some pleasantries with Philippine President Rodrigo Duterte, who has been accused by human rights groups of spearheading the extrajudicial killings of more than 7,000 drug offenders by police and vigilante groups.
But there was no criticism of Duterte in Trump's remarks today.
"Rodrigo, I would like to commend you on your success as ASEAN chair at this very critical moment in time, and in the association's history, such an important event," Trump said after the two leaders met for their first one-on-one meeting. "And I want to thank you for your incredible hospitality, and the show last night, the talent at that show, I assume mostly from the Philippines was fantastic, thank you, and you were fantastic also, very much from the Philippines."
When asked whether human rights concerns were discussed during their talk, White House press secretary Sarah Sanders today said, "the conversation focused on ISIS, illegal drugs, and trade. Human rights briefly came up in the context of the Philippines' fight against illegal drugs."
After Trump's public comments, he laughed as Duterte shot down an attempt by a member of the U.S. press corps to ask a question of the two leaders.
Duterte cut the reporter off, saying "Whoa, whoa, this is not a press statement. This is the bilateral meeting."
Duterte said that he and Trump would be discussing areas of mutual interest, going on to say that they wouldn't be able to do so with the media around because "you are the spies," to which Trump laughed.
Vladimir Putin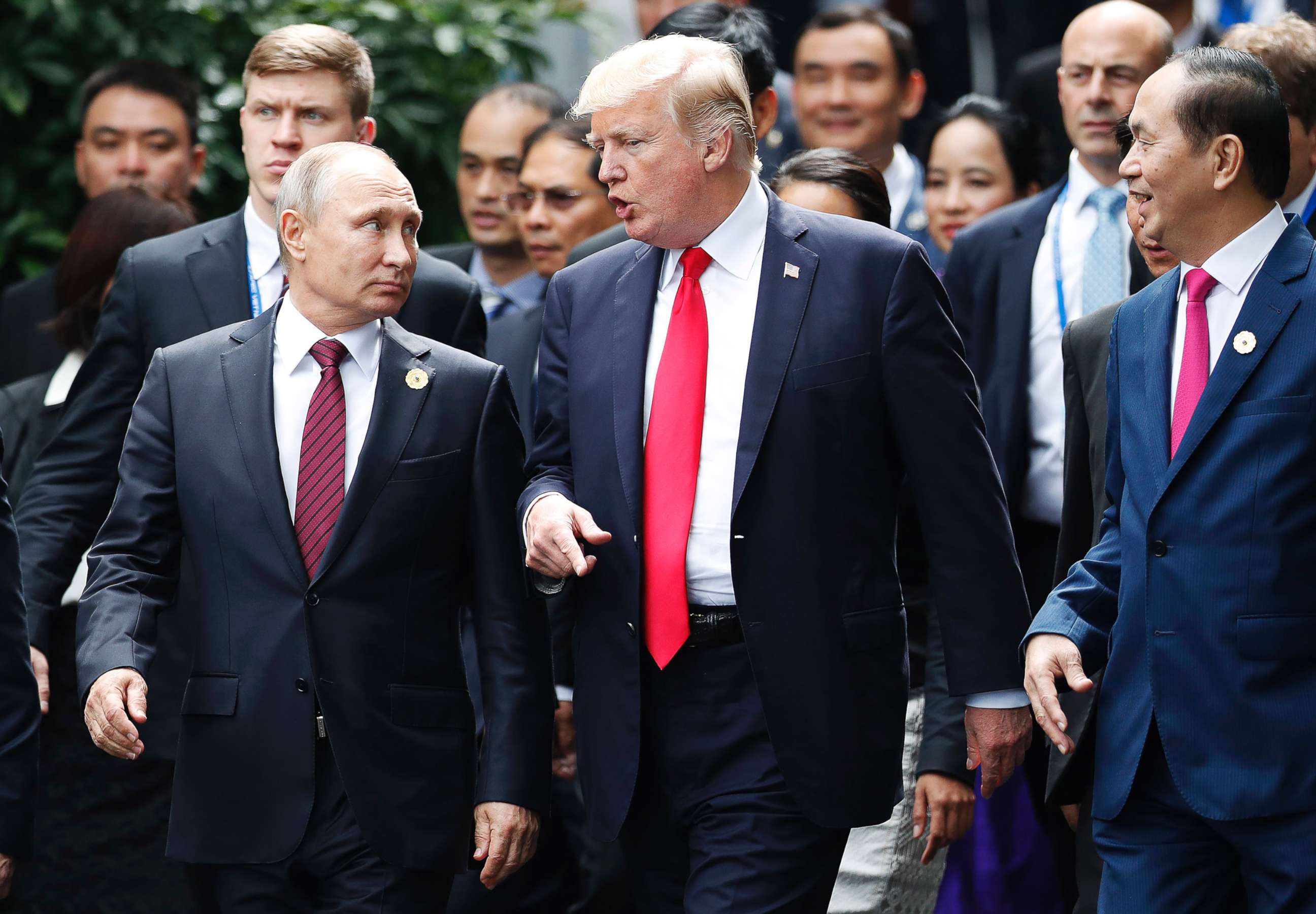 Reporters traveling with Trump said that when he reflected on his relationship with Russian President Vladimir Putin, Trump said, "we seem to have a very good feeling for each other, a good relationship considering we don't know each other well. I think it's a very good relationship."
Trump said he and Putin had "two or three very short conversations" during this past summit.
After a private meeting on the sidelines of an economic conference, Trump said Saturday Putin has reiterated that Russia did not interfere in the 2016 U.S. election, which runs counter to the official findings of the U.S. intelligence agencies.
"Every time he sees me, he said: 'I didn't do that.' And I believe — I really believe — that when he tells me that, he means it," Trump said of Putin.
Trump stressed that there are more important issues to be negotiated with Russia than continuing to talk about the election.
"I'd rather have him get out of Syria, to be honest with you. I'd rather have him, you know, work with him on the Ukraine than standing and arguing," Trump said.
Later, during a news conference with the Vietnamese president in Hanoi, Trump said of Putin, "I believe that he [Putin] feels that he and Russia did not meddle in the election."
Trump added of Putin, "I believe he believes that" Russia did not meddle.
Trump later clarified that he accepts the findings of the U.S. intelligence agencies, which have concluded that Russia interfered in the 2016 election.
"As to whether or not I believe it or not, I'm with our agencies, especially as currently constituted with their current leadership. I believe in our intel agencies, our intelligence agencies. I've worked with them very strongly … as currently led by fine people, I believe very much in our intelligence agencies," he said, taking an apparent jab at the agency heads during the Obama administration.
Kim Jong Un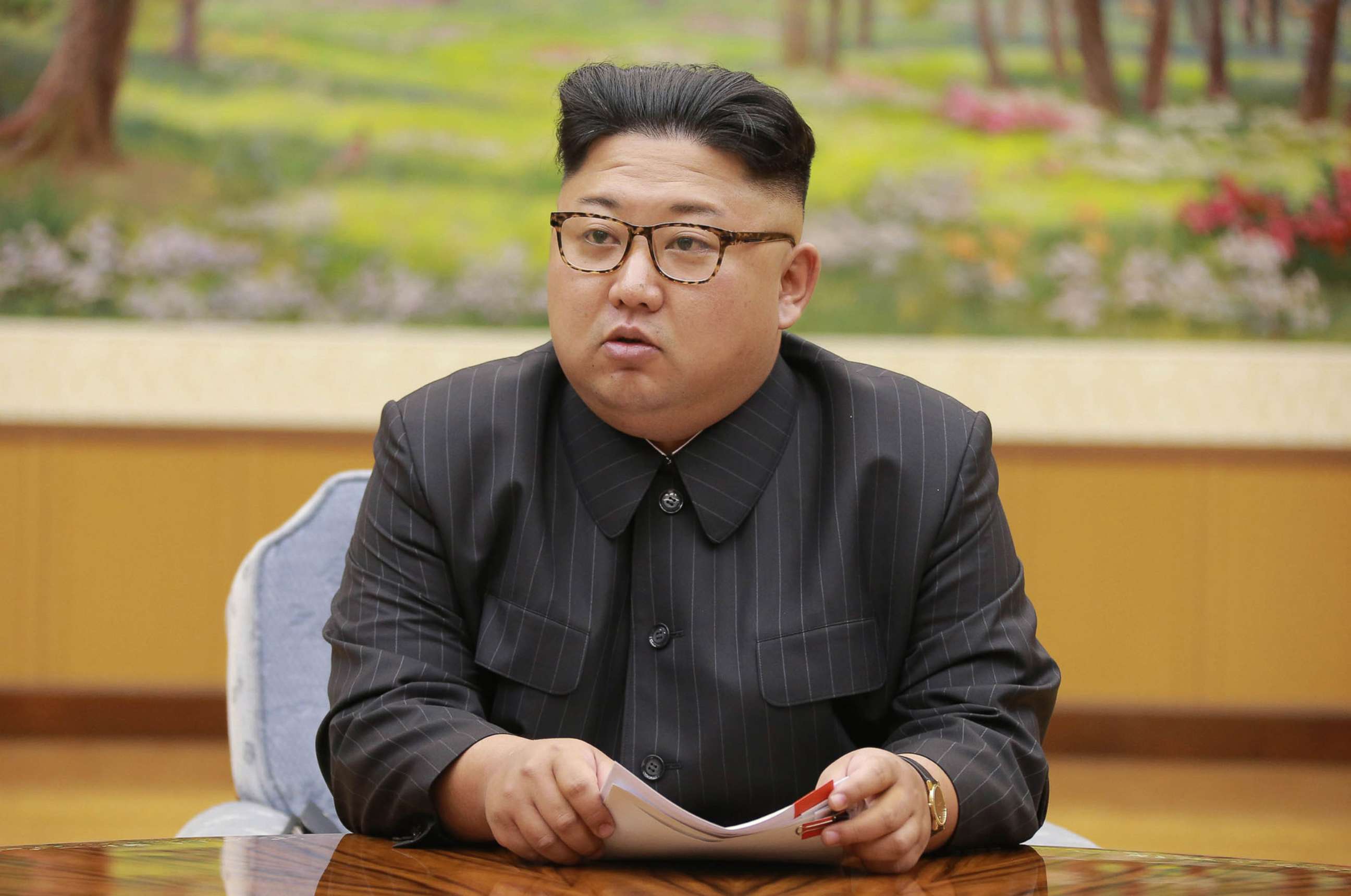 Trump hasn't appeared concerned about the feelings of North Korean dictator Kim Jong Un in the past, but a recent tweet suggests that perhaps he is softening his stance.
Trump Saturday posted a tweet that struck a decidedly different tone.
"Why would Kim Jong-un insult me by calling me "old," when I would NEVER call him "short and fat?" Oh well, I try so hard to be his friend - and maybe someday that will happen!" Trump wrote.
When asked about the tweet later that day, Trump acknowledged it would be surprising for them to suddenly became friends.
"I think anything is a possibility. Strange things happen in life, that might be a strange thing to happen, but it's certainly a possibility," Trump said, adding, "if that did happen, it would be a good thing."
Trump previously praised Kim during the campaign, noting that while he was a "maniac," "you've got to give him credit" for his role in taking over the country's government.