WASHINGTON -- The U.S. and Turkey reached an agreement on Thursday to halt Turkish operations against Syrian Kurdish forces the U.S. once backed in what President Donald Trump heralded as "a great day for civilization," but critics condemned as a capitulation to Turkish demands.
Following negotiations -- led by Turkish President Recep Tayyip Erdogan and Vice President Mike Pence -- the two sides released a joint statement that said Turkey "will pause" its operations for 120 hours for those Kurdish forces to withdraw from a 20-mile-deep territory that will then be controlled by Turkey.
Turkey's operation in northern Syria "will be halted upon completion of this withdrawal," which will be facilitated by the U.S., according to Pence.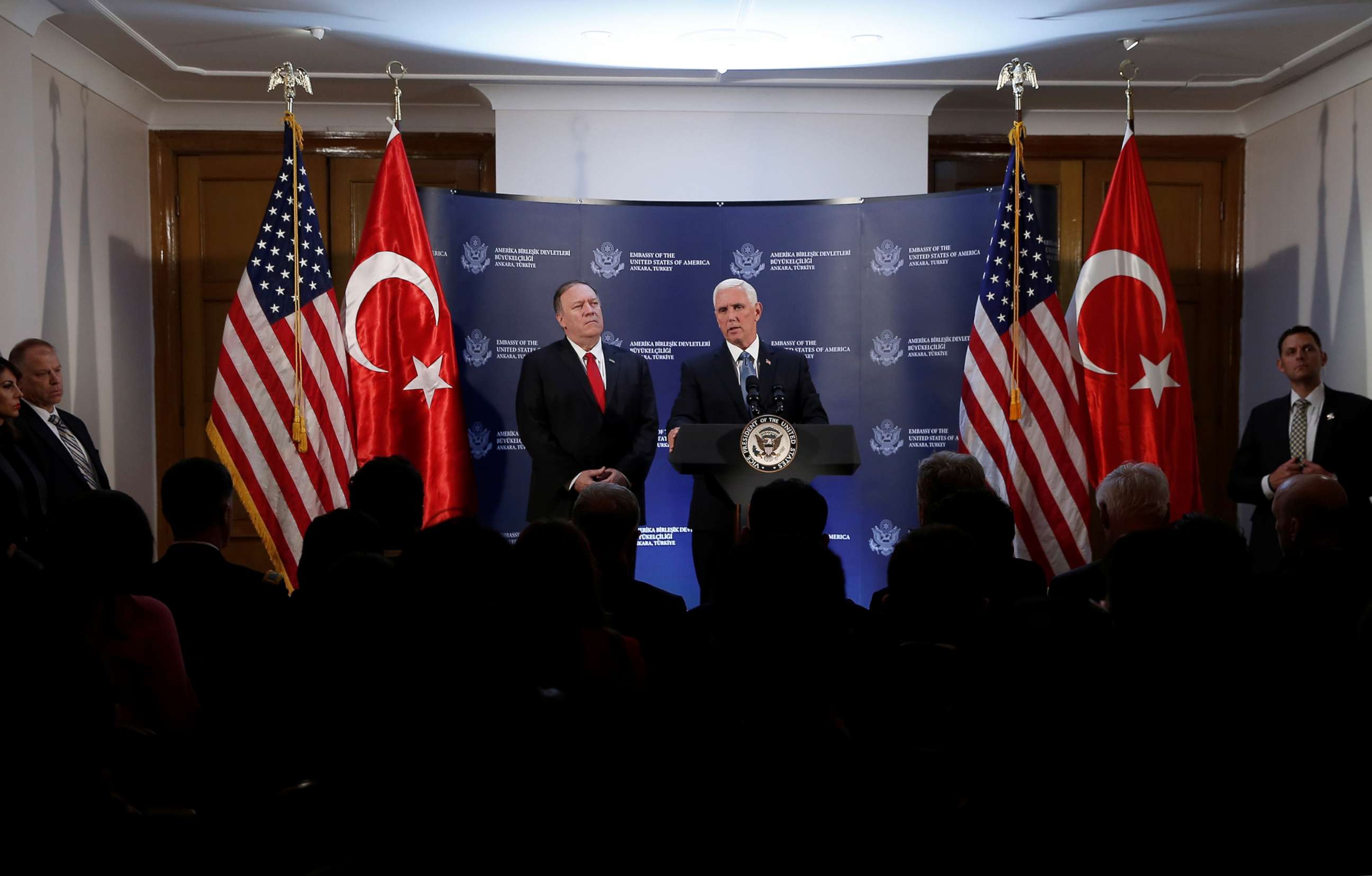 Pence called the agreement a ceasefire, although Turkish Foreign Minister Mevlut Cavusoglu said it was a "pause in Turkey's operation" and "not a ceasefire."
"Our team is already working with YPG personnel in the safe zone for an orderly withdrawal outside the 20-mile mark and we're going to go forward together to bring peace and security to this region, I'm very confident of that," Pence told reporters during a press conference.
The People's Protection Units, or YPG, are the Kurdish forces the constitute the main fighting force of the Syrian Democratic Forces, or SDF. Turkey considers them to be terrorists, indistinguishable from Kurdish separatists in Turkey that Turkey and the U.S. have both designated terrorist organizations. But the U.S. armed, closely partnered with and fought alongside the SDF in the fight against ISIS, with Kurdish forces losing 11,000 troops in that battle.
It was unclear Thursday whether the SDF had agreed to the deal reached by the U.S. and Turkey, which will also face strong resistance from Bashar al-Assad, the Syrian leader who has waged a brutal eight-and-a-half year war to retake Syrian territory and is backed by Russia, Iran and Iranian proxies, such as, Hezbollah.
Instead, the deal recognizes Turkish control over the safe zone that it sought against Kurdish forces, requires "the re-collection of YPG heavy weapons and the disablement of their fortifications and all other fighting positions," and will see the U.S. repeal sanctions against senior Turkish officials once the Turkish operation is halted.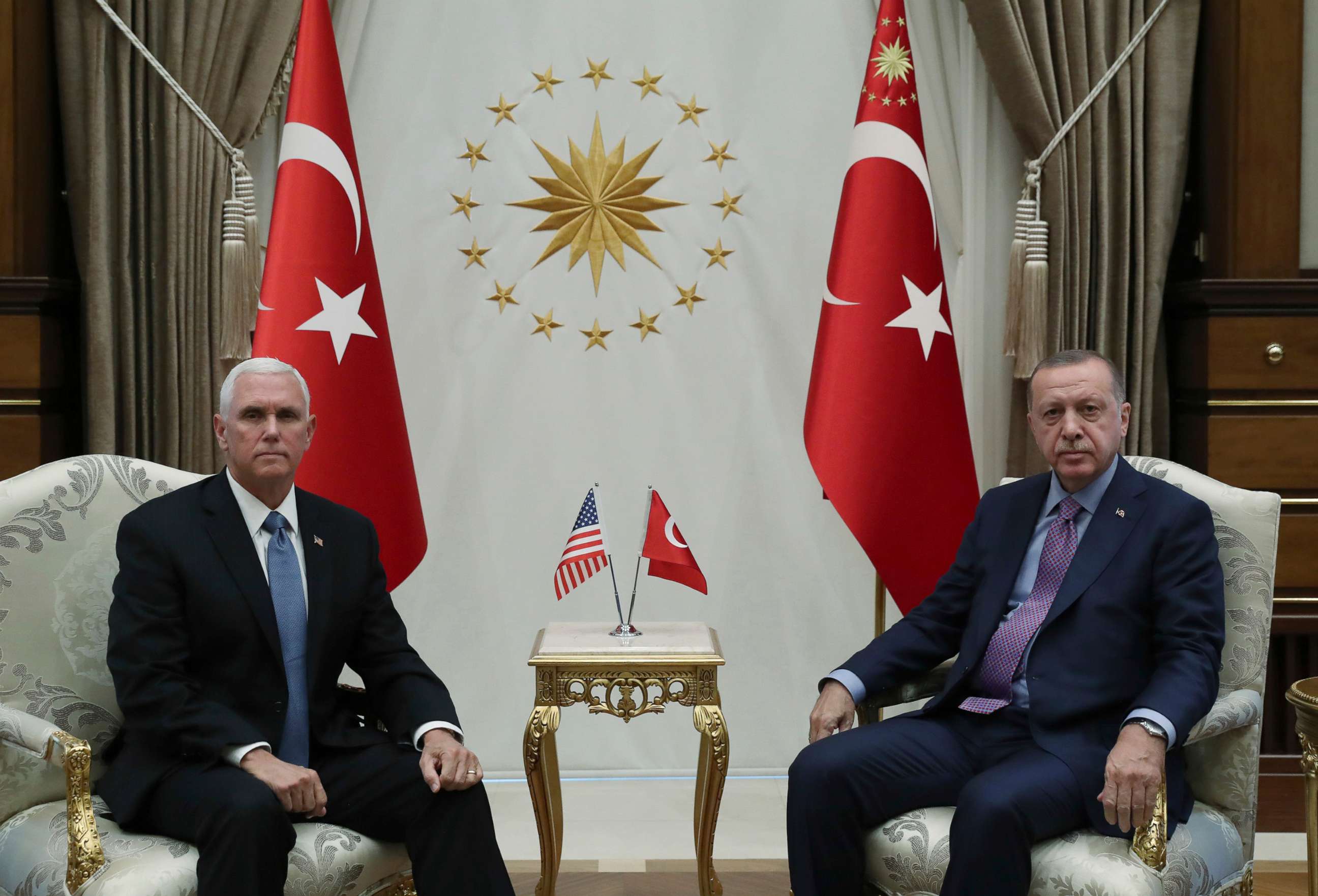 "This is a great day for civilization. I am proud of the United States for sticking by me in following a necessary, but somewhat unconventional, path. People have been trying to make this "Deal" for many years. Millions of lives will be saved. Congratulations to ALL!" tweeted President Donald Trump.
In Texas, following Pence's announcement, Trump told reporters that Erdogan was "a hell of a leader" who "did the right thing." Now that Turkey has agreed to cease fighting for five days, Trump said, "sanctions won't be necessary."
Trump said that he, himself, had taken "a lot of heat" for his approach to Turkey, which critics across the political spectrum said amounted to abandoning allies who had fought ISIS alongside the United States.
While Turkey's operation had been widely condemned around the world, Pence said the U.S. would now work with Turkey on this new "safe zone."
"The United States of America will work with Turkey -- will work with nations around the world -- to make sure peace and stability are the order of the day in this safe zone," Pence said at the news conference.
When asked what will happen to the Kurdish forces, who lived in cities and towns in what is now supposed to be Turkish-held territory, Pence didn't say, instead touting the importance of the safe zone in achieving peace: "We believe that the Kurdish population in Syria -- with which we have a strong relationship -- will continue to endure. The United States will always be grateful for our partnership with SDF in defeating ISIS, but we recognize the importance and the value of a safe zone to create a buffer between Syria proper and the Kurdish population and the Turkish border."
Erdogan had previously repeatedly rejected the idea of a ceasefire, saying his government would not negotiate with what it considers a terrorist organization.
The high-level diplomacy came one day after Trump dismissed concerns about the violent clashes.
"That's between Turkey and Syria, it's not between Turkey and the United States, like a lot of stupid people would like us to, would like you to believe," he said in the Oval Office on Wednesday.
Trump has come under withering criticism by Republicans and Democrats for withdrawing U.S. forces from Syria, after initially pulling back two attachments of troops in advance of Turkey's operation against the Syrian Kurds.
That was seen as giving a green light to Erdogan to attack the Kurds.
Trump denied Wednesday that he had given a green light, saying he could not have stopped Turkey.
"There was never given a green light. They've been wanting to do that for years and, frankly, they've been fighting for many, many years," he said.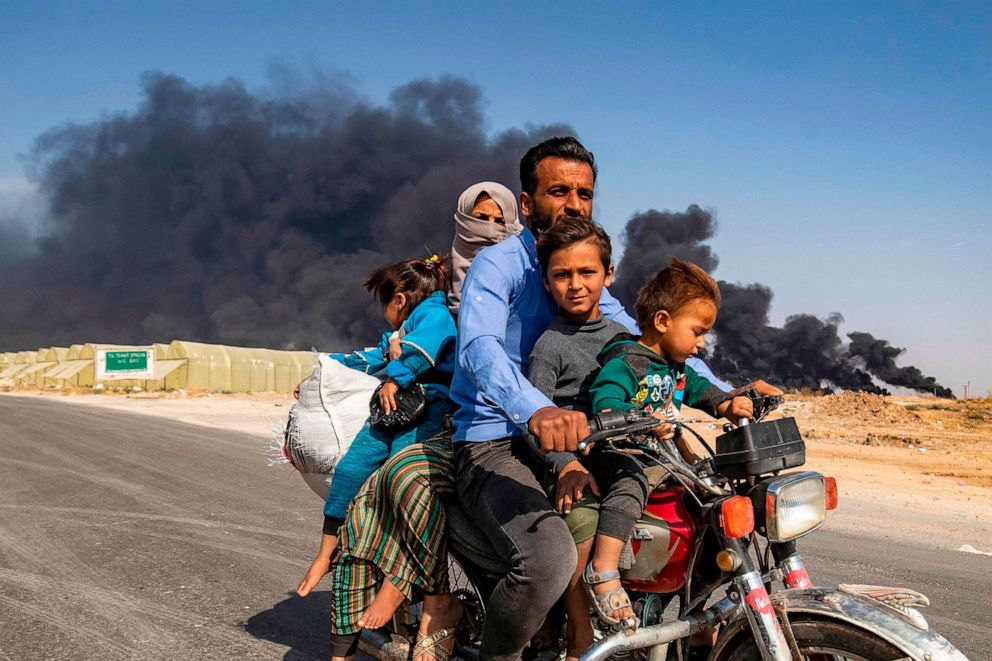 Pence and Erdogan first met one-on-one in Turkey's capital, Ankara, for one hour and 20 minutes -- a one-on-one meeting that was originally scheduled to last just 10 minutes. Afterwards, they were joined by their full delegations, including Secretary of State Mike Pompeo and national security adviser Robert O'Brien from the U.S. side and Turkish Foreign Minister Mevlut Cavusoglu.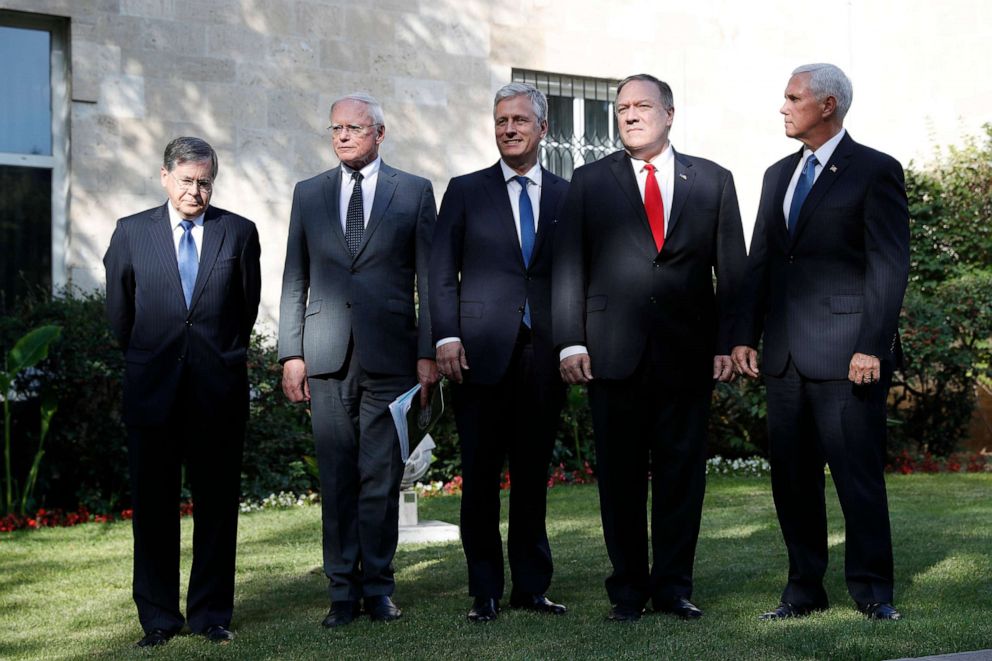 Trump has sent mixed signals on the operation, at times dismissing any U.S. concern over it, but then also penalizing Turkey with sanctions Monday on its defense, energy and interior ministers and defense and energy ministries.
The day Turkey launched its offensive last week, Trump admonished Erdogan in a extraordinary personal letter in which he threatened to be "responsible for destroying the Turkish economy" and said his fellow leader should not be "a tough guy" or a "fool." The letter was first reported by Fox News and later confirmed as accurate to ABC News by a senior administration official.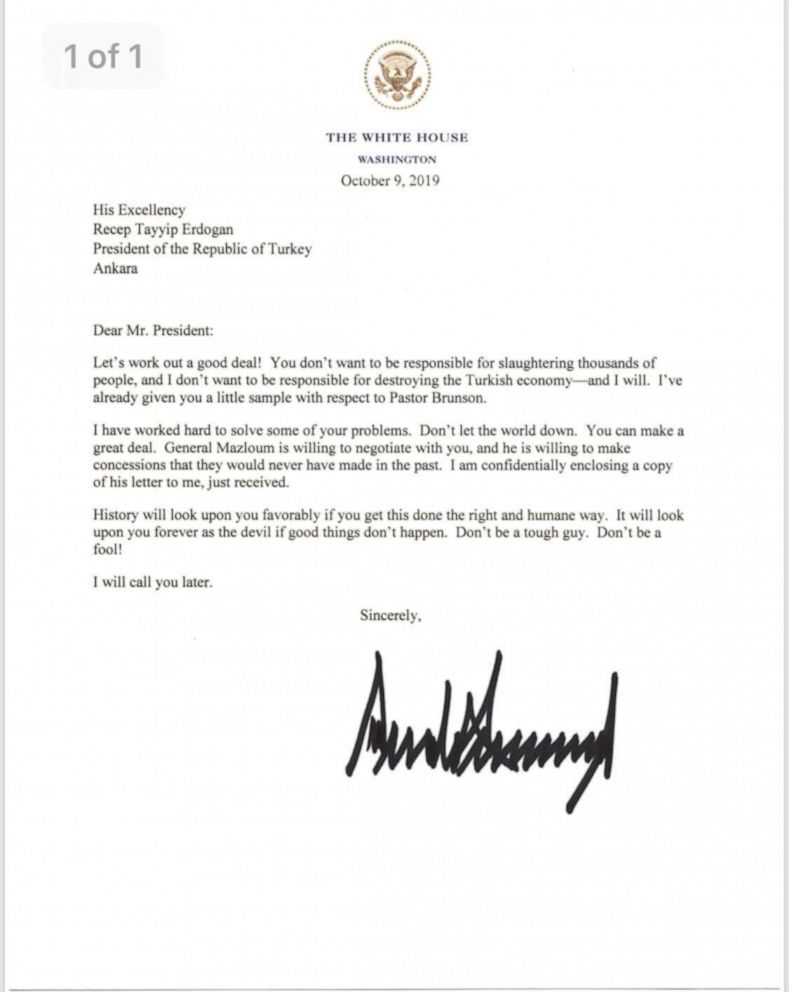 But on Wednesday, just hours before Pence departed for Ankara -- carrying out Trump's directive to try to negotiate a ceasefire -- Trump again said he did not think the United States should get involved.
"It's not our border," he told reporters at the White House. "We shouldn't be losing lives over it."
Erdogan told reporters on Tuesday that he could not keep up with all the different messages from Trump.
"When we take a look at Mr Trump's Twitter posts, we can no longer follow them," he said, according to Turkish media. "We cannot keep track."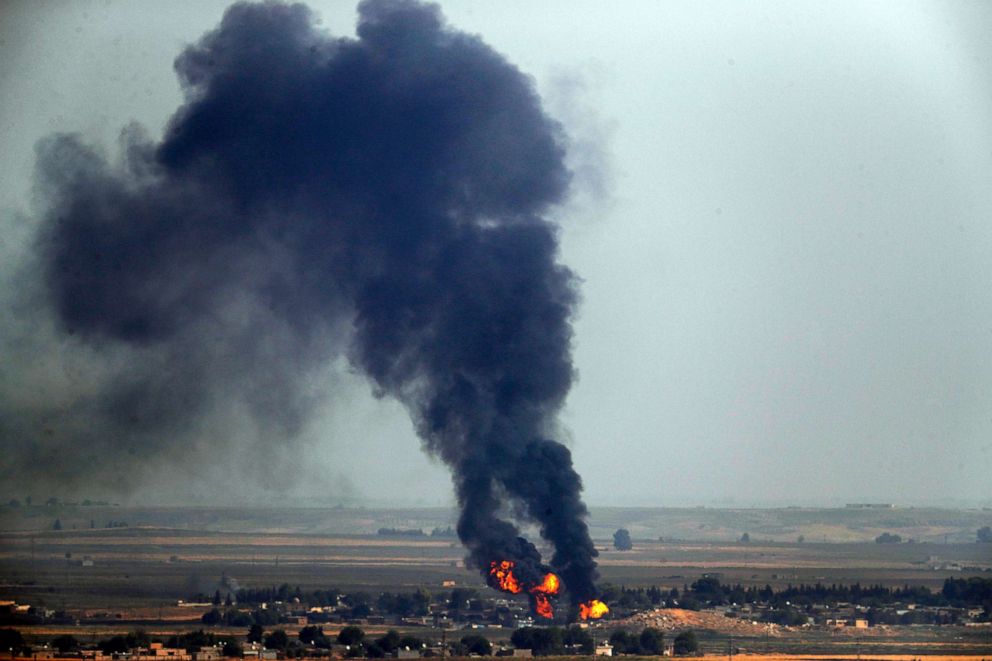 The back-and-forth made Pence and his delegation's job difficult, according to critics -- including Republicans.
"The statements by President Trump about Turkey's invasion being of no concern to us also completely undercut Vice President Pence and Sec. Pompeo's ability to end the conflict," Sen. Lindsey Graham tweeted Wednesday.