'This Week' Transcript: Fallout From Baltimore
George Stephanopoulos examines the fallout from Baltimore, Sunday on "This Week"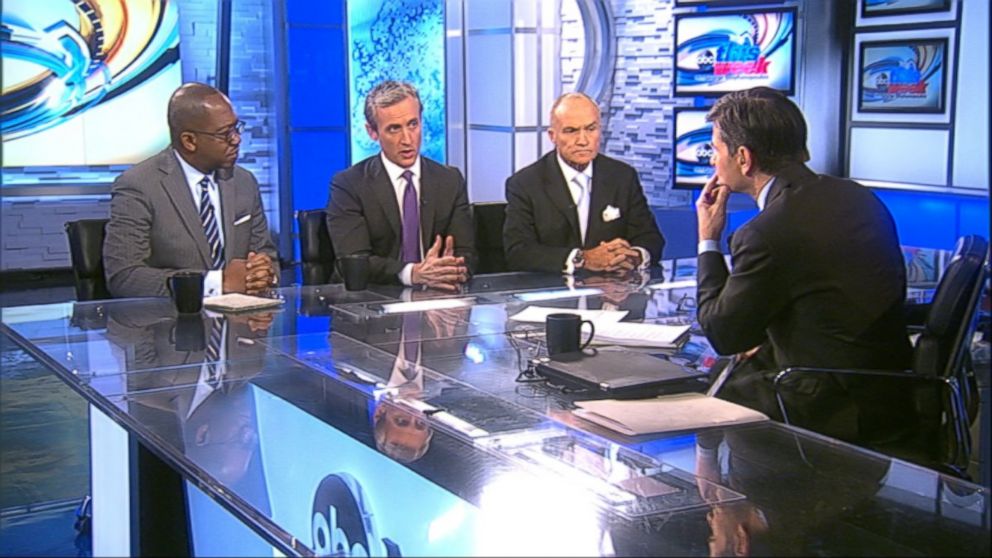 — -- ANNOUNCER: This Week, bombshell arrests, explosive nationwide reaction to those six officers charged in Baltimore. The very latest on the massive marches.
Ready for Hillary: he's a folk singing socialist, Bernie Sanders is ready to shake up the Democratic primary. He's here live.
Christie's comeback? New Bridgegate indictments. Can the New Jersey governor now put the scandal behind him?
Fight of the century, a $300 million purse. But after last night's bout, is the sport of boxing still standing?
From ABC News, This Week with George Stephanopoulos begins now.
GEORGE STEPHANOPOULOS, HOST: And we begin in Baltimore. That is a live shot of city hall right now. Sunny and calm ahead of more rallies today.
The Maryland governor calling for a day of prayer and peace after a tumultuous week, those riots on Monday.
A mother showing her son some very tough love.
That surreal scene at Camden Yards Wednesday, Orioles playing the White Sox not a single fan in the stands.
And on Friday, state attorney Marilyn Mosby surprisingly swift bombshell, six officers charged for the death of Freddie Gray sparking a national conversation on crime, policing, poverty and race. We're covering all the angles this week. And we begin in Baltimore with ABC's Jim Avila. Good morning, Jim.
JIM AVILA, ABC NEWS CORRESPONDENT: Good morning, George. The protests and marches continue here, some of them large in size, but mostly peaceful. The real trouble coming mostly at night at curfew time.
(BEGIN VIDEOTAPE)
AVILA: Overnight, a curfew still in effect, more protests and Baltimore's police commissioner saying he'll wait for the investigation to proceed.
ANTHONY BATTS, BALTIMORE POLICE COMMISSIONER: And now we'll have the confidence that the truth will come out and the truth will overcome for all.
AVILA: All of it sparked when Baltimore stunned itself and the nation, its youngest chief prosecutor in the country, 35-year-old Marilyn Mosby, announced that she wants to put six of her police officers in prison for killing a poor black man.
MARILYN MOSBY, STATE ATTORNEY: To the people of Baltimore and the demonstrators across America, I heard your call for no justice, no peace.
AVILA: The city that went from riots on Monday to celebrations by Friday...
UNIDENTIFIED MALE: This is what democracy looks like.
AVILA: ...is today patting itself on the back for standing up to what many see as an epidemic of police brutality.
UNIDENTIFIED MALE: To the naysayers who say what is marching going to do? Marching got us to this point.
AVILA: The six officers, three white and three black, accused of loading Freddie Gray cuffed and shackled, face down into a police fan, leading to his death, following an illegal arrest, are free on bail and will appear in court on May 27.
Their police union says they did no wrong and accused the state's attorney of a political prosecution designed to quell the unrest rather than seek justice.
UNIDENTIFIED MALE: We are disappointed in the apparent rush to judgment given the fact the investigation into this matter has not been concluded.
AVILA: The union wants a special prosecutor appointed, but Mosby says she's from a police family. Both parents were on the force, and she told me her office will not give up the case
MOSBY: My job as the prosecutor is to follow and uphold the law, and that means equally applying justice to those with or without a badge.
(END VIDEOTAPE)