The former deputy director of the FBI, Andrew McCabe, has been fired – just two days before he was set to retire from government after nearly 22 years in federal law enforcement, and McCabe is pushing back, claiming he's been caught up in a politically-motived effort to hurt the Russia investigation.
Attorney General Jeff Sessions said he decided to fire McCabe based on the findings of the Justice Department's internal watchdog, which concluded that McCabe misled investigators looking into how Justice Department and FBI officials handled matters associated with the 2016 presidential election.
McCabe recently sat down with ABC News and said he wanted to make one thing clear: "I firmly believe what's happening to me right now … is just a piece of an ongoing assault" on the FBI and special counsel Robert Mueller, who's looking into Russian efforts to help Donald Trump win the 2016 election and alleged collusion between Trump associates and Russian operatives.
McCabe said he "played a significant role and witnessed significant events" after Trump fired James Comey as FBI director last year, "so a concentrated effort to consistently undermine my credibility and my reputation makes perfect sense if you are trying to undermine the efforts of the special counsel and discredit the entire FBI."
The undoing of McCabe's career is "just the latest step in that process," he said.
The White House, meanwhile, said Thursday that McCabe's actions atop the FBI present "some cause for concern."
"We do think that it is well-documented that he has had some very troubling behavior and [is] by most accounts a bad actor," White House spokeswoman Sarah Sanders said.
So how did we get to this point? Here's how McCabe sees it:
"YOU DON'T PROTECT AMERICA ON A 9-TO-5 SCHEDULE"
McCabe said he "became obsessed with the FBI" while in law school, after interning at the Justice Department. He joined the FBI in 1996, spending his first 10 years at the FBI's New York City Field Office. He came to Washington in 2006 and never left, working counterterrorism and national security cases before becoming the head of the FBI's Washington Field Office in 2014. Ultimately, in February 2016, he became deputy director of the FBI, working alongside Comey.
Deputy director is "an oversight" and "strategic planning role," McCabe said. "I do not tell [senior FBI agents] how to work their case. I don't come up with investigative strategies that say, 'No, don't interview that person, go interview this person.'"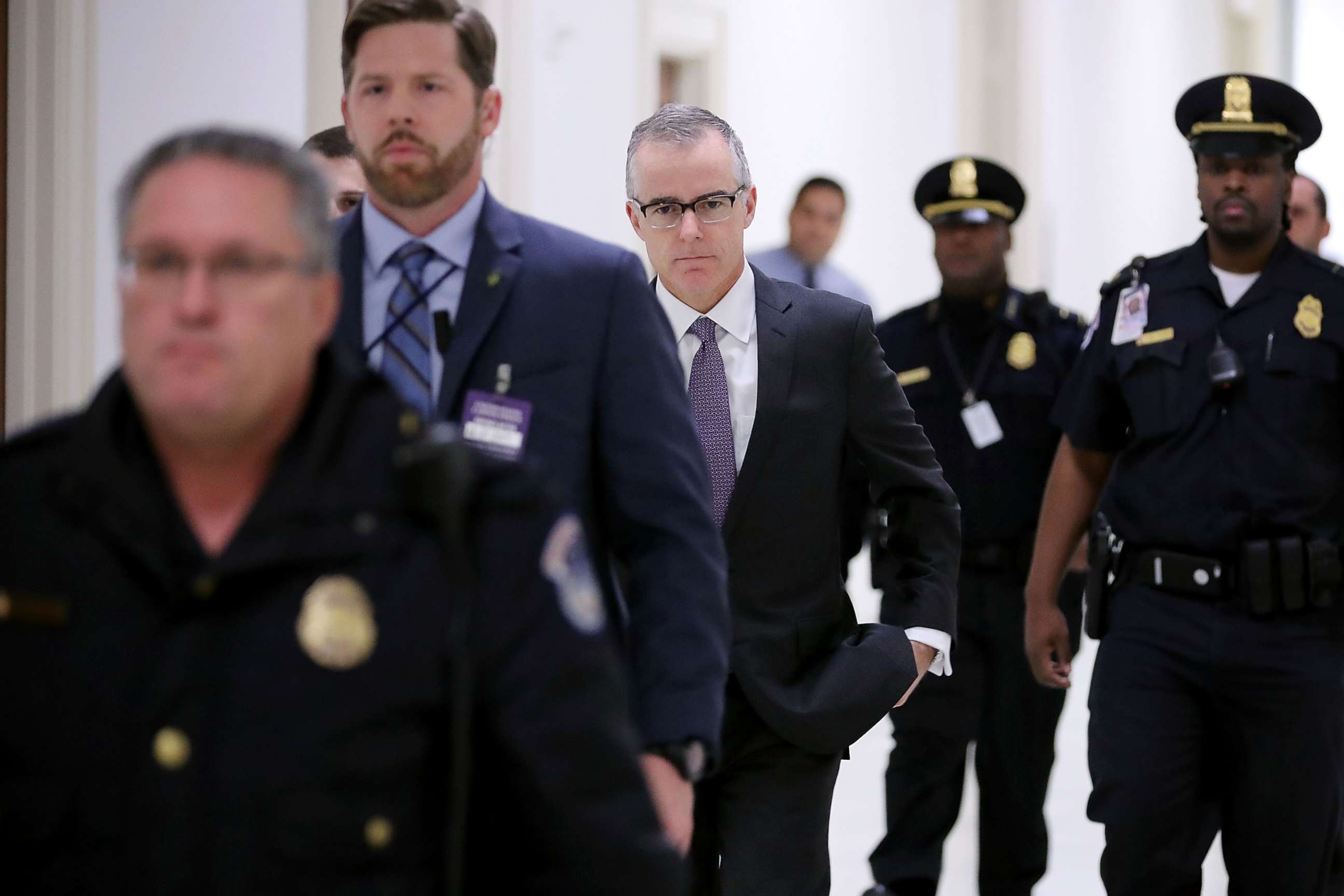 McCabe, his wife, Jill, and their two teenage children live in Virginia. His family has been "incredibly supportive" of him, he said.
"I don't need to tell you that the national security world is a series of unbelievably long days, weekends, missed birthdays, cancelled vacations – and through everything they have just been totally behind it, because they understand the importance of the work and that you don't protect America on 9-to-5 schedule," McCabe said.
But that support is "one of the reasons why it's been so hard to have to watch them have to go through what we've gone through in the last year," he added.
"A REPUBLICAN MY ENTIRE LIFE"
"I have considered myself to be a Republican my entire life," albeit "a moderate Republican," McCabe said. "I've voted for every Republican candidate for president in every election, except the 2016 one, in which I did not vote. And I chose not to vote because of the political nature of the work that we were engaged in."
Meanwhile, his wife, a pediatrician at a Virginia hospital, was never much of a political person, according to McCabe.
"She's voted for Democrats [and] Republicans," and until a few years ago she would have described herself as "an independent and not particularly heavily aligned with either party," he said.
That changed in February 2015, when she "was contacted out of the blue by the chief of staff for then-Lt. Gov. Ralph Northam and asked if she would be interested in running for state senate," McCabe said.
McCabe insists he and his wife didn't know Northam or then-governor Terry McAuliffe, both Democrats.
Jill McCabe's name was floated by Northam's chief of staff as a possible candidate because Medicaid expansion in Virginia had become a "primary policy initiative" for McAuliffe's administration. A year earlier, when McAuliffe visited her hospital, Jill McCabe was quoted in a Washington Post article voicing support for the Medicaid expansion efforts, according to McCabe.
"They looked up the article, found Jill's name and called her out of the blue," he said.
His wife ultimately decided to run, and McCabe was "very involved" in that decision, he said.
"She was motivated by health issues," he added. "She's in the trenches … in the battle of providing health care coverage to the entire population, not just the well-insured people of Loudon County [Virginia], but also the disadvantaged side of that population."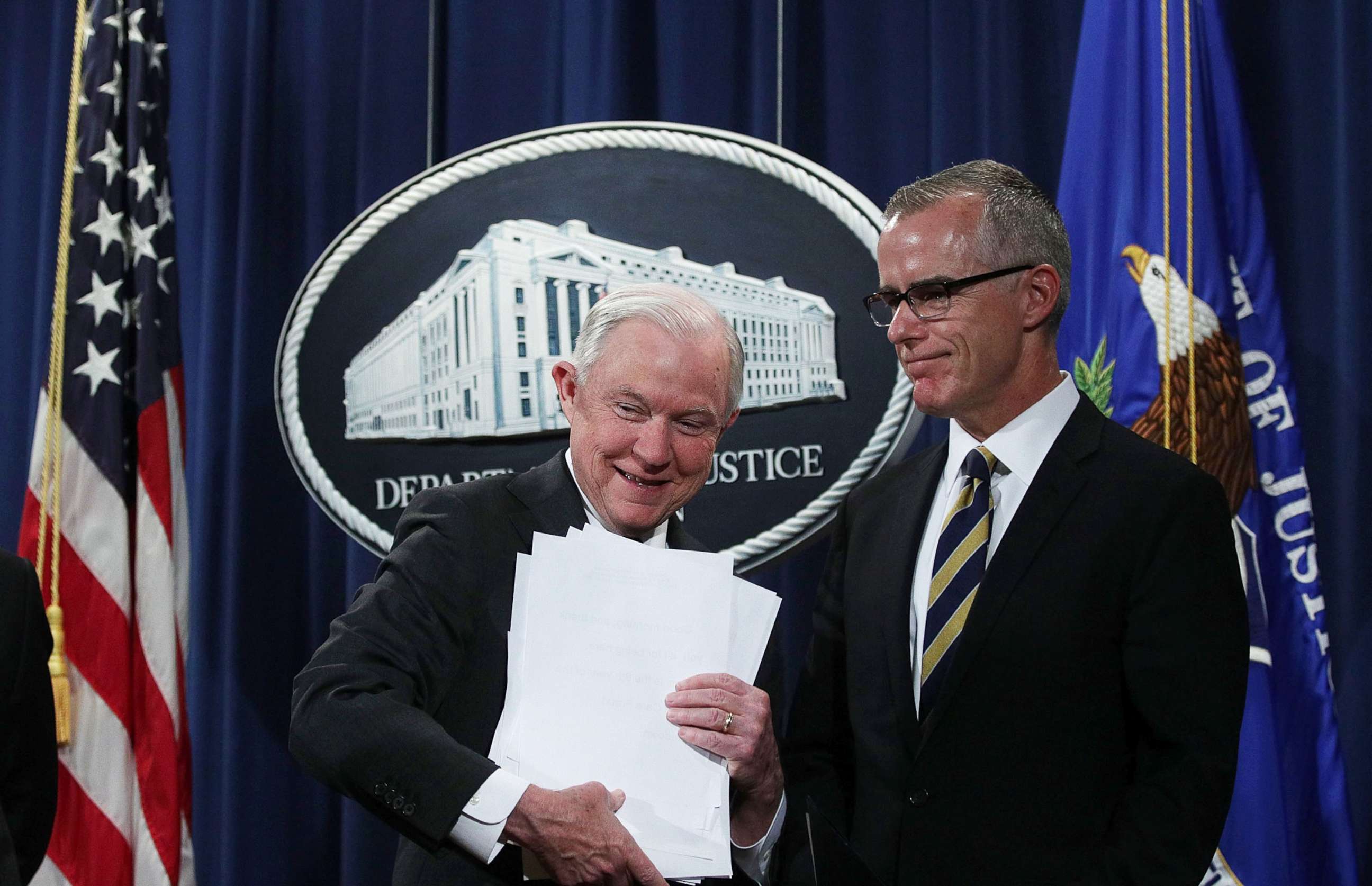 Due to his wife's campaign, McCabe knew he "would have to take some proactive steps in my role as the [Assistant Director in Charge] of the Washington Field Office to stay out of particular investigative matters," and after consulting with ethics attorneys at FBI headquarters, counsel at the Washington Field Office and others they "came up with a protocol where I would essentially be removed from all Virginia state political corruption matters," he added.
"I had no role in Jill's campaign," McCabe said. "I didn't go to any events. I didn't raise money. I didn't encourage people to vote – just stayed out of it completely, and she handled it with her staff."
Jill McCabe lost her campaign for state senate in November 2015, three months before McCabe became deputy director.
"THIS IS NOT A LEAK"
In October 2016, the Wall Street Journal published a story questioning whether Jill McCabe's ties to Democrats, particularly McAuliffe, a longtime friend to Hillary Clinton, meant McCabe himself was unfit to oversee the FBI's investigation into Clinton's use of a private email server as secretary of state.
Days later, the Wall Street Journal began working on a follow-up story, with the newspaper's reporter claiming "he was hearing from people within the FBI that I had tried to slow down or stop our investigative efforts on the Clinton Foundation case, which … was absolutely inaccurate," McCabe recalled.
"I had not slowed our efforts, but it was part of the same theme: 'I was maybe politically motivated, and worse, that the FBI was being subjected to influence,'" McCabe said. "I just thought that was incredibly damaging to the FBI. … I cannot have my people believing some lie, that the leadership of the FBI is sandbagging cases at the political urging of the DOJ. That would be corrosive to our independence and our credibility."
According to McCabe, the truth was the opposite of what the reporter was suggesting: The Justice Department was trying to slow the Clinton Foundation investigation, and he was trying to keep pushing it ahead.
McCabe wanted to get the reporter "off this narrative," so he "authorized" a top FBI spokesman and FBI attorney to provide the reporter with "the content of a conversation that I had had with [a senior official] from the Department of Justice," McCabe recalled.
"The Department was not impressed with the case, and they didn't believe it should be going forward," McCabe said.
"The decision to share information with the media is absolutely within my authority as deputy director," McCabe added. "I am one of three people in the FBI who has the independent authority to make that decision. People could disagree about the decisions I made ... but the fact is this is not a leak."
The Justice Department's inspector general and the FBI's Office of Professional Responsibility felt differently, according to Sessions.
Both "concluded that Mr. McCabe had made an unauthorized disclosure to the news media," Sessions said in a statement.
The Wall Street Journal's stories in late 2016 prompted Republicans to call for McCabe to recuse himself from the Clinton email investigation. At the time, Trump began calling out McCabe on the campaign trail.
Internally at the FBI, some senior officials agreed that McCabe should be walled off from the Clinton-related probe, and days before Election Day 2016 he recused himself.
Republicans then began calling for the Justice Department's inspector general – or IG – to investigate why McCabe didn't recuse himself earlier. And in January 2017, the inspector general's office announced it had launched an investigation into, among other things, "allegations that the FBI Deputy Director should have been recused from participating in certain investigative matters."
MCCABE MISLEADS INVESTIGATORS?
"In the course of the IG's investigation and a kind of related Inspection Division investigation, I was asked about ... my decision to share information" with the Wall Street Journal, McCabe told ABC News.
According to Sessions, McCabe "lacked candor -- including under oath -- on multiple occasions."
"The FBI expects every employee to adhere to the highest standards of honesty, integrity, and accountability," Sessions said in his statement. In recommending that McCabe be fired, the FBI's Office of Professional Responsibility noted that "all FBI employees know that lacking candor under oath results in dismissal and that our integrity is our brand," Sessions added.
Because the inspector general's report has not been released publicly yet, it's still unclear exactly why investigators believe McCabe was not forthcoming, or if McCabe is criticized for other actions.
McCabe, however, insisted he answered investigators' questions "to the best of my ability, best recollection I had at those times." He noted that he was questioned in the midst of a "chaotic time" for him, in the wake of Comey's firing and his temporarily taking an agency "reeling from the loss of their director."
According to McCabe, after he was questioned by investigators, he realized he needed to clarify some of his responses, so he "proactively reached out to those people to ensure that they clearly understood what my position was." He would not offer any further details.
"I have tried at every juncture to be as accurate and of course truthful in all of my encounters with whoever was interested in asking questions about that article or anything else," McCabe said. "The idea of being condemned or miscast in any way contrary to that is just unbelievably disappointing and really offensive to me."
McCabe insisted to ABC News that the media disclosures he authorized did not constitute "a leak."
"This is not a clandestine contact with a reporter," he said. "It was done by my media representative and my counselor. It took place over the course of several days. ... So to be kind of retrospectively misrepresented as sort of a clandestine secretive leak is sort of just – it's not the case and it's just an unfair portrayal."
Asked whether he believes the Justice Department's inspector general, with its report targeting him, is complicit in what he described as the "ongoing assault" on the FBI, McCabe simply answered: "I don't know."
"What I do know is that the IG has been subjected to intense pressure by the [Republican] chairman of the Senate Judiciary Committee," McCabe added. "I do know that the IG is under pressure from the President, who tweeted ... demanding results in these investigations."
"After 21 years at what I still believe is the greatest organization on earth, having had to go through this gauntlet of public criticism and ridicule by none other than the President of the United States has been unbelievably trying. But I understand it for what it is," McCabe said.