When the Justice Department appointed a special counsel to investigate potential collusion between the Trump campaign and Russia a year ago Thursday, President Trump said he was looking "forward to this matter concluding quickly."
Interested in
Russia Investigation?
Add Russia Investigation as an interest to stay up to date on the latest Russia Investigation news, video, and analysis from ABC News.
Special Counsel Robert Mueller's investigation has hit the one year mark, and the president's attacks on the inquiry aren't subsiding. Thursday morning, he used Twitter to criticize the probe.
Congratulations America, we are now into the second year of the greatest Witch Hunt in American History...and there is still No Collusion and No Obstruction. The only Collusion was that done by Democrats who were unable to win an Election despite the spending of far more money!

— Donald J. Trump (@realDonaldTrump) May 17, 2018
Despite the disgusting, illegal and unwarranted Witch Hunt, we have had the most successful first 17 month Administration in U.S. history - by far! Sorry to the Fake News Media and "Haters," but that's the way it is!

— Donald J. Trump (@realDonaldTrump) May 17, 2018
Rudy Giuliani, the president's new lead personal attorney, told Bloomberg that Trump would use the anniversary as a way to blast the probe and push for its conclusion.
"We are going to try as best we can to put the message out there that it has been a year, there has been no evidence presented of collusion or obstruction, and it is about time for them to end the investigation," Giuliani told Bloomberg. "We don't want to signal our action if this doesn't work -- we are going to hope they listen to us -- but obviously we have a Plan B and C."
Over the course of the past year, Trump has employed a range of tactics to respond to the special counsel's probe. Here's a look at some of those approaches.
A measured approach to start, followed by declarations of a 'witch hunt'
When the Justice Department appointed Mueller as the special counsel, President Trump reacted with a statement simply denying any collusion and predicting the inquiry will wrap up soon.
"As I have stated many times, a thorough investigation will confirm what we already know – there was no collusion between my campaign and any foreign entity. I look forward to this matter concluding quickly," he said.
At the time, a senior White House official said the president's reaction to the decision was measured – but within 24 hours, the president turned to bashing the probe, calling it a "witch hunt" on Twitter, a description he's repeatedly turned to over the past year.
This is the single greatest witch hunt of a politician in American history!

— Donald J. Trump (@realDonaldTrump) May 18, 2017
You are witnessing the single greatest WITCH HUNT in American political history - led by some very bad and conflicted people! #MAGA

— Donald J. Trump (@realDonaldTrump) June 15, 2017
Is this Phony Witch Hunt going to go on even longer so it wrongfully impacts the Mid-Term Elections, which is what the Democrats always intended? Republicans better get tough and smart before it is too late!

— Donald J. Trump (@realDonaldTrump) May 7, 2018
In a lunch with television network anchors the day after the announcement, the president painted the probe as an attempt to hurt the country.
"I believe it hurts our country terribly because it shows we're a divided, mixed-up, not-unified country," Trump told ABC News' David Muir. "It also happens to be a pure excuse for the Democrats having lost an election that they should have easily won because of the Electoral College being slanted so much in their way. That's all this is."
Willing to cooperate
In August, USA Today reported one of the president's attorneys relayed messages of "appreciation" from the president to the special counsel.
"He appreciates what Bob Mueller is doing," Trump's then-counsel John Dowd told USA Today. "He asked me to share that with him and that's what I've done."
In January, the president's legal team argued it has demonstrated an "unprecedented" level of cooperation with the special counsel. The team said the White House provided over 20,000 pages of documents, including information relating to former FBI Director James Comey, and former national security advisor Michael Flynn and Russia, to the special counsel. The Trump campaign produced more than 1.4 million documents.
At the time, the legal team said more than 20 White House aides, 17 campaign employees and 11 individuals affiliated with the campaign gave voluntary interviews to the special counsel or congressional committees conducting their own probes into Russian meddling in the election.
As recently as last month, the president tweeted he had embraced a "cooperative, disciplined approach" with the special counsel – but shortly after he hired Giuliani, who has taken a more combative direction with the investigation.
I have agreed with the historically cooperative, disciplined approach that we have engaged in with Robert Mueller (Unlike the Clintons!). I have full confidence in Ty Cobb, my Special Counsel, and have been fully advised throughout each phase of this process.

— Donald J. Trump (@realDonaldTrump) April 12, 2018
Talk of an interview
The prospect of a presidential interview has loomed large over the special counsel's investigation. As early as June, the president said he was "100 percent" willing to testify under oath, but since then, the president and his team have vacillated over whether an interview would become a reality.
Earlier this month, the president expressed a willingness to speak with Mueller even if members of his legal team oppose an interview.
"Nobody wants to speak more than me — in fact, against my lawyers. Because most lawyers say, 'Never speak with anybody.' I would love to speak because we've done nothing wrong," Trump told reporters on the South Lawn.
"I have to find that we're going to be treated fairly because everybody sees it now and it's a pure witch hunt," he added.
Attacks grow personal, taking direct aim at Mueller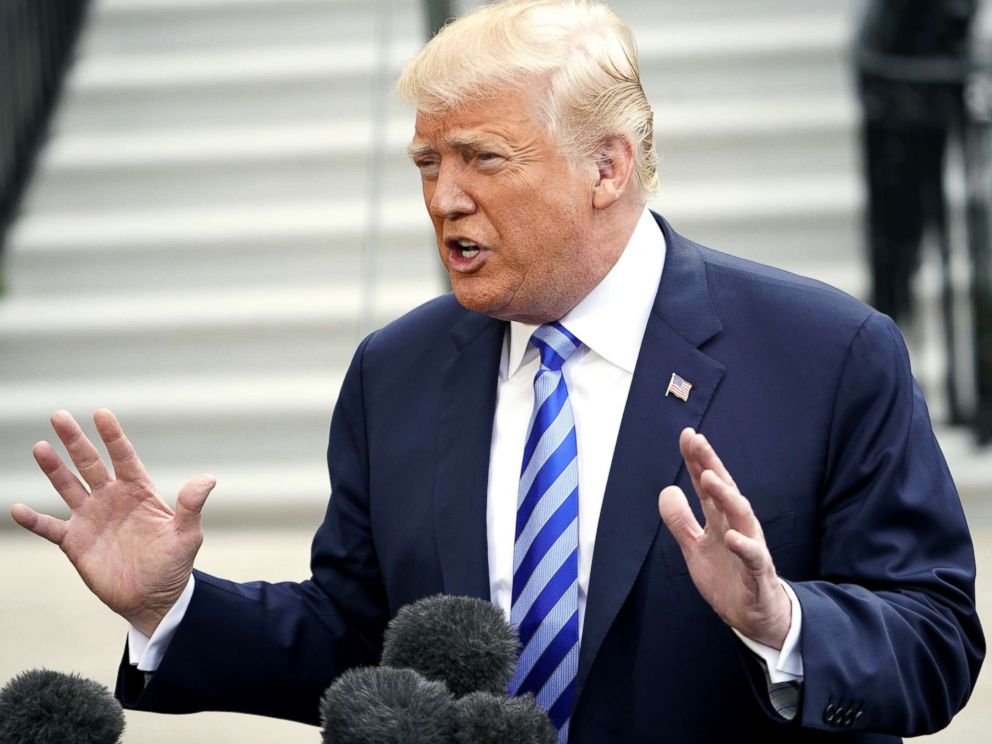 After months of criticizing the probe as a whole, the president trained his ire directly on Mueller in March – calling him out by name on Twitter for the first time.
The Mueller probe should never have been started in that there was no collusion and there was no crime. It was based on fraudulent activities and a Fake Dossier paid for by Crooked Hillary and the DNC, and improperly used in FISA COURT for surveillance of my campaign. WITCH HUNT!

— Donald J. Trump (@realDonaldTrump) March 18, 2018
In the weeks that followed, the president ramped up his criticism of Mueller – declaring he was "the most conflicted of all."
Much of the bad blood with Russia is caused by the Fake & Corrupt Russia Investigation, headed up by the all Democrat loyalists, or people that worked for Obama. Mueller is most conflicted of all (except Rosenstein who signed FISA & Comey letter). No Collusion, so they go crazy!

— Donald J. Trump (@realDonaldTrump) April 11, 2018
During an April meeting with top military leaders to discuss Syria, President Trump took his attacks on the special counsel where they hadn't gone before – openly musing about firing Mueller.
"Why don't I just fire Mueller?" the president asked aloud following a reporter's question. "I think it's a disgrace what's going on. We'll see what happens. But I think it's really a sad situation when you look at what happened. Many people have said you should fire him."