Buffalo Bills safety Damar Hamlin remains in critical condition after he suffered cardiac arrest and collapsed Monday night after making a tackle during the first quarter against the Bengals in Cincinnati, team officials said Tuesday.
Hamlin, 24, remains hospitalized in critical condition in the intensive care unit, Buffalo Bills officials said Tuesday afternoon.
"Damar Hamlin suffered a cardiac arrest following a hit in our game versus the Bengals," the team said in an earlier statement. "His heartbeat was restored on the field and he was transferred to the UC Medical Center for further testing and treatment. He is currently sedated and listed in critical condition."
The game was postponed and will not be resumed this week, the NFL said Tuesday. No decision has been made about continuing at a later date, the league said.
The NFL issued a statement earlier, saying, "Hamlin received immediate medical attention on the field by team and independent medical staff and local paramedics. He was then transported to a local hospital where he is in critical condition. Our thoughts are with Damar and the Buffalo Bills. We will provide more information as it becomes available.
"The NFL has been in constant communication with the NFL Players Association which is in agreement with postponing the game," the league added.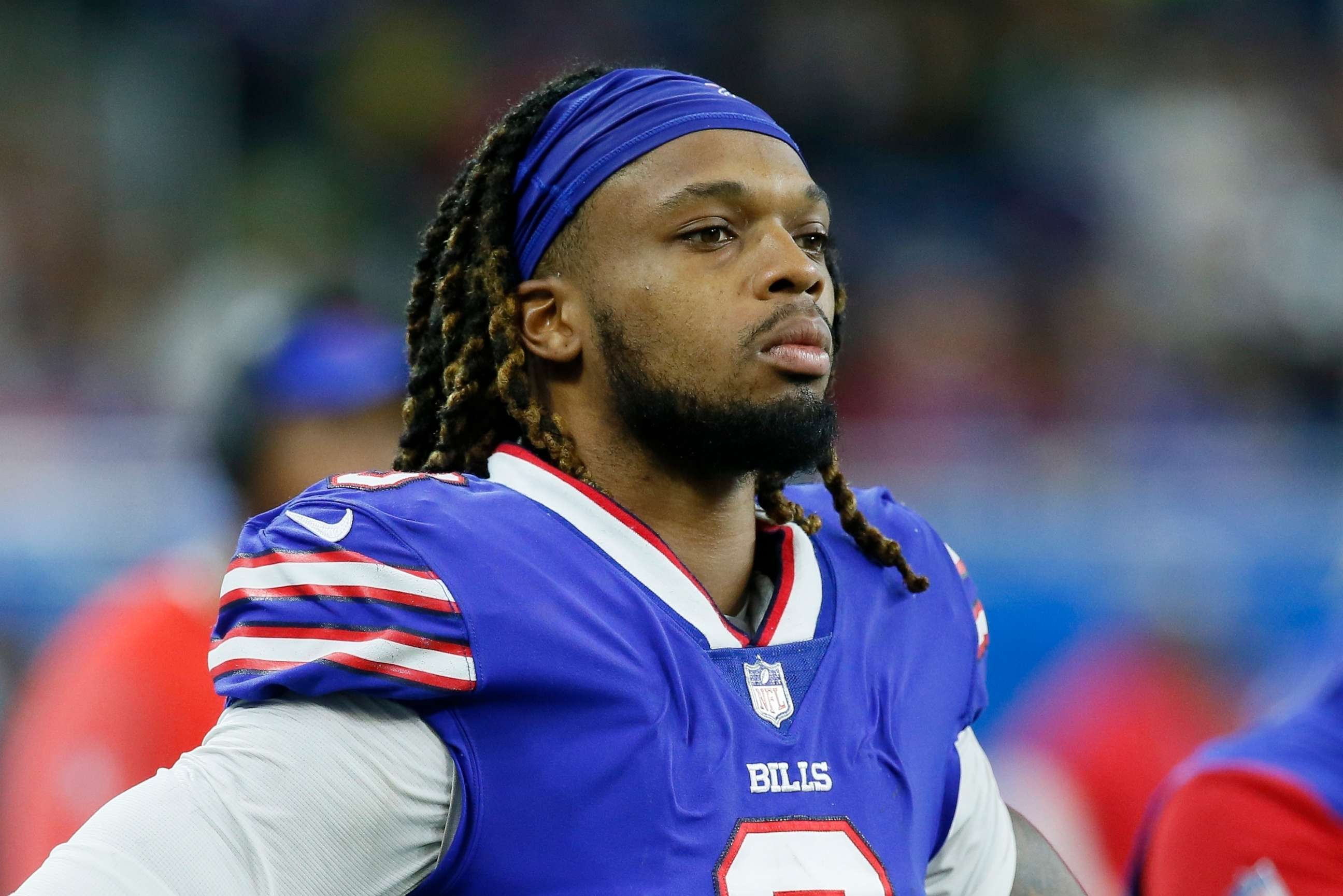 Hamlin was down for at least 15 minutes. Paramedics were seen administering CPR as players from both teams gathered around at midfield, some openly weeping.
Hamlin was taken off the field in an ambulance, and both teams went back to their locker rooms minutes later.
The safety was taken to the University of Cincinnati Medical Center.
Hamlin's family thanked the "dedicated first responders and healthcare professionals" at the hospital for their "exceptional care" in a statement released Tuesday.
"Please keep Damar in your prayers," the family said, while promising to release updates "as soon as we have them."
Jordon Rooney, a spokesperson for Hamlin's family, told "Good Morning America" that the football player is a "fighter" and that his family is in "good spirits."
"We're obviously just taking it minute by minute, hour by hour," Rooney said.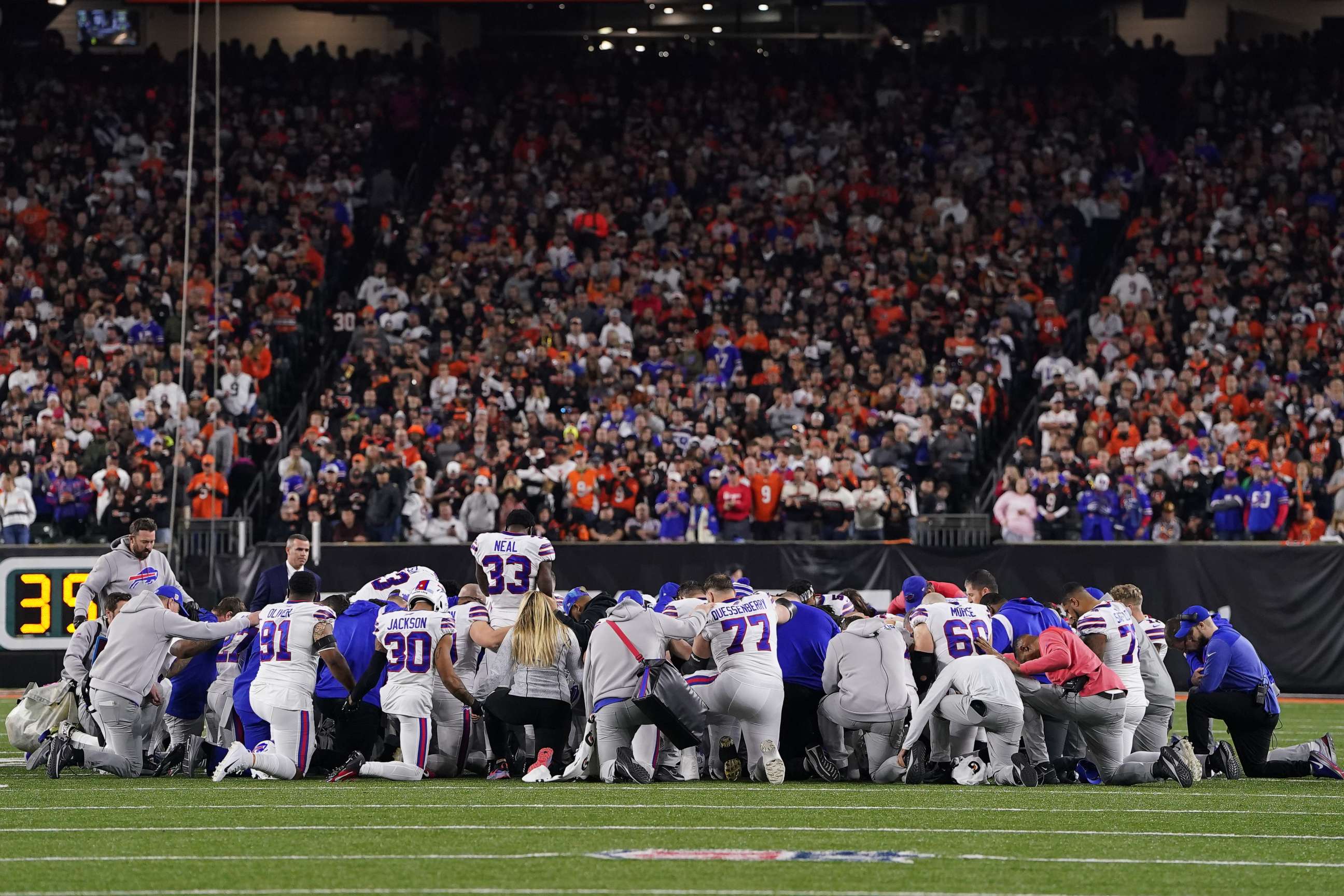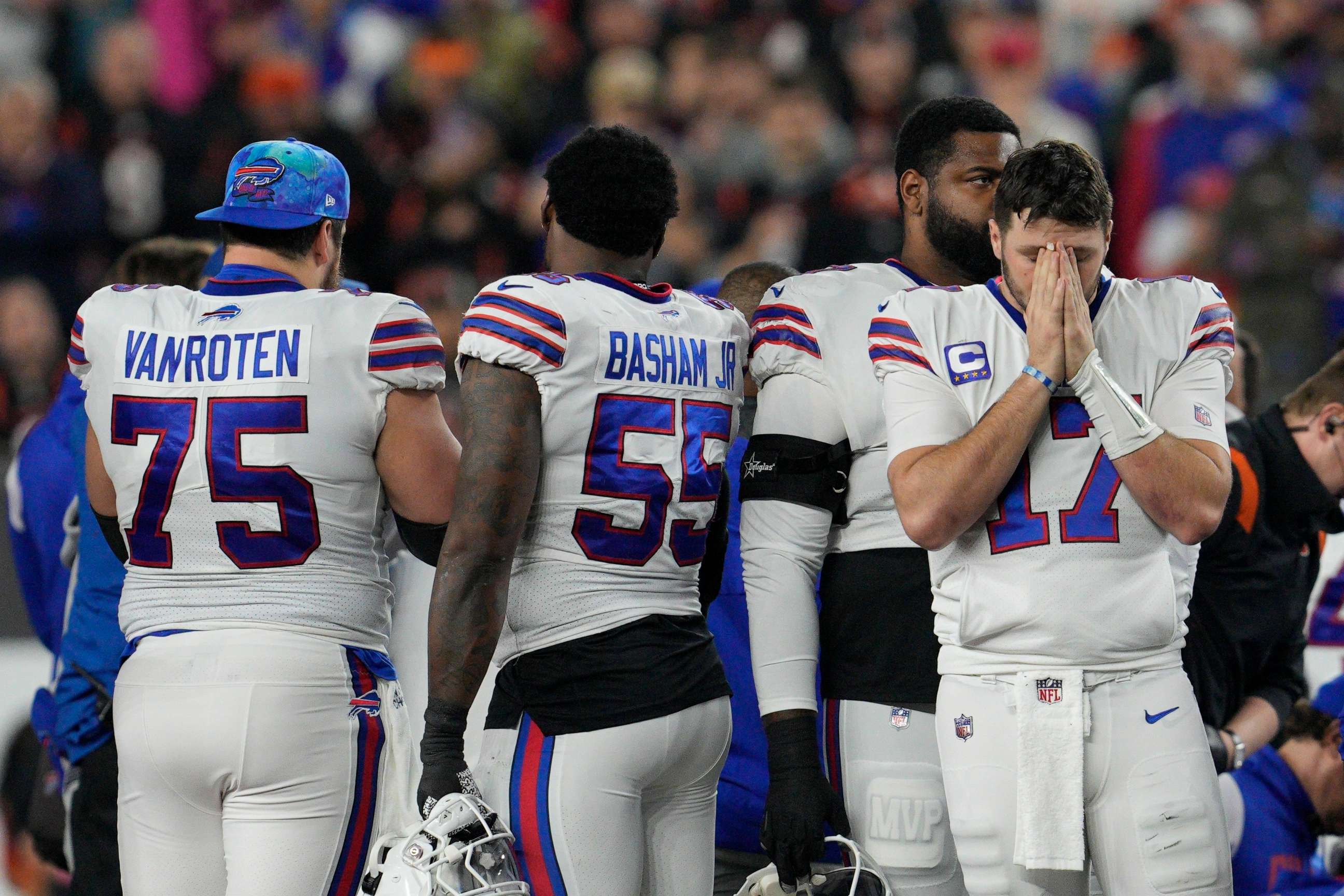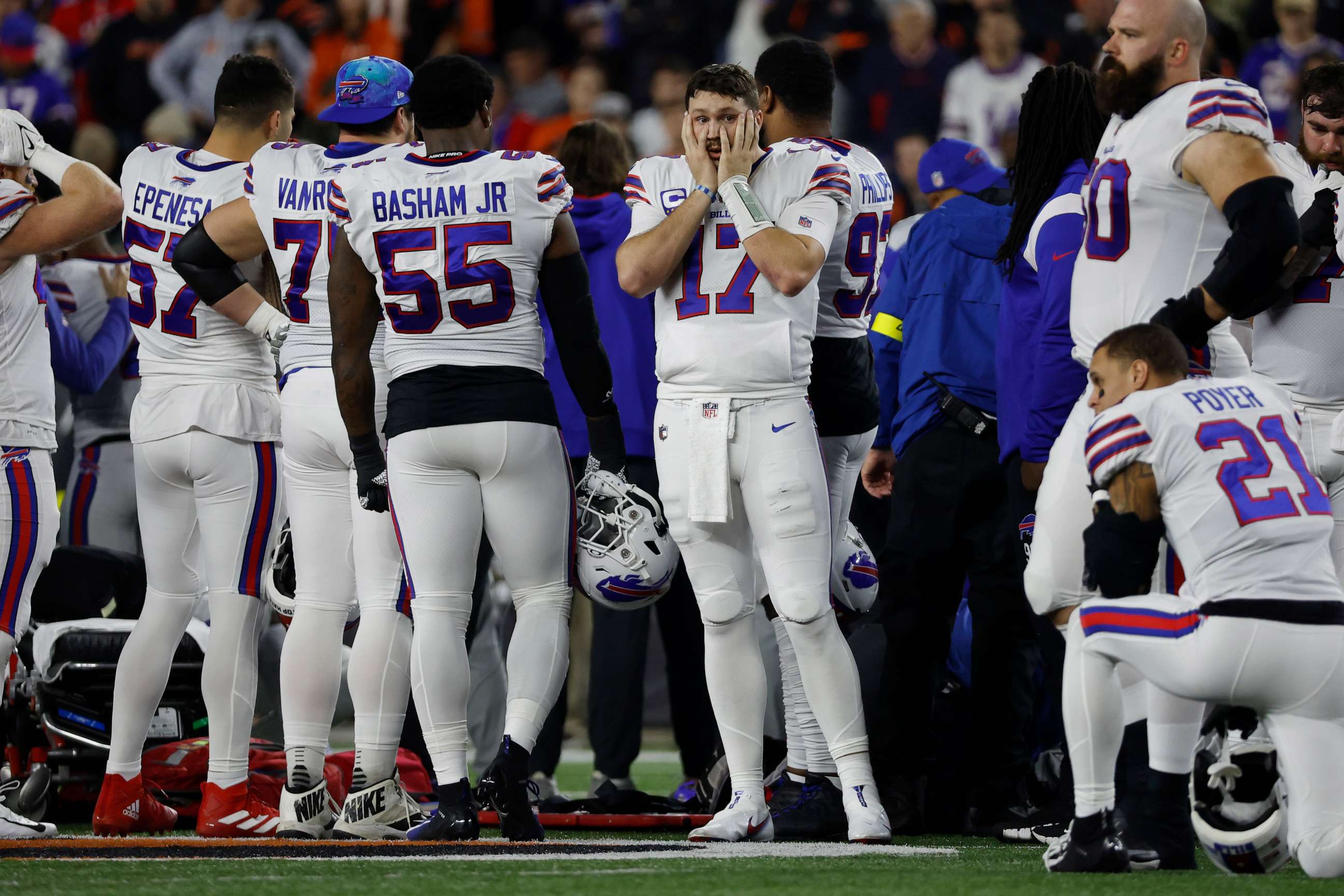 Following the incident, the Buffalo Bills tweeted a photo of the team on the field on one knee.
"The thoughts and prayers of all of Bills Mafia are supporting you, Damar," the team said.
Several NFL teams also tweeted that they were sending their prayers to Hamlin, his family and the Bills.
Kansas City Chiefs quarterback Patrick Mahomes tweeted, "Praying hard.. please be okay man."
Arizona Cardinals defensive end J.J. Watt tweeted: "The game is not important. Damar Hamlin's life is important. Please be ok. Please."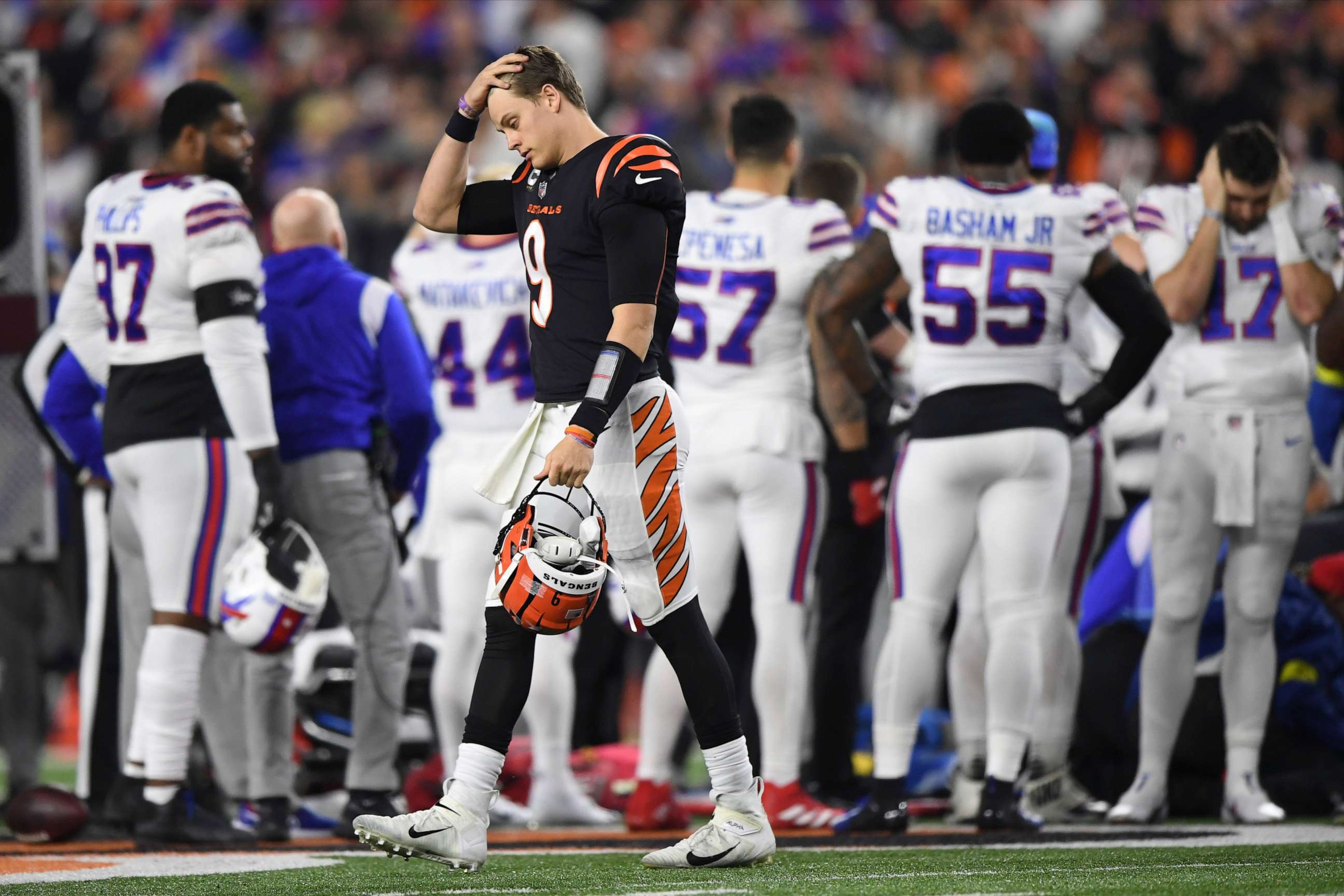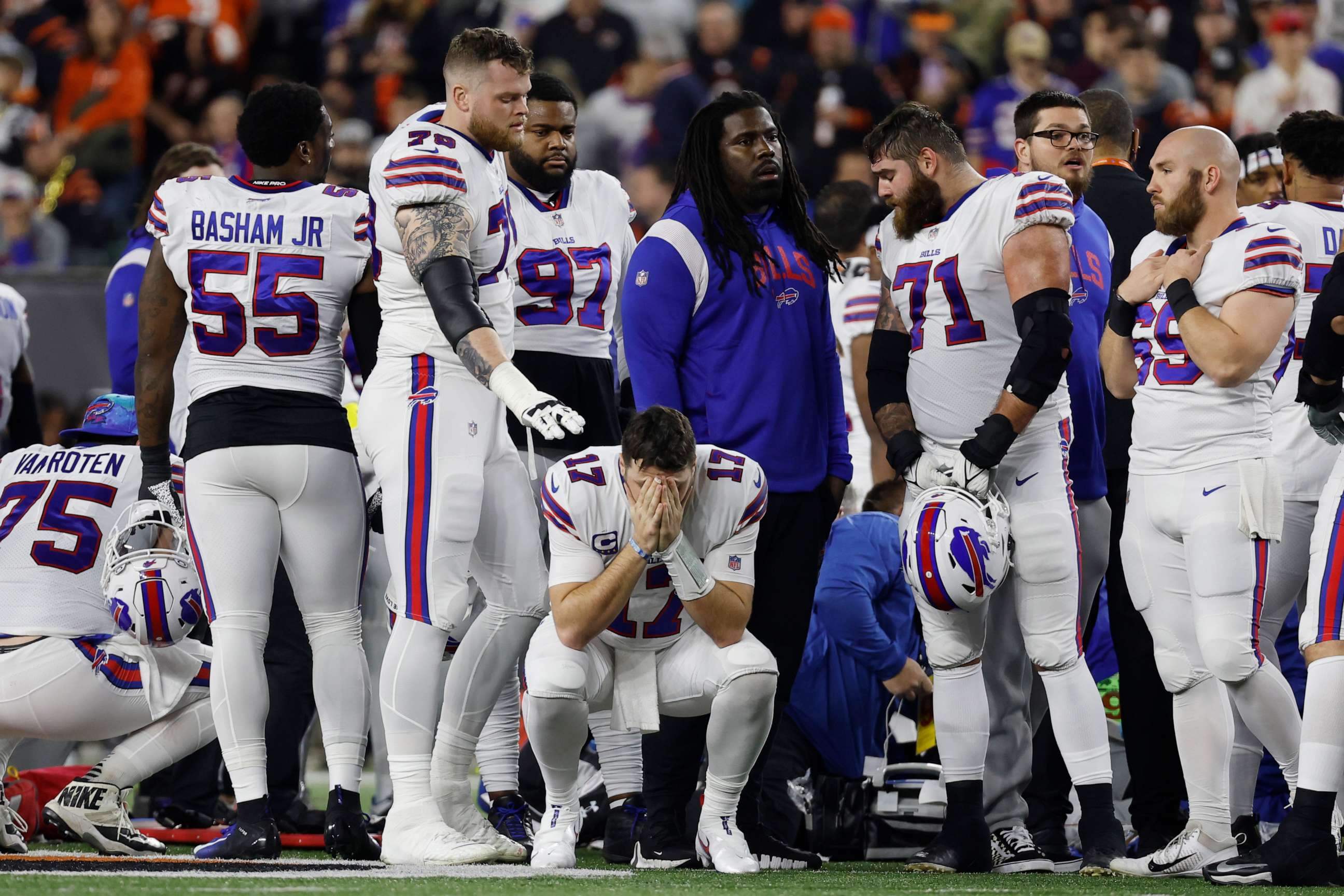 Bengals owner Mike Brown called the medical response "extraordinary" and said that both teams "demonstrated respect and compassion."
Monday night "was supposed to be a great night for the NFL and a great showcase for our hometown. Instead, the human side of our sport became paramount ... and in that moment, humanity and love rose to the forefront," Brown said in a statement.
"The entire City of Cincinnati is sending all of our prayers to Damar Hamlin right now. Our hearts are with you, your family and your friends," the mayor of Cincinnati, Aftab Pureval, wrote.
In the time since Hamlin collapsed on the field, a toy drive on GoFundMe he organized in 2020 saw donations pouring in -- topping more than $1.5 million as of late Monday night, with an initial goal of $2,500. ABC has verified with GoFundMe officials that the page was originally started by Hamlin.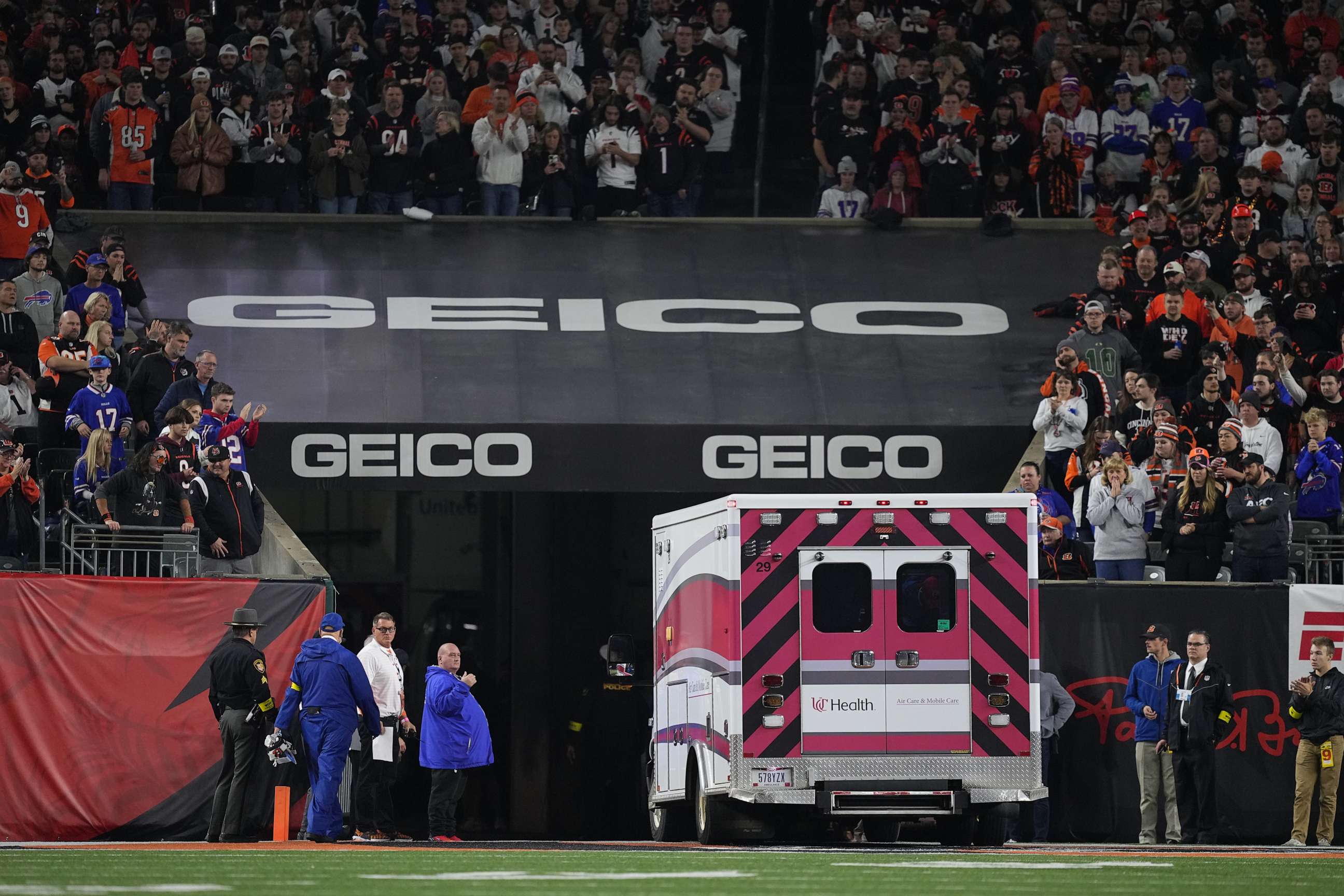 Fans also gathered outside the hospital following the incident to show their support.
"On behalf of our family, we want to express our sincere gratitude for the love and support shown to Damar during this challenging time," his family said in its statement. "We are deeply moved by the prayers, kind words, and donations from fans around the country."
"Your generosity and compassion mean the world to us," the statement continued.
This is a developing story. Please check back up for updates.
ABC News' Will Reeve, Luke Barr and Keith Harden contributed to this report.