Uni Watch's Friday Flashback: How hand warmers took hold in NFL
— --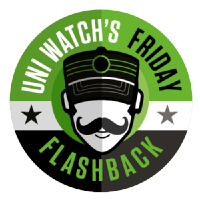 With winter weather now upon us, we're seeing the annual return of a ubiquitous cold-weather accessory: team-branded hand warmers worn by football players.
We take hand warmers for granted nowadays. But back in the day, football players kept their hands warm via pockets sewn into their jerseys:
The advent of a hand warmer that a player could wear as a separate accessory didn't come about until the early-1980s. You might think the idea originated with a cold-weather team, but it actually came from the Tampa Bay Buccaneers, who were notorious for performing poorly in chilly conditions on the road. Coach John McKay instructed equipment manager Frank Pupello to come up with some cold-weather gear, and one of Pupello's innovations was a custom-designed hand warmer he called the Pupello Pocket (often misidentified as the Pupello Pouch). Bucs players wore it on and off during the 1980s and '90s, and so did players on a few other NFL teams:
In a 2010 interview on the Uni Watch Blog, Pupello described the thinking that went into his hand warmer:
"I didn't want to [use pockets sewn into the jerseys]. Because we'd been in games where it starts out warm and then it gets cold during the game, so what do you do then? So I thought that if we had something removable, like a muff, that would work. But it had to be geared for football. I wanted nylon on the outside and polypropylene on the inside. I wanted it cuffed, to keep it warm. It had to lay flat. It couldn't absorb water. And I said: 'I don't want a buckle on it, because I don't want a player to be tackled by it. I want Velcro, so if a defender grabs it, he'll end up holding the pocket instead of making the tackle.' And that actually happened one time, where the defensive player ended up with a handful of Pupello Pocket, and our player scored a touchdown."
Pupello left the Bucs in 1997 and hasn't worked in the NFL since then. His Pupello Pocket was eventually eclipsed by the team-branded hand pouches we're now used to seeing. But a latter-day Pupello may have emerged in the form of free-agent quarterback Mike Kafka, who's designed a new, sleeker hand-warming pouch:
Kafka thinks his product will revolutionize hand warming. But the old-school pocketed look isn't quite dead yet, and every now and then it makes a comeback, albeit sometimes in a more modern configuration. When cold weather was forecast for the recent ACC title game between Clemson and North Carolina, for example, Clemson's equipment staff sewed a hand warmer into quarterback Deshaun Watson's jersey, creating de facto pockets:
Of course, there's a certain generation of players who probably view this entire discussion with a certain degree of skepticism. As we approach the 48th anniversary of the Ice Bowl, where the temperature was about 15 degrees below zero, it's startling to realize that the players in that game didn't just go without pockets and hand warmers -- many of them didn't even wear gloves, which just goes to show how much things have changed:
Would you like to nominate a uniform to be showcased in a future Friday Flashback installment? Send your suggestions here.
Paul Lukas gets the shivers just looking at those gloveless Ice Bowl players. If you liked this column, you'll probably like his Uni Watch Blog, plus you can follow him on Twitter and Facebook. Want to learn about his Uni Watch Membership Program, be added to his mailing list so you'll always know when a new column has been posted or just ask him a question? Contact him here.