'Useless Plastic Box' Put on Best Buy Shelves By Los Angeles Prankster
A fake product sat on Best Buy shelves in Los Angeles for days.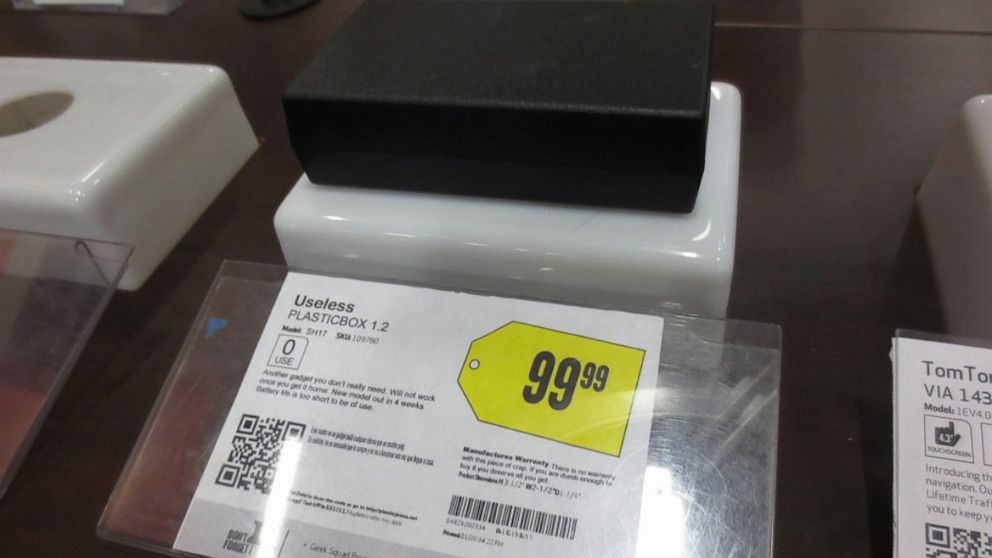 Aug. 16, 2013 — -- "Another gadget you don't really need. Will not work once you get home. New model out in 4 weeks. Battery life is too short to be of use."
That's what was written on a placard sitting beneath a product called the "Useless Plastic Box" at various Best Buy locations in Los Angeles. The "piece of crap" product, which is not available with a warranty, was marked at $99.99.
Of course, the "Useless Plastic Box" isn't a real product on sale at Best Buy locations, instead it was a prank carried out by a 48-year-old man who goes by the name Plastic Jesus. Over the past few weeks, he placed plain, black plastic boxes with that aforementioned placard at five Best Buys around the Los Angeles and Hollywood area.
According to Plastic Jesus, who we tracked down on the Internet and who didn't want to give his real name, one of the boxes remained on a store shelf for up to five days. "I did a test run several weeks ago in one of the Hollywood stores, and it stayed on the shelf for five days. I went back on a daily basis and it was still there," Plastic Jesus told ABC News.
A Best Buy spokesperson would not confirm when the boxes were discovered, but said that they were removed from shelves immediately.
"A few stores were affected and the boxes were removed immediately," Best Buy spokesperson Jon Sandler told ABC News. "We are flattered that Best Buy is so top of mind for Mr. Plastic Jesus, and are happy that he presumably had the opportunity to witness our expert Blue Shirts and Geek Squad members in action during his visits. Hopefully he also had the chance to check out our fabulous back to school deals."
Best Buy has clearly found some humor in the event, but Plastic Jesus says that while his prank was meant to be humorous, it was also supposed to go a bit beyond the laughs.
"All my pieces are motivated by news or cultural events. I, like many people out there, am a gadget freak. I rush out and get the new iPhone when it comes out, but so often you are left disappointed," Plastic Jesus said.
"If you call up Apple or Sony and tell them your product is a piece of crap or whatever, you are just complaining about a product that doesn't do what it should. I thought it was a very visual way of showing the message."
Plastic Jesus says fans, including the many Best Buy employees who have emailed asking to buy one, shouldn't wait on Useless Plastic Box 2.0.
"I have been blown away by the feedback and people saying that it feels too real to be a prank," he said. "I think it was a success."