— -- The #ILookLikeAnEngineer campaign, which encourages women and LGBTQ+ engineers to share their stories and photos using the hashtag, is now expanding from social media to a billboard.
The hashtag, which had over 86,000 tweets as of this morning, was started by platform engineer Isis Wenger, who wanted to fight sexism and stereotypes in the technology industry.
The campaign has received an overwhelming amount of support, and an Indiegogo campaign started by Wenger's friend to get up a billboard featuring the photos of women and LGBTQ+ engineers raised nearly $10,000 in less than 24 hours -- 275 percent of the original goal of $3,500.
Engineers come in "all shapes, sizes, colors, genders, ages, and backgrounds," campaign founder Michelle Glauser wrote. "Together, we'd like to put up a billboard in San Francisco showing, celebrating, supporting, and encouraging that diversity."
Glauser added that if the campaign surpassed its goal, the #ILookLikeAnEngineer campaign would be able to produce more ads and help fund organizations teaching programming to underrepresented groups.
Wenger told ABC station KGO-TV in San Francisco that she wants the campaign to drive home the fact that there is not one defined look for engineers and that the tech-engineering industry needs diversity.
She said she started #ILookLikeAnEngineer after she received sexist responses to advertisements featuring her photo that her employer, OneLogin, posted around San Francisco.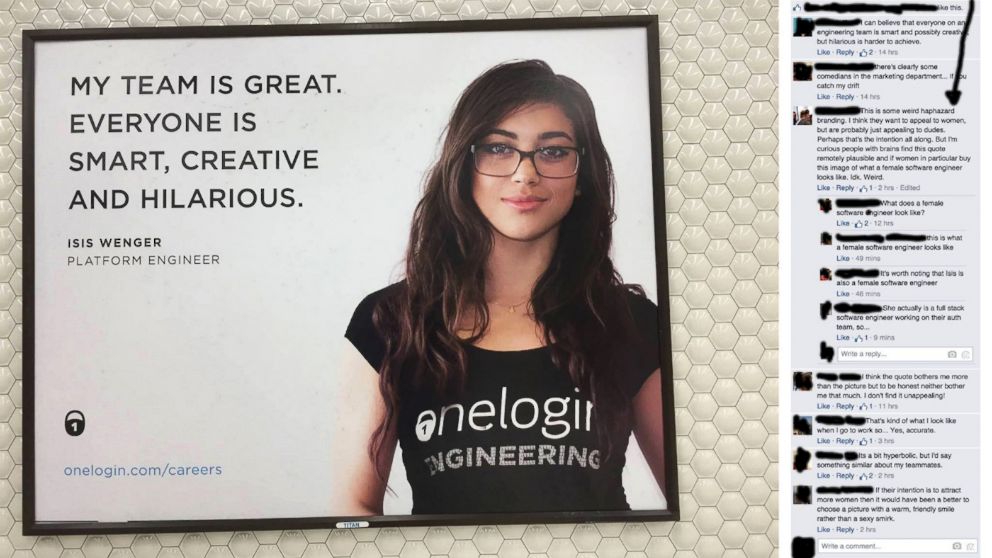 "I'm thinking that this is not an actual engineer," one man, who was looking at Wenger in the ad, told KGO. "It strikes me as a model."
Wenger believes that such opinions "illustrate solid examples of the sexism that plagues tech," she wrote on a post on Medium. "The reality is that most people are well intentioned but genuinely blind to a lot of the crap that those who do not identify as male have to deal with."