— -- The topography of Mexico City played a pivotal and devastating role in the amount of damage done to the city during Tuesday's 7.1 magnitude earthquake.
Dozens of buildings were leveled by the quake, which has killed over 200 people. On Wednesday, rescuers could be seen digging through the rubble throughout the city, frantically searching for survivors.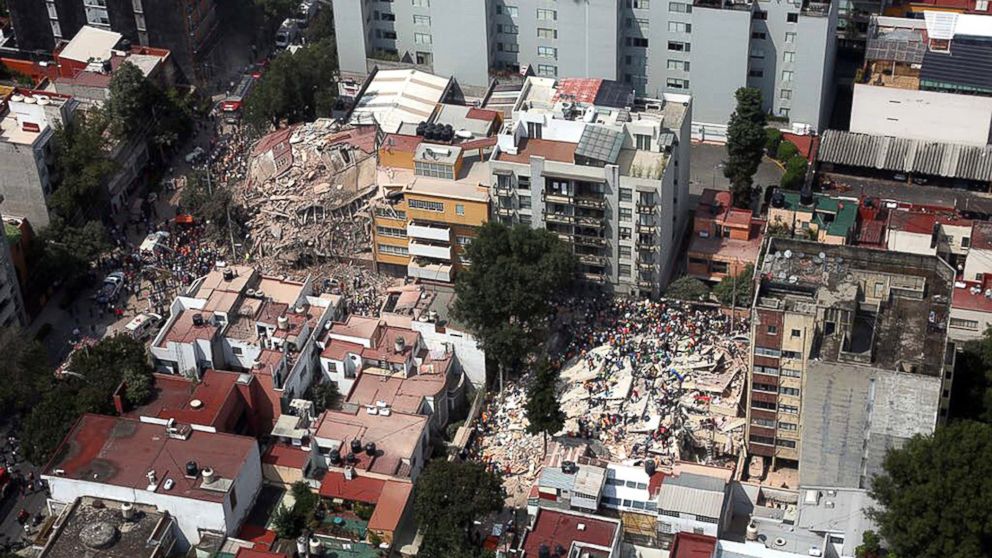 Mexico City, which has a population of just under 9 million people, is located directly on a large sedimentary basin with loose soil, which amplifies the ripple effects from earthquakes.
"Mexico City is more vulnerable than any other typical city because it was built in what used to lake, so the soil is soft and wet and because of this, it behaves like a jelly bowl when shaking arrives," Dr. Pablo Ampuero, a professor of seismology at CalTech University, said. "It keeps ringing like a bell so it makes the shaking stronger and longer."
In both Tuesday's earthquake and an even deadlier quake that killed thousands in 1985, the epicenter of the earthquake was well outside the boundaries of the city -- roughly 75 miles and 250 miles away, respectively. But because of where the city sits, the effects of both quakes were magnified.
"A very large earthquake that hits very far away can have the same impact as a small earthquake that hits closer to you," Ampuero said.
Dr. Lucy Jones, the founder of the Dr. Lucy Jones Center for Science and Society and a former scientist at the U.S. Geological Survey, explained that the seismic waves from earthquakes travels underground through rock, and the density of the rock impacts the speed at which the waves moves. When the wave reaches less dense ground, like the loose soil beneath Mexico City, "it slows down abruptly but then the waves still have all that energy so the amplitude of those of those waves gets bigger."
That increased amplitude "means the ground is moving a greater distance."
Mexico City is not alone in being built in a potentially catastrophic location -- Los Angeles was constructed above a similar basin. However, Jones said that downtown Los Angeles only has an amplification factor of five, while Mexico City has an amplification factor of 100.
Though Mexico City's deadly earthquake in 1985 left at least 9,500 people dead, Ampuero said many of the buildings that survived that quake have not been retrofitted in the years since to reinforce them against such natural disasters. He said that retrofitting buildings was likely not mandatory, which is the case in other cities, including in California.
"One could expect that the old and still-vulnerable buildings could still collapse," he said.