Richard Branson announced Thursday he will be joining the crew of his next spaceflight with Virgin Galactic, besting fellow billionaire Jeff Bezos to space.
The Virgin Group founder joined "Good Morning America" Friday to discuss how he, the team of engineers and test pilots have prepared for the big moment, as well as what he really thinks of the launch date set just nine days prior to the Amazon CEO.
"I know that it's been painted as a race, honestly I don't think either of us see it that way," Branson said of the plan nearly 20 years in the making. 'We're both doing something pretty different -- the people that go up with us are going up in a spaceship -- they launch from a beautiful space port in New Mexico and then Jeff has a different approach. So we're not really in direct competition. I have enormous respect for what he's doing and I know he has enormous respect for what our wonderful team are doing as well."
The first fully crewed spaceflight for SpaceShipTwo Unity will take place July 11, pending weather and technical checks.
Branson, 70, will join the crew to "evaluate the private astronaut experience and will undergo the same training, preparation and flight as Virgin Galactic's future astronauts," according to a press release. Branson announced last week that Virgin Galactic was given the OK by the Federal Aviation Administration to launch customers into space.
"We've spent 17 years trying to get to this stage. The first time I got truly excited was yesterday when the final safety check came through and I was asked whether I'd like to go and, of course, the answer was 'yes,'" Branson told "GMA." "I'm just expecting the most extraordinary trip of my lifetime and by pioneering it myself an extraordinary trip of a lifetime for other people in the future and obviously for the other five people who are going to be on board the spaceship with me -- we're all now hitting the ceiling."
"I truly believe that space belongs to all of us," Branson said in a statement. "After 17 years of research, engineering and innovation, the new commercial space industry is poised to open the universe to humankind and change the world for good. It's one thing to have a dream of making space more accessible to all; it's another for an incredible team to collectively turn that dream into reality."
The mission, dubbed Unity 22, will be the 22nd test flight for VSS Unity. It's the company's fourth crewed spaceflight. Unity's pilots will be Dave Mackay and Michael Masucci, both of whom have flown the ship previously.
Unity is launched from a separate "mothership" aircraft called VMS Eve.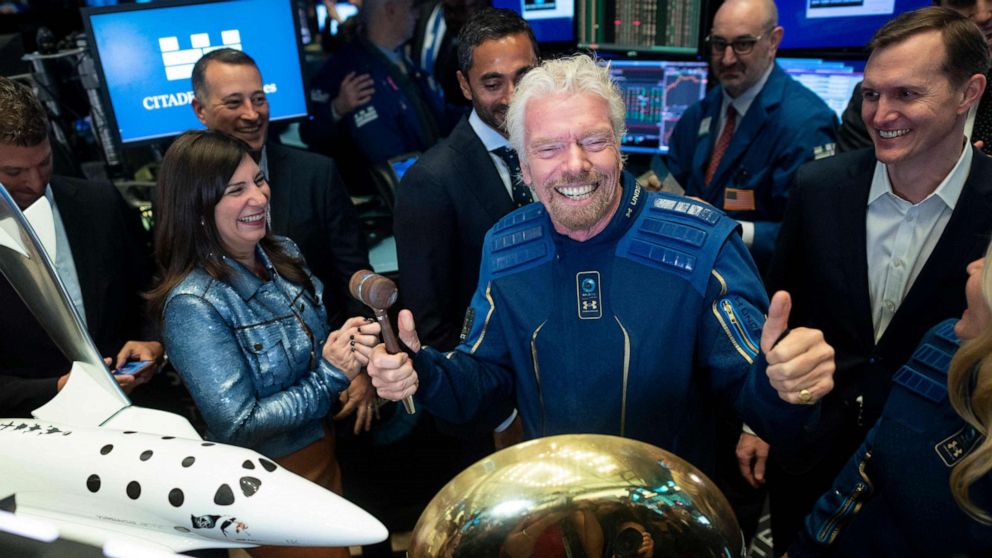 Virgin Galactic faced a serious setback in 2014 when a pilot died in a 2014 test flight accident, but Branson assured he's not nervous for the upcoming flight.
"Test pilots are incredibly brave people, they go up to try to find out what can go wrong that you can't test on the ground," Branson explained. "These test pilots have done that, they're ready for myself and members of the public to go up, the FAA have just given us the certification to be able to send people up. So it's been some painful moments -- but it's been 17 years of hard work by hundreds and hundreds of engineers to achieve what they've achieved."
Bezos, the founder of Amazon, is expected to join the crew of Blue Origin's New Shepard spacecraft's first flight on July 20.
Bezos, 57, announced on Wednesday that accompanying him, and his brother, on New Shepard will be pioneering female pilot Wally Funk. Funk, who is 82 and dreamed of going to space in the 1960s but was passed over for male astronauts, would become the oldest person to ever go to space.
Joining Branson on his flight will be Beth Moses, Virgin Galactic's chief astronaut instructor; Colin Bennett, the company's lead operations engineer; and Sirisha Bandla, the company's vice president of government affairs and research operations. Moses was also on the ship's first test flight.
The company said it will conduct two more test flights and then launch customer service in 2022. Virgin Galactic's then-Chairman Chamath Palihapitiya had said in July 2019 they planned to begin commercial operations within a year. Palihapitiya left the company earlier this year.
The British-born Branson founded Virgin Group in the 1970s and has delved into everything from music to cellphones and airlines.
"I'm in my 70s so it's important whatever happens to be fit. I kite surf, I surf. I play a lot of tennis, I do weight training, extreme biking. I do everything I can to get fit," he said. "I've got five days of more specific training leading up to the spaceflight as well."
Branson will turn 71 exactly one week after the flight.
ABC News' Catherine Thorbecke contributed to this report.