2nd person found dead as California county faces major flooding
A levee break in several places caused the flooding in the area, officials said.
A second body was discovered outside of a vehicle on Wednesday, as authorities attempted to recover vehicles that washed away due to the flooding in Sacramento County over the New Year's weekend, California Highway Patrol (CHP) told ABC News.
Officials discovered the woman's body around 10 a.m. in a field about one mile east of State Route 99, CHP said.
Authorities could not confirm if the body was connected to the vehicles they were towing until they could positively identify the person.
Earlier this week, one person was found dead in their vehicle in California on Sunday morning, as a winter storm brought flooding and heavy snow to the state, a Sacramento Metro Fire spokesperson confirmed to ABC News.
A Sacramento Metro Fire spokesperson confirmed that the deceased was recovered from their flooded vehicle in the southernmost part of Sacramento County, near the city of Elk Grove.
The identity and cause of death of the deceased haven't been confirmed pending a coroner's examination, according to Sacramento Metro Fire.
The National Weather Service in Sacramento issued flash flood warnings for the area, urging drivers to stay off the road.
A levee break in several places caused the flooding in the area, Sacramento Metro Fire Captain and Public Information Officer Parker Wilbourn told ABC News.
The Sacramento County Office of Emergency Services ordered residents in Wilton to shelter in place earlier Saturday afternoon.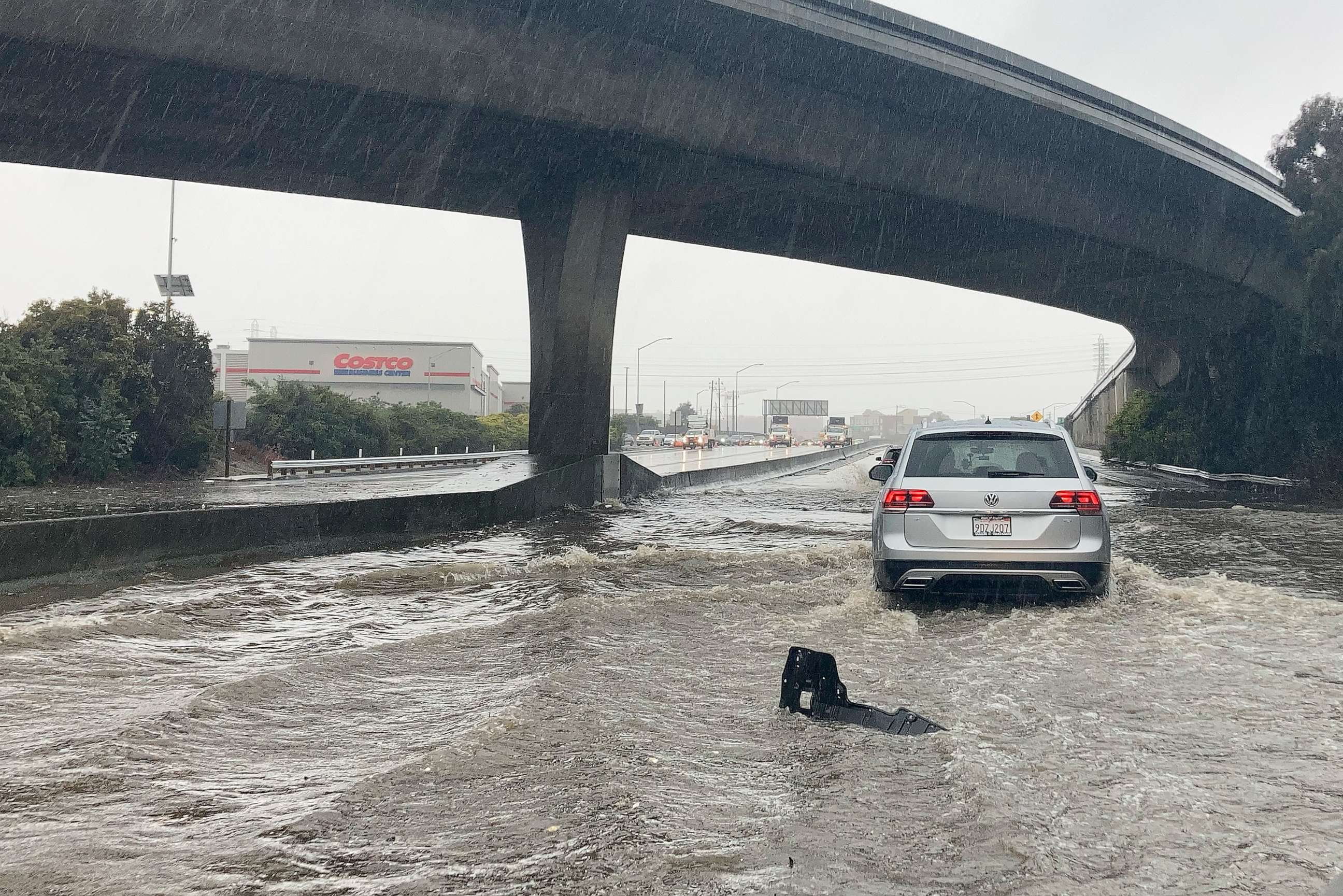 "Rising water has made roads impassable in the area," the office said in an advisory.
According to Caltrans District 3, which maintains the state highway system in 11 northern California counties, a highway near Elk Grove has been closed because the Cosumnes River flooded.
Two more storms are expected for the next week in northern California, with the second storm set for Wednesday and Thursday, possibly causing flooding in the area, according to NWS Sacramento.
Over 5 inches of rain had fallen in downtown San Francisco on Saturday, setting a new daily record, the National Weather Service for the San Francisco Bay Area said.
The West Coast is being slammed with an atmospheric river, which usually brings heavy rain, wind and snow to areas that it flows through, according to the National Oceanic and Atmospheric Administration.
The NOAA describes atmospheric rivers as "rivers in the sky" because they're somewhat long and narrow regions in the atmosphere that send most of the water vapor outside the tropics.
ABC News' Meredith Deliso contributed to this report.