90 million Americans across 16 states from Washington to Florida under heat alerts
At least 38 records could be broken on Sunday.
A deadly heat wave continues as 90 million Americans across 16 states from Washington to Florida are under heat alerts on Saturday.
The all-time global heat record is in jeopardy at Furnace Creek in Death Valley. The current world record is 134ºF. Death Valley has only reached above 130 degrees five times.  
It has been the hottest first two weeks of July on record for Phoenix and Tucson, Arizona, as well as Tampa, Fort Myers and Key West, Florida.  El Paso, Texas, has been in 100-degree days for 29 days in a row and Saturday will mark a full month. The forecast calls for 100-degree days for at least the next week. Sunday will be the big day for record temperatures. At least 38 records are in jeopardy from Oregon to Key West, Florida. 
Water temperatures are also staying hot off the Florida coast as a maritime heat wave continues. Water temps in the 90s are widespread off the southern Florida coast. This means anyone looking for relief from the heat won't find it in the water.
Canadian fires ramping up
 There are currently 910 active wildfires in Canada – with more than 4,000 fires already this year having burned more than 24 million acres of land – a record start. The season, however, is far from over.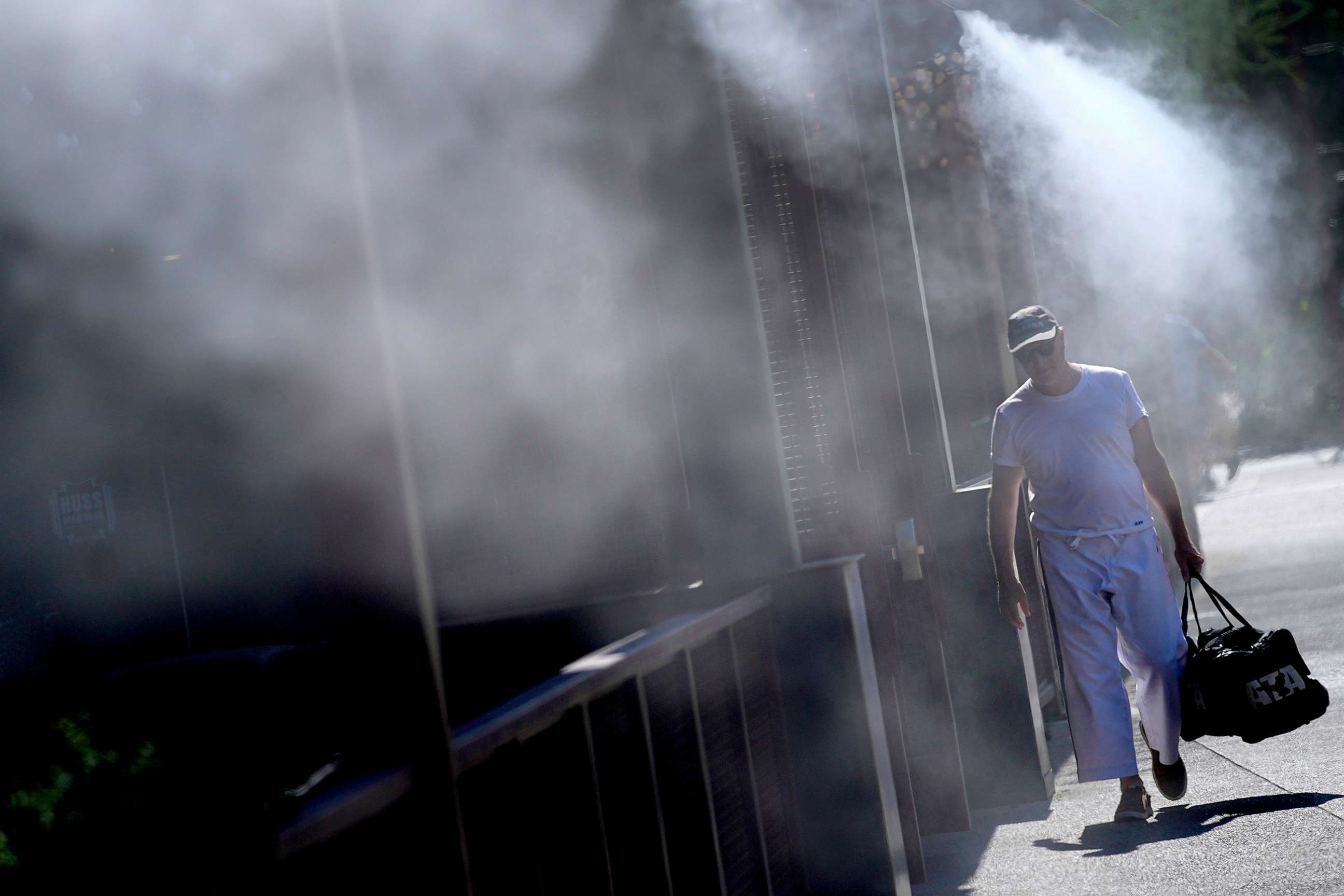 Much of the new smoke is being funneled in from British Columbia and Alberta thanks to northwesterly winds into the U.S. from a low pressure system over the Manitoba and Ontario province border.
The smoke is strongest this morning over places like Minneapolis, Minnesota, and Bismarck, North Dakota.
By 7 a.m. on Sunday the smoke will have spread to Chicago, Illinois, and Indianapolis, Indiana, remaining strongest in Pierre, South Dakota, and Sioux City, Iowa.
On Sunday evening as the last weekend sunset nears, the smoke will be in Nashville, Tennessee, and Columbus, Ohio. Atlanta, Georgia, will even have a hazier sky. Air quality alerts are in effect from Montana to Kentucky either for current smoke or in anticipation of the smoke. The smoke has aided cooler-than-average temperatures for parts of the Upper Midwest.
Flood watch in the Northeast
Forty million Americans in the Northeast are under a Flood Watch this weekend. Saturated soil and a few rounds of heavy rain/storms this weekend may lead to flooding along waterways and low-lying areas.
Over the weekend, a widespread 2-4 inches are expected for much of the Northeast with some areas accumulating more than 4 inches of rain, namely in parts of eastern Pennsylvania along with parts of New Jersey, New Hampshire and Maine.