— -- There are currently two tropical depressions churning in the Atlantic Basin. Tropical Depression 8 is near the Outer Banks and Tropical Depression 9 is entering the Gulf of Mexico. Both are expected to become tropical storms by Tuesday. In addition, there is also Atlantic's first major hurricane of the season, Gaston, which is no threat to land.
These tropical systems are creating rough surf and dangerous rip currents for the next several days up and down the East Coast; alerts are up from Florida to Long Island!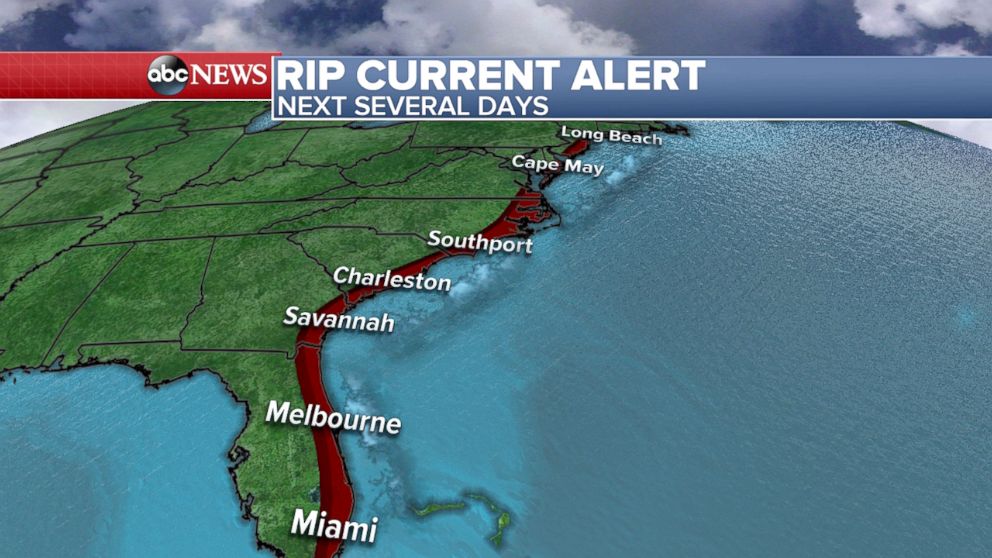 Tropical Depression 8 formed on Sunday off the coast of North Carolina and currently has maximum sustained winds of 35 mph. It is trying to organize and could strengthen into a tropical storm within the next 24 hours. The current forecast track brings the potential topical storm near North Carolina's Outer Banks on Tuesday. By Wednesday, it is racing back out to sea away from the coast.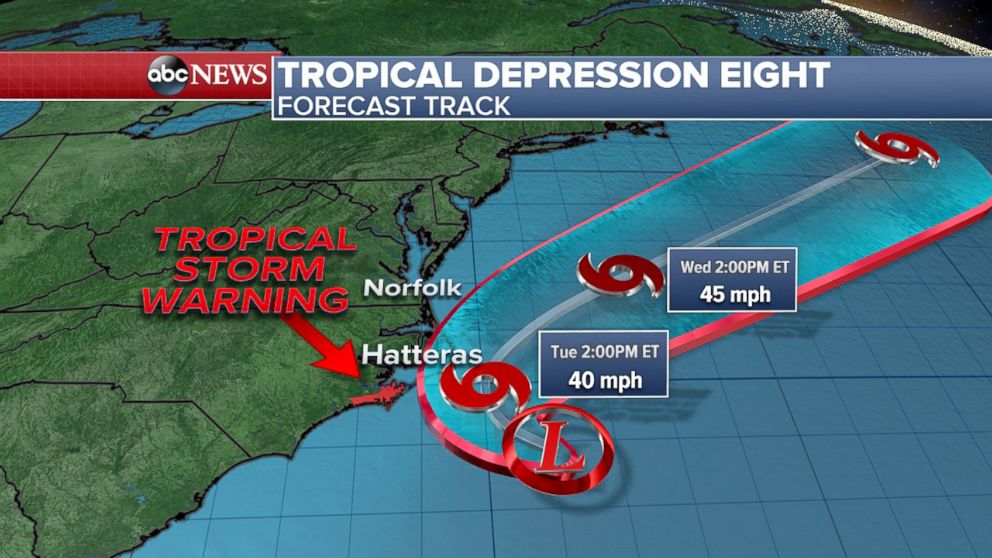 Tuesday is the primary day for impacts to be felt in coastal North Carolina from this system, and a tropical storm warning is in effect from Cape Overlook to Oregon Inlet. The main hazards are gusty winds, rip currents, high waves, and heavy rain accumulations locally up to 5 inches for the Outer Banks.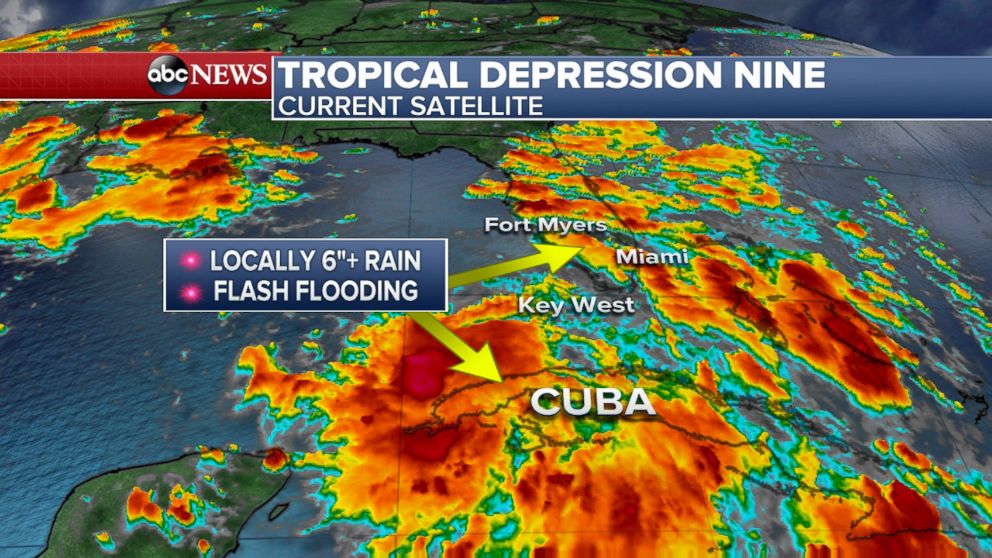 Tropical Depression 9 also formed on Sunday and is currently over Northern Cuba, bringing torrential rain there with some of that moisture making its way into the Florida Keys. Right now, it has max sustained winds at 35 mph and is moving west-northwest at 5 mph. Cuba may see up to a foot of rain through Wednesday, which could cause flash flooding and mudslides. Also, because of its close vicinity to Florida, Tampa to Miami could also see up to a half-foot of rain (locally 6 inches or more) through Wednesday.
Here's the current forecast track; you can see that Tropical Depression 9 is also expected to become a tropical storm by Tuesday, and will continue a strengthening trend in the Gulf of Mexico before turning around and heading toward the Gulf Coast of Florida.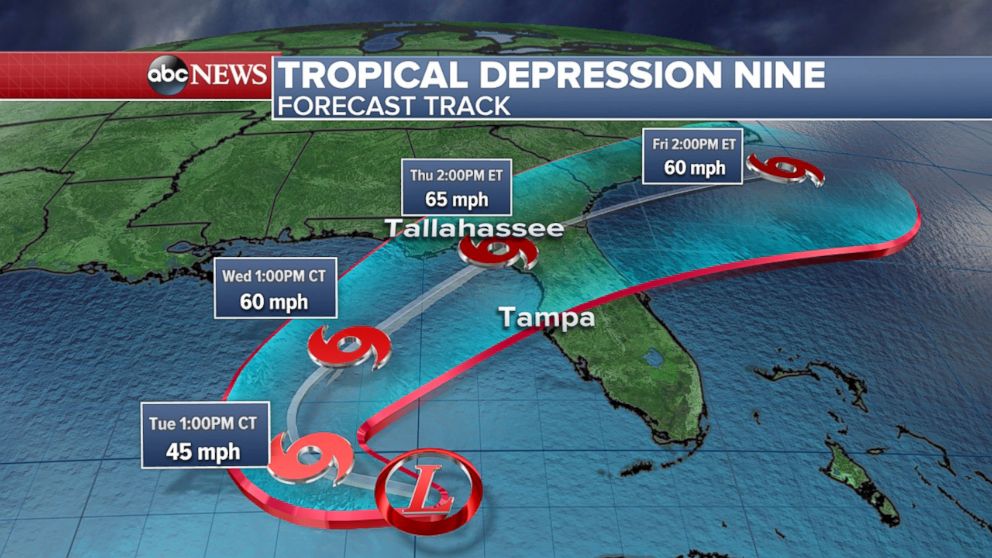 As of right now, there are no tropical storm watches or warnings anywhere in the state of Florida. Tropical storm conditions are possible there by Thursday, so Florida residents along the Gulf Coast need to continue to monitor this system.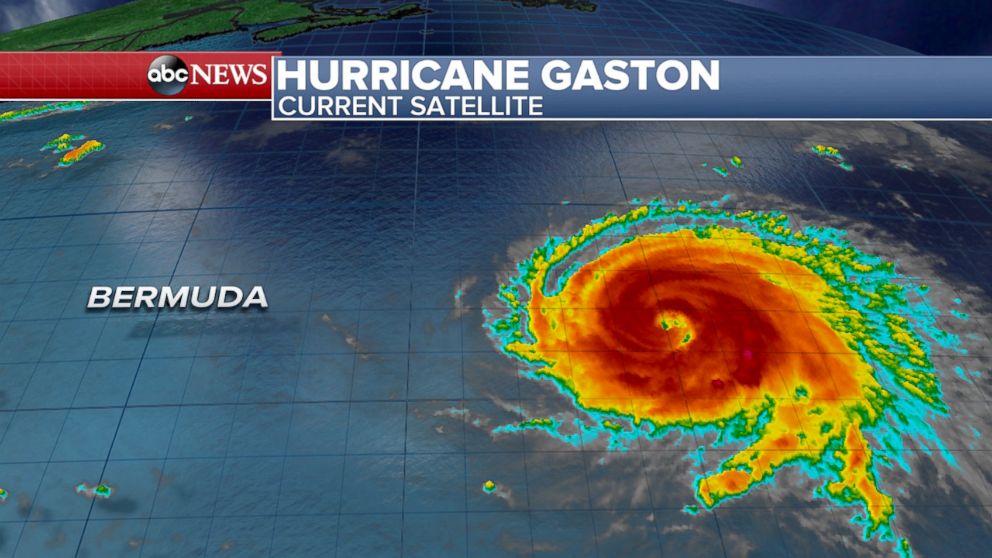 Hurricane Gaston has become the first major hurricane in the Atlantic Basin this season. It is still considered a "fish storm" and is no threat to any landmasses. At the time, there are no hurricane threats anywhere in the U.S. Gaston has weakened from a Category 3 to a Category 2 hurricane and will continue to weaken as it moves out to sea over the next few days.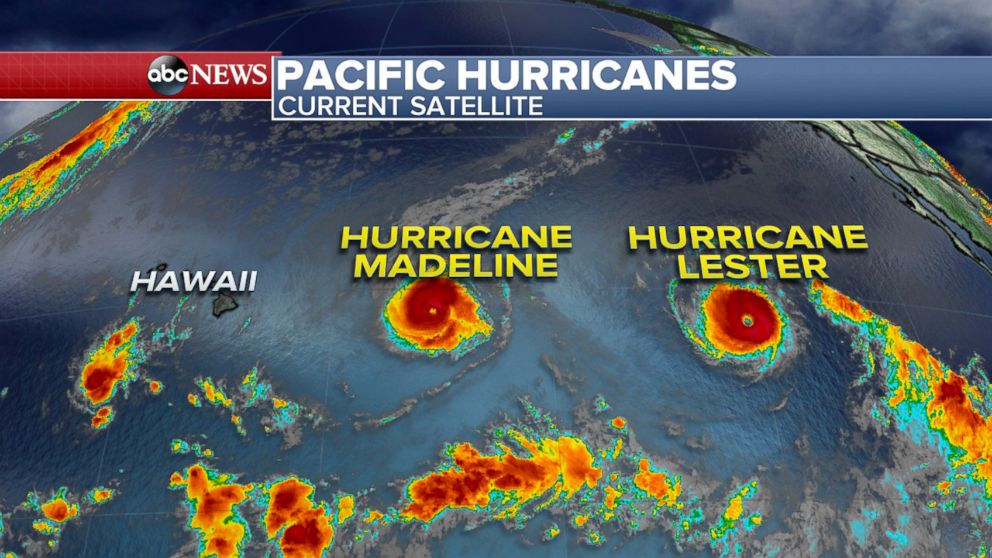 Another area of tropical interest this week is Hawaii. Currently TWO hurricanes, named Madeline and Lester, are threatening the islands one after another later this week into the weekend. The first hurricane we will be tracking is Madeline, which is moving west-northwest with maximum sustained winds at 115 mph. The forecast track takes the Hurricane Madeline just south of Hilo during the Wednesday-Thursday time frame as a Category 1. After Madeline has passed, Hurricane Lester is lurking not too far behind, and could also threaten Hawaii this weekend.