— -- A sleeping polar bear cub at an Ohio zoo was caught apparently dreaming and the zoo got the adorable slumber on video.
In the video, the cub is seen cuddling a stuffed animal, stretching out her paws and sticking out her tongue as she switches between sleeping belly-up, belly-down and on her side. She can also be heard making a noise, which "is a sound of contentment, much like the purring of a cat," Columbus Zoo and Aquarium spokeswoman Jennifer Wilson told ABC News today.
The 5-week-old cub was born at the Columbus Zoo in Powell Nov. 6 to a polar bear named Aurora and was under her mother's care in the den until the staff decided to raise the cub themselves, Wilson said.
"Nearly a week after the cub's birth, Aurora began to take breaks from caring for the cub," Wilson said. "When these breaks continued and became more and more frequent, the Zoo's Animal Care staff made the decision to remove the cub from the den and began to hand-rear the newborn."
The cub, who weighs in at just over 4 pounds and does not yet have a name, began to open her eyes Friday and "so far, she is doing well," Wilson said. "She is very much still a newborn and eats and sleeps a lot."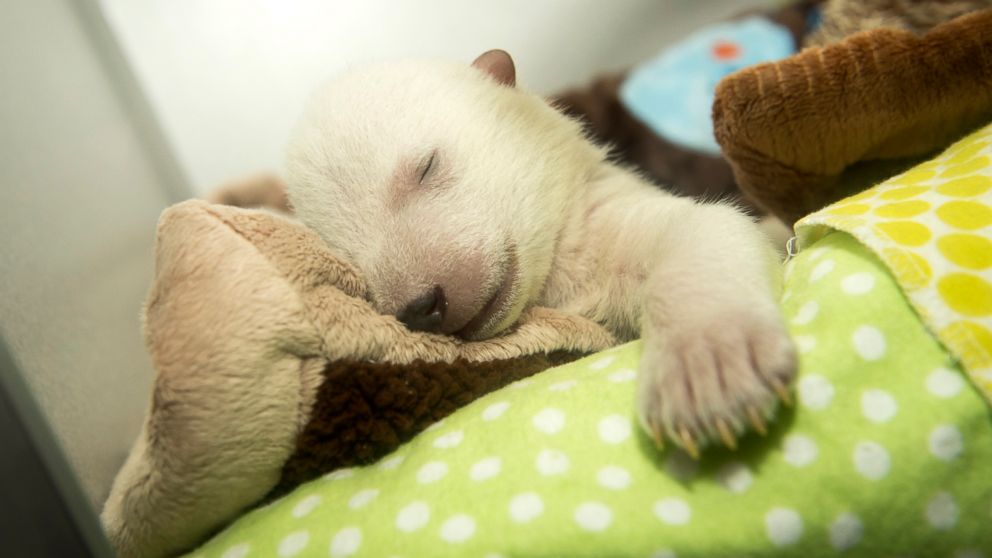 The newborn cub joins three other polar bears -- her mother Aurora, Aurora's female twin Anana and a male named Nanuq -- at the Columbus Zoo's Polar Frontier, where there is a freshwater pool, dig pits, smell ports and deadfall trees for enrichment, Wilson said.
Wilson added that polar bear populations are declining because of the disappearance of sea ice and that experts estimate there are only 20,000 to 25,000 polar bears left in the wild.
"Zoos play an important role in education and conservation and our hope is to conserve this species for generations to come," she said.