Several people witnessed an alligator attack an 85-year-old man in the pond behind his Florida home earlier this week, 911 calls reporting the encounter reveal.
The man, identified as Lakeland resident George Ihle Jr., was bitten in the foot at the Big Cypress Golf and Country Club on Monday, Ashley Tyler, public information officer for the Florida Fish and Wildlife Commission, told ABC News.
In one call, Ihle's wife told emergency dispatchers that her husband was in trouble, telling them to "please hurry" to the scene.
"The alligator attacked my husband," the worried spouse said.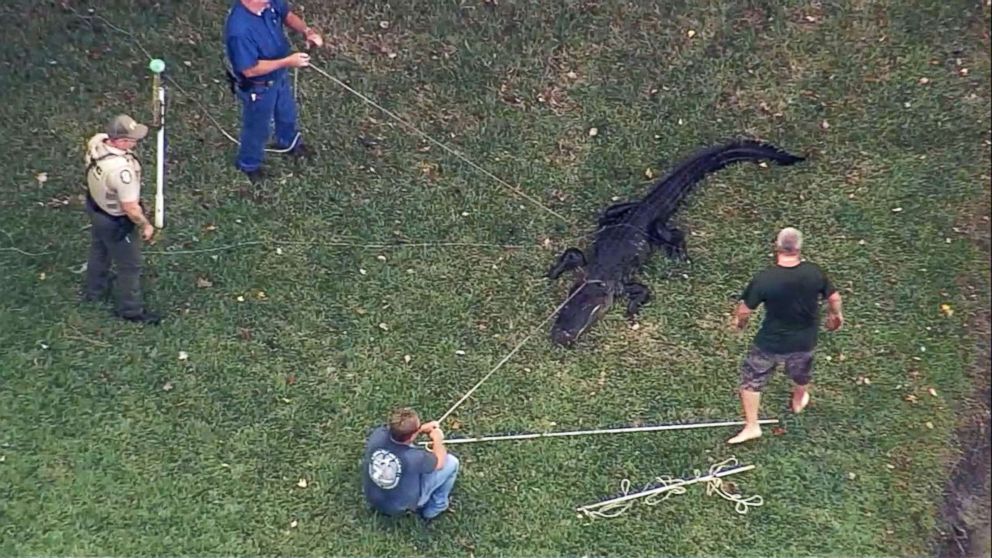 Among a flurry of commotion, another witness told 911 dispatchers that the man was bitten in the foot and that he was bleeding, but not "profusely." The dispatcher then gave the witness instructions on how to stop the bleeding.
In another call, a witness told dispatchers that Ihle "was completely taken down by the gator."
"He was screaming for help," the woman said, adding that the gator had gone back into the pond and several people were watching to see if it would re-emerge.
Ihle was transported to the Lakeland Regional Medical Center in stable condiiton.
Aerial footage showed trappers wrangling the nearly 10-foot gator out of the pond. The gator still had Ihle's sneaker in its mouth when it was caught, making FWC officials "confident" that "they removed the animal responsible for the incident," a statement from the agency read.
Deputies from the Polk County Sheriff's Office, who responded to the scene, visited Ihle in the hospital Wednesday, a photo posted to Twitter shows.