— -- When Taya Kyle first heard that her husband, famed Navy SEAL Chris Kyle, who had served four tours in Iraq, had been murdered at a Texas gun range, she kept thinking over and over that there had been some mistake.
"He was a survivor and a fighter, and honestly, I didn't know how many times he had been shot," Taya Kyle told ABC News' Robin Roberts in an exclusive interview.
"He had been in so many close calls that it didn't seem real," she said.
Watch the full interview, "Love. War. Renewal. The Taya Kyle Story," on a special edition of ABC News' "20/20" HERE.
Chris Kyle, a highly decorated SEAL, was the most lethal sniper in U.S. history, with 160 confirmed kills. As a SEAL sniper, Kyle was sent to the worst areas with the heaviest combat and had spent years in an out of Iraq.
But on Feb. 2, 2013, former Marine Eddie Ray Routh murdered Chris Kyle and Kyle's friend, Chad Littlefield, at the Texas hunting resort Rough Creek Lodge. Routh was convicted of capital murder in their shooting deaths on Feb. 24, 2015.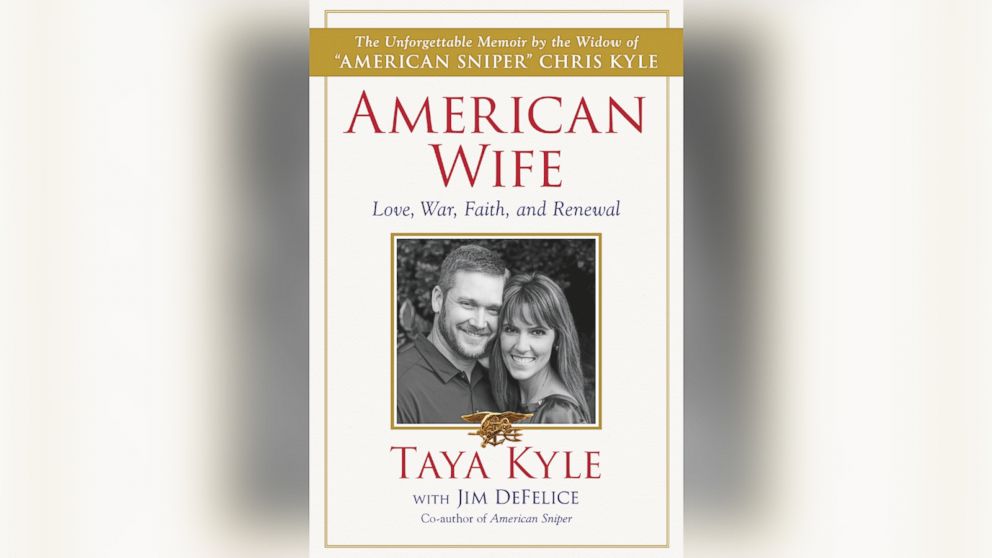 In the wake of her husband's death, Taya Kyle wrote a memoir, "American Wife: Love, War, Faith and Renewal," which details their love story, how she and her family dealt with his death, and her life as a military spouse. It will be released on Monday, May 4, in collaboration with Jim DeFelice and published by William Morrow Publishers.
Mark Treibly, who had played football with Chris Kyle in high school and is now an investigator with Midlothian, Texas, police, was the one who broke the news to Kyle's wife.
"I remember looking in his eyes, so intently, and just saying, like, 'Are you sure?'" Taya Kyle said. "Because I've had these scares before where I thought he was dead and he wasn't. And he said, 'Yes.'"
Telling their two young children, a son Chris had nicknamed "Bubba" and a daughter he had nicknamed, "Angel," was the hardest thing Taya Kyle ever had to do, she said.
"I just told them something really bad had happened and that 'Daddy got hurt,'" Kyle said. "And my daughter looked at me and she said, 'Is he dead?' And then I just shook my head, and then just this sound from her chest and her stomach. ... She was thinking, 'That couldn't possibly be true.'
"It's just very hard to understand. ... 'Why would he do that?' You know, 'Why would somebody do that to Daddy?'" she added.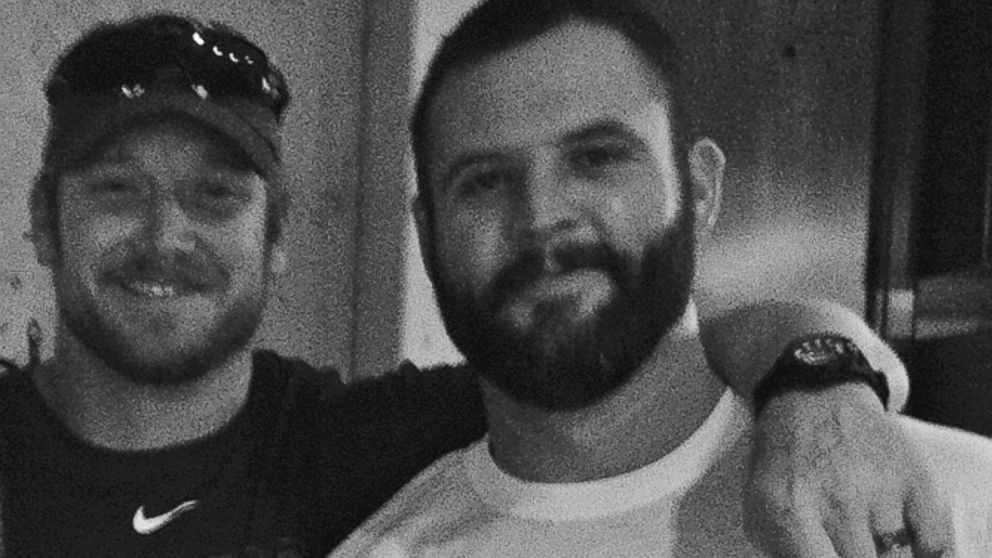 Nearly three years after coming home from Iraq for good, Chris Kyle had become a bestselling author with "American Sniper," which chronicled his war experience and later became an Oscar-winning movie. He also began helping fellow veterans adjust to civilian life by taking them to Rough Creek Lodge. He found that hunting and target shooting helped veterans relax and open up.
On Feb. 2, 2013, Chris Kyle was doing just that with Routh, a former marine who graduated from the same high school as Kyle and served in Haiti after the deadly earthquakes, and Iraq - although he never saw combat.
Routh's mother reached out to Chris Kyle for help with her son, who, after he returned home, was acting erratically, smoking marijuana, drinking heavily and even threatening suicide. Though he never met Routh, Chris Kyle agreed to help and asked Chad Littlefield to come with him to Rough Creek Lodge.
According to Routh's attorney, Warren St. John, Chris Kyle had not informed Routh or his mother ahead of time about the trip to Rough Creek Lodge.
"[Routh] had no idea they were going to a gun range," St. John said. "He thought they were going to go grab some coffee. So, when he got in the truck, he was somewhat shocked that it was full of guns and full of multiple pieces of ammunition. ... I don't think he was afraid of the guns. I think he was concerned about what are these guys about to do."
According to his attorneys, Routh also said he was upset Kyle didn't shake his hand when they met, and that he was further distressed when Kyle stopped to grab a bite to eat at a fast-food restaurant.
"Chris Kyle gave him a hamburger and basically told him to eat it and he thought that was awful strange," St. John said.
Routh set off alarm bells for Chris Kyle and Littlefield while the three drove to the hunting resort. He sat in the back, as Littlefield sat up front with Kyle. During the drive, Littlefield texted Chris Kyle, saying, "This dude is straight up nuts." Kyle responded, "He's right behind me, watch my six," which is military slang for "watch my back."
The tension did not ease once the three men arrived at the range. After waiting for Kyle to fire all his shots down range, Routh used one of Kyle's 9mm handguns to shoot Littlefield six times in the back, killing him. Routh then killed Kyle with six shots, all in the back.
"Neither one of them saw it coming," said Taya Kyle.
Routh then took off, taking Kyle's 9mm and loading it with 15 more bullets, according to authorities. He then jumped into Kyle's truck and drove back towards his home in Lancaster, Texas.
On the way, he stopped at his sister's house and told her he had just killed two men. As soon as he left, his sister called 911, saying "my brother just came by here. He told me that he committed a murder."
Mark Treibly was at the Midlothian police station when he heard a report about a white male driving a supercharged black Ford F350 with jacked up tires.
"I knew immediately that was the description of Chris' truck," Treibly said. "I immediately left the police station and went to [Kyle's] house. ... Taya immediately knew something was wrong, and I told her that it was confirmed that Chris had been murdered."
Routh made it to his own house, where authorities said he stopped to pick up his dog, Girly, but he barely made it out of the driveway before police swarmed him. Routh then led police on a high-speed chase through residential neighborhoods. He made it to I-35 North, but eventually gave up. He was arrested and charged with first-degree murder in the shooting deaths of Littlefield and Kyle.
Nine days later, thousands of people attended a memorial at AT&T Stadium in Dallas, home of the Dallas Cowboys, to pay their respects to the fallen hero. As emotional as the memorial was, Taya Kyle said she is still moved by the trip from Dallas to Texas State Cemetery in Austin.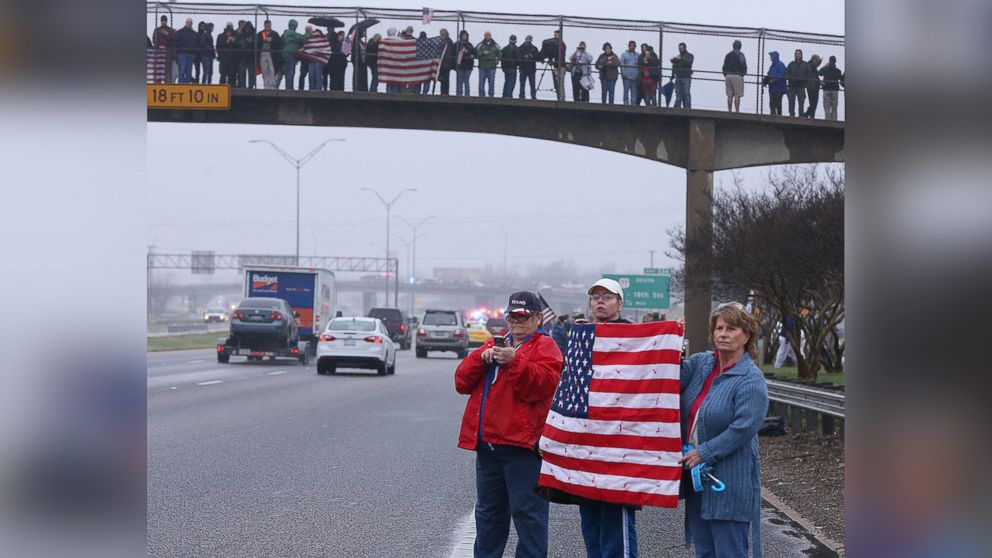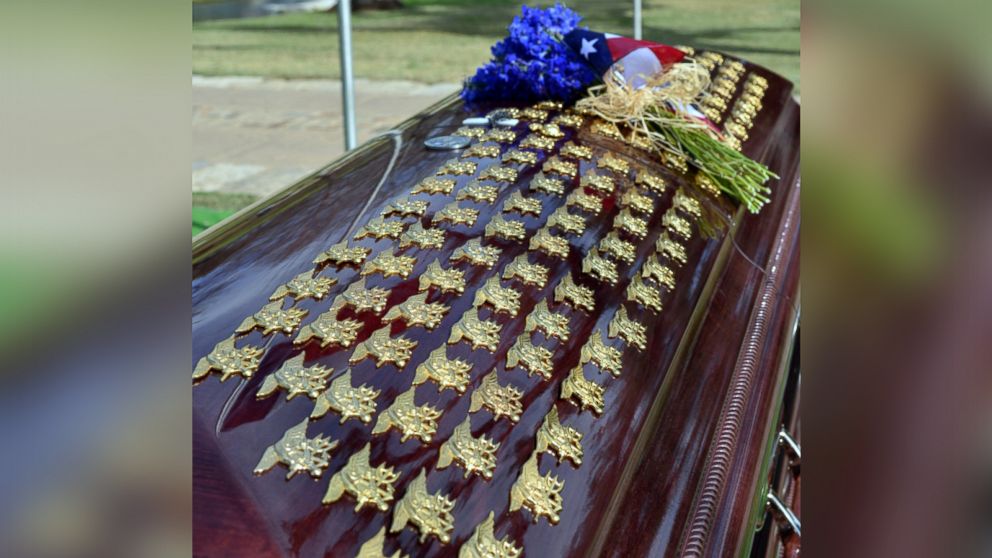 "It's 200 miles of people lining the streets and every overpass ... and the bagpipers and people stopped on the other side of the freeway," Taya Kyle said. "I mean, it was that feeling of patriotism and acceptance and that goes right in line with Chris's life."
Today, Taya Kyle said she has mixed feelings about the gun range where her husband spent so much of his time.
"It can be comforting that it was a peaceful place and he never saw it coming, and that makes me angry that somebody would-- Like, how evil do you have to be," she said. "The people are there just to help you. It was a beautiful, sunny day."