A Baltimore Police Department officer suspended after being seen on video repeatedly punching a civilian has resigned and is under investigation for assault.
Baltimore Interim Police Commissioner Gary Tuggle said on Monday that he accepted the resignation of the officer Sunday night after viewing cell-phone video and the officer's body-camera footage of the violent incident from Saturday.
"The public video is extremely disappointing to me," Tuggle said at a press conference. "I don't think that there was any room for the activity that I saw on that, and it is extremely disturbing."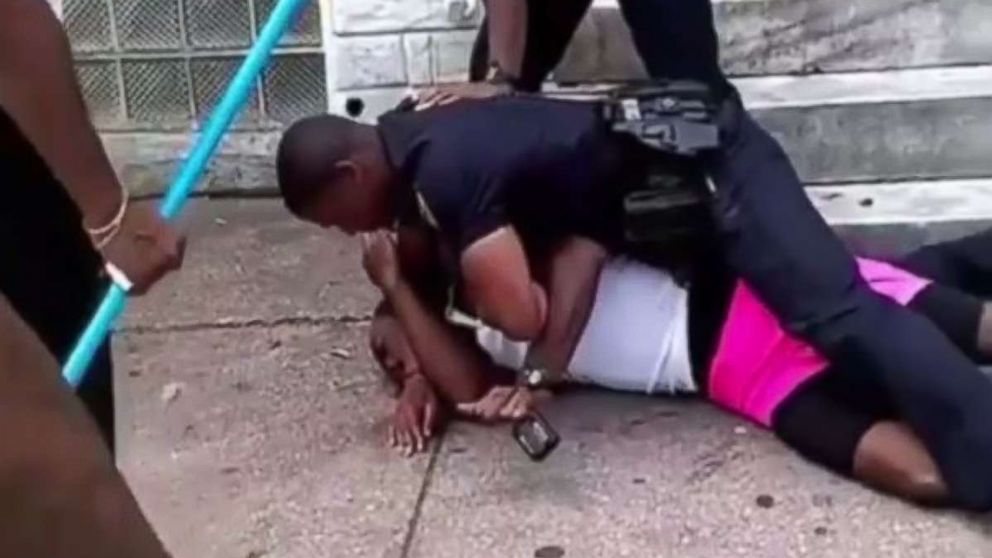 The former officer, who graduated from the police academy last year and joined the department in April, is under criminal investigation for suspicion of second-degree assault, said Tuggle, who declined to release the name of the officer.
Baltimore attorney Warren Brown said he now represents the man seen being attacked in the video, identified as 26-year-old Dashawn McGrier.
"It seems like this officer had just decided that Dashawn was going to be his punching bag," Brown said. "This was a brutal attack that was degrading and demeaning to my client, to that community and to the police department."
He said McGrier suffered a fractured jaw and injuries to his nose, ribs and eye socket. McGrier was expected to be released from the hospital on Monday.
Tuggle said police are investigating another confrontation in June that occurred between the same officer and McGrier.
"First of all, there was no complaint about the June incident," Tuggle said. "The contact between the two resulted in an arrest, and there was no complaint based on that arrest."
Tuggle said what was most troubling to him about the video of Saturday's incident was "the repeated head strikes," even after the officer had McGrier on the ground.
"If it were borne out of emotion ... we should be trained to never act in an emotional way particularly when it comes to engaging with citizens. It's simply not acceptable," Tuggle said.
The department wasted no time in taking action against the officer, suspending him just hours after the beating was caught on video.
In the video, the suspect can be heard saying "So what? Don't touch me," and the officer immediately starts throwing more than a dozen punches at McGrier, who does not fight back. The officer tackles McGrier onto a stoop and knees him while continuing to punch him.
After McGrier is tackled to the ground, he can be seen bleeding from his mouth as the officer and his partner hold him to the ground and arrest him.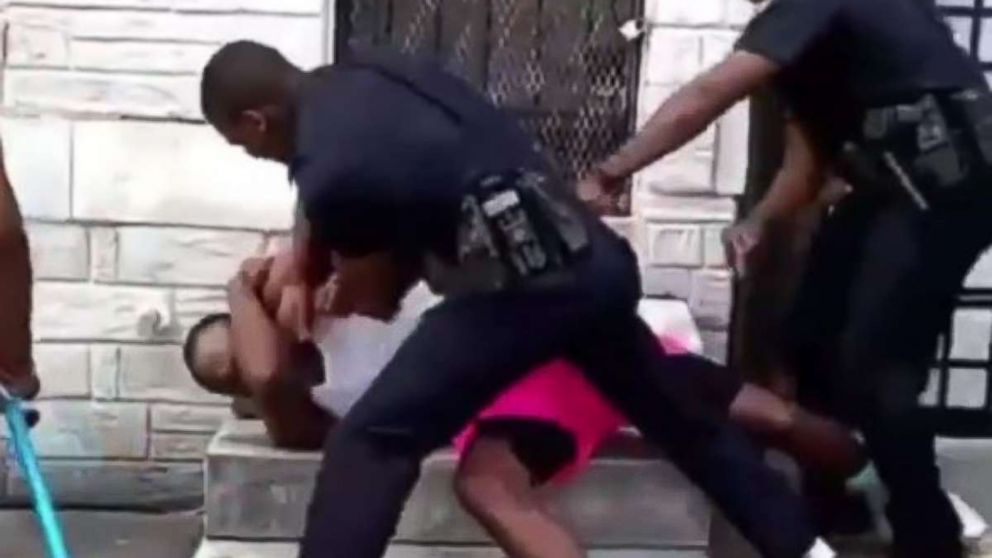 The second officer, who didn't throw any punches, has been placed on "administrative duties," according to the police department. His name has not been released.
Brown said the officer's partner should have intervened to stop the attack.
"The fact that his colleague has his uniform on, and is his colleague, should not have stood in the way of him trying to intervene and prevent the carnage that we witnessed on video," Brown said. "So he has some responsibility as well."
But Tuggle said there were people in the immediate area approaching the officers with "sticks in their hands." The video shows at least one man holding a broom as he approached the officers.
"So he had an obligation not only to contain the situation that he had in front of him, but he had an obligation to keep himself safe. That's hugely important," Tuggle said of the officer's partner.
Police officials said in a statement that they began receiving videos of the incident "almost immediately" after it took place just before noon on Saturday.
According to police, McGrier was approached by officers working on a crime-suppression initiative and asked to provide identification. Police said the situation "escalated" when he refused to show ID.
The person filming the video can be heard saying "I got all that, don't worry about it."
McGrier was placed under arrest but not charged with any crime. He was released from custody to be taken to a hospital by ambulance.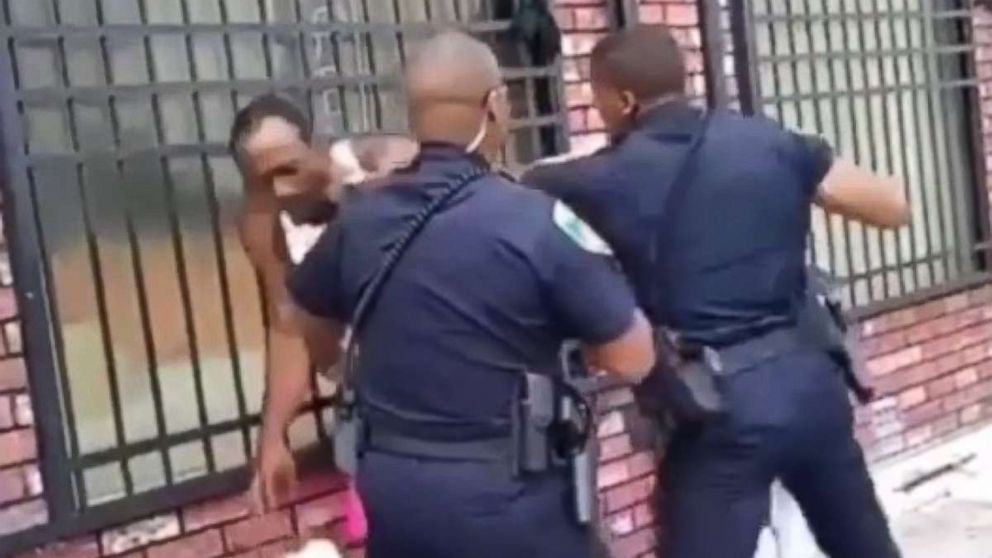 Tuggle said he has "zero tolerance" for the officer's behavior. The state attorney was also contacted, Tuggle said.
"While I have an expectation that officers are out of their cars, on foot, and engaging citizens, I expect that it will be done professionally and constitutionally," Tuggle said. "I have zero tolerance for behavior like I witnessed on the video. Officers have a responsibility and duty to control their emotions in the most stressful of situations."
Baltimore Mayor Catherine Pugh also reacted to the video on Twitter, writing: "I have seen the very disturbing video of an encounter between a Baltimore City police officer and Baltimore City resident and have demanded answers and accountability."
ABC News' Stephanie Wash and Quinn Owen contributed to this report.