4 students among 5 shot at Morgan State University in Baltimore, police searching for suspect
The five victims all suffered non-life-threatening injuries.
Four students were among five people shot during Homecoming week at Morgan State University in Baltimore, police said.
The victims -- four men and one woman, between 18 and 22 years old -- all suffered non-life-threatening injuries, authorities said.
The gunfire broke out Tuesday night "on campus within the vicinity of the Murphy Fine Arts Center and Thurgood Marshall Hall," according to David Wilson, the president of the historically black university.
"It looks like a dispute between two smaller groups, and one individual was a target of two individuals who had weapons," Baltimore Police Commissioner Richard Worley said.
None of the five people shot were the intended target, he said.
Baltimore Mayor Brandon Scott added that it didn't appear that the shooting was racially motivated.
Christian Gatlin, a 20-year-old junior, was on the second floor of the student center when he heard what he thought was fireworks, but now assumes was a "faint gunshot."
"We just saw people running," Gatlin told ABC News. "It was just chaotic."
"Everybody just starting screaming and alerting people next to them that there was an active shooter and to brace ourselves," student Shawn Pollard said.
Freshman Anaiah Pamplin said she was sitting in the cafeteria when she heard four pops.
"It didn't really register at first until I saw people duck and run. Then I ran to the back of the cafeteria," she said. "I was just in shock."
Just before midnight, police said on social media that the incident was no longer being considered an active shooter situation. Half an hour later, Morgan State University said the shelter-in-place order on campus had been lifted.
No arrests have been made.
"They cleared every single floor twice," Worley said. "After that, when we realized the campus is most likely safe, and we opened it back up because the shooter was nowhere around that we could find."
Freshman James Fitzgerald was doing math homework in his dorm when the school went on lockdown.
"When the SWAT [officers] came at my door, you don't know if that was the shooter or not. So when I saw the flashlight, that really scared me," he said. "I just prayed."
"It was terrifying because I'm away from home," student Irmani-Maure Beauvais said.
The mayor said, "The entire city of Baltimore's heart aches for the Morgan community, for these victims and their families and for our city as a whole."
He called for "national action, especially from Congress."
Morgan State said classes are canceled Wednesday out of an abundance of caution.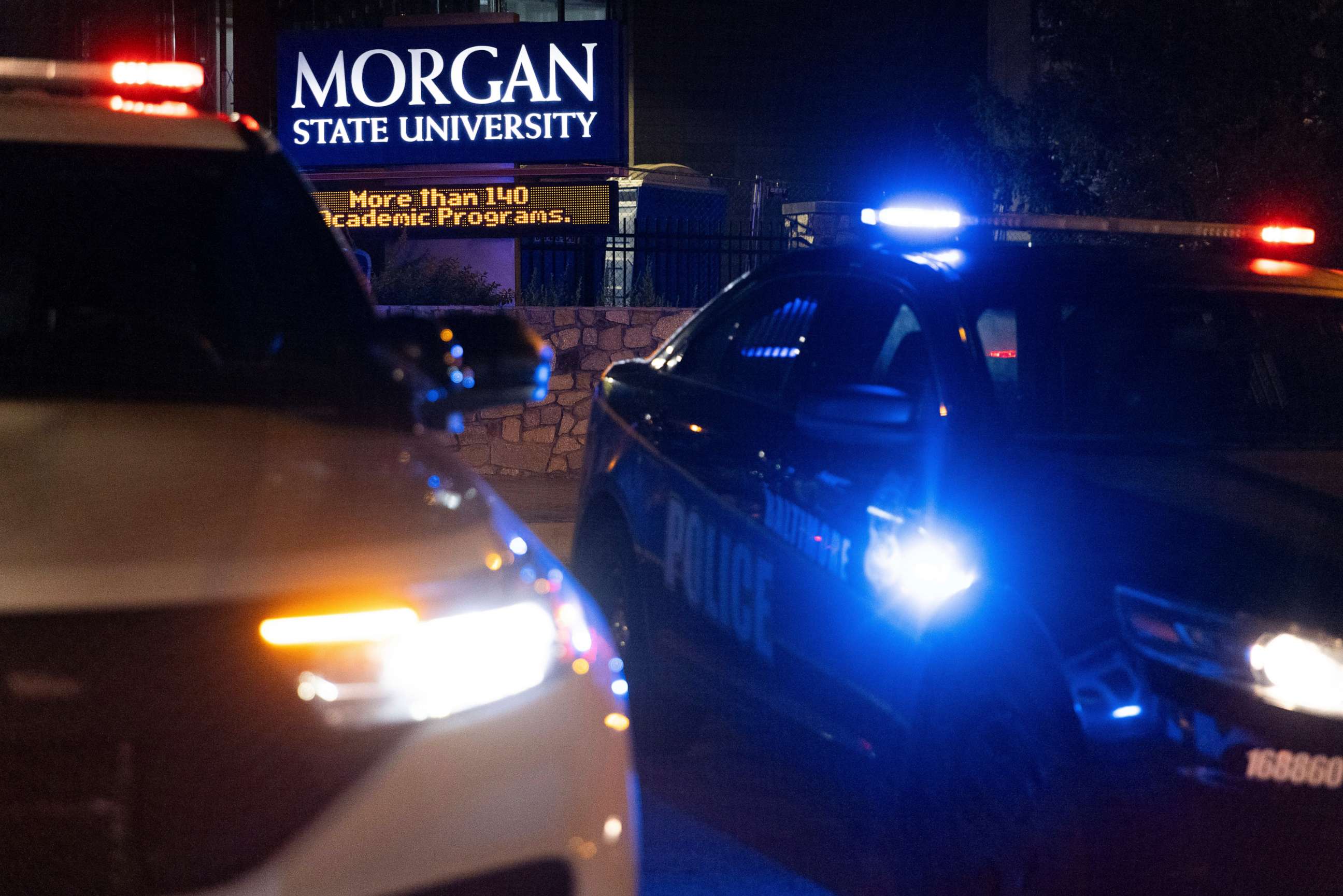 This week is Morgan State's Homecoming. Wilson said he had just left the coronation of Mr. & Ms. Morgan State University when he learned of the shooting.
Wilson said in a video message Wednesday that homecoming events have been canceled or postponed until a suspect is identified. Classes are also canceled for the remainder of the week, he said.
"We strongly believe here at Morgan that this moment calls for reflection, thus allowing our students, our faculty and our staff the opportunity to focus on their emotional wellness," Wilson said. "We arrived at this decision after very, very careful and, yes, at times, emotional deliberations with key stakeholders within our university community."
White House press secretary Karine Jean-Pierre said at Wednesday's briefing, "Morgan State is in our hearts today and we'll continue to do everything we can to provide the support needed as the community recovers from this horrific shooting."
"As a search remains underway for the shooter, we urge everyone on campus and in the community to heed the guidance of safety officials," Jean-Pierre said.
She stressed that this shooting further proves why the White House's new Office of Gun Violence Prevention is necessary. She also said the White House is in touch with the university president, the Baltimore mayor and Maryland Gov. Wes Moore.
ABC News' Emily Shapiro, Lauren Minore, Luke Barr, Tia Humphries and Chris Boccia contributed to this report.