Car enthusiasts remember Ken Block
"Ken brought cars to video in the same way that MTV brought music to video."
The car world is beginning 2023 in mourning. Ken Block -- renowned rally car driver, entrepreneur, and car enthusiast -- died at age 55 after a snowmobiling accident in Northern Utah last Monday.
Block co-founded D/C Shoes in 1994, a company that makes footwear for professional skateboarders. Block sold the company years later to become a professional race car driver.
"He didn't really have a love for American style racing -- ovals, IndyCar, whatever. He was really into rally racing," Mike Guy, editor-in-chief of Road and Track, said.
Rallying is a type of off-road racing, with a focus on car control over loose surfaces.
"It's timed segments through trees at ridiculous speeds, and coming with inches of crowds of people," Guy said.
Block's death drew memorials from all corners of the racing world - with drivers from Formula 1, to LeMans, to the Indy 500 paying respects.
But it also saw tributes from business leaders, like Ford CEO Jim Farley, and celebrities like rapper T-Pain. And that's because Block was more than an accomplished competitor - he was also an entertainer.
"Ken brought cars to video in the same way that MTV brought music to video," Guy said.
Not long after his first professional race, Block co-founded an automotive clothing brand called Hoonigan.
"Hooning a car is just got kind of going nuts," Guy said. "You're doing donuts. You're misbehaving in a parking lot. You're jumping over your great aunt's house while she's asleep. It's basically sort of finding the adventurous limits of whatever you happen to be driving."
That "hooning" ethos trickled down to the company's YouTube channel, with Hoonigan videos becoming the online space for Block to explore those limits. This was most notable in his elaborate, tire-shredding "Gymkhana" series - a name which comes from 19th century Indian equestrian competitions.
"Ken brought it back… adapting [Gymkhana] to a tricked out Subaru WRX," Guy said.
In that first Gymkhana video, Block hucks a black-and-green Subaru into long drifts around an empty airfield, kicking up walls of white tire smoke. But the signature move comes towards the end, when he pulls off a series of tight donuts around a man on a moving Segway.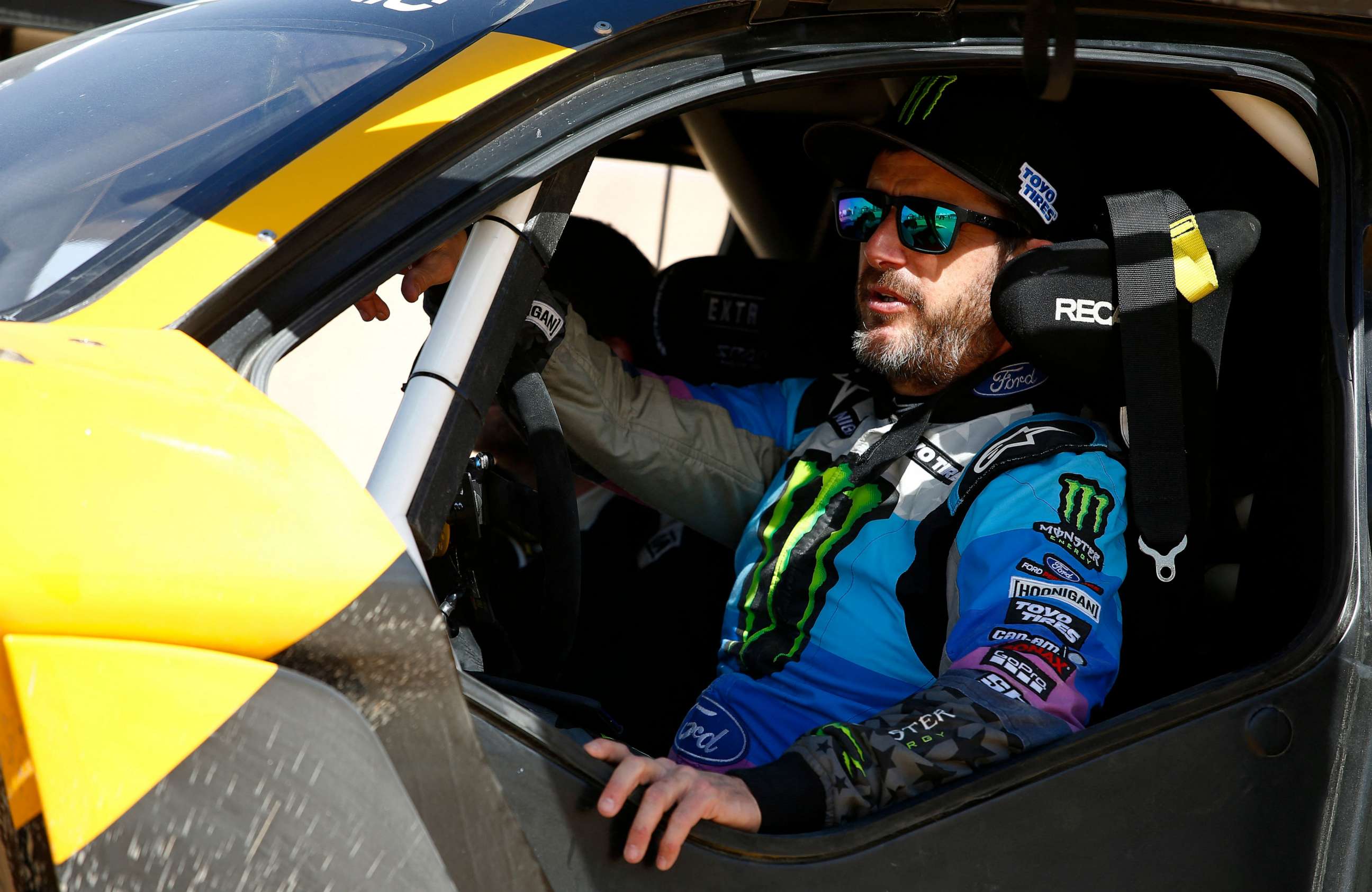 Each subsequent Gymkhana video upped the ante. Gymkhana 2 sees Block drifting a newer Subaru under a tractor trailer, which explodes seconds later. Gymkhana 4 takes the series to the backlot of Universal Studios, with Block spinning donuts in the parking lot of Psycho's Bates Motel. In Gymkhana 7, Block was behind the wheel of a 1965 Ford Mustang, modified beyond recognition, and dubbed "The Hoonicorn." In one climactic moment, he drifts the car under a lowrider, bouncing on hydraulics.
"There are moments of beauty where he plays with speed, and slow motion, and the impossibility of angles," Guy said. "It's probably the best expression of driving a car and doing stunts as art as anything that's been done before or since."
All the while, the Hoonigan YouTube channel was raking in millions of subscribers - netting a billion total views across the first ten Gymkhana videos...
"You look at the numbers that he's pulled, and it's shocking," says Guy. "He made business off of YouTube in ways that very few people did."
More recently, the channel has added another face: Ken's 16-year-old daughter, Lia Block. Recent videos show them restoring a 1985 Audi Ur-Quattro: Lia's first car. In one Hoonigan clip, Ken Block notes that his daughter has "good taste," laughing.