Cause found in Keystone Pipeline's massive oil leak
The leak was detected on Dec. 7 in Washington County Kansas.
A spill of more than 500,000-gallons of crude oil from the Keystone Pipeline in December in Kansas was caused by a combination of a faulty weld and "bending stress fatigue" on the pipe, the conduit's operator announced Thursday.
TC Energy, the pipeline's Canadian operator, said the cause was determined by an independent lab analysis on the failed section of the 2,687-mile conduit.
"Although welding inspection and testing were conducted within applicable codes and standards, the weld flaw led to a crack that propagated over time as a result of bending stress fatigue, eventually leading to an instantaneous rupture," TC Energy said in a statement.
The faulty weld in a fitting girth connecting two sections of pipe "was completed at a fabrication facility," TC Energy said.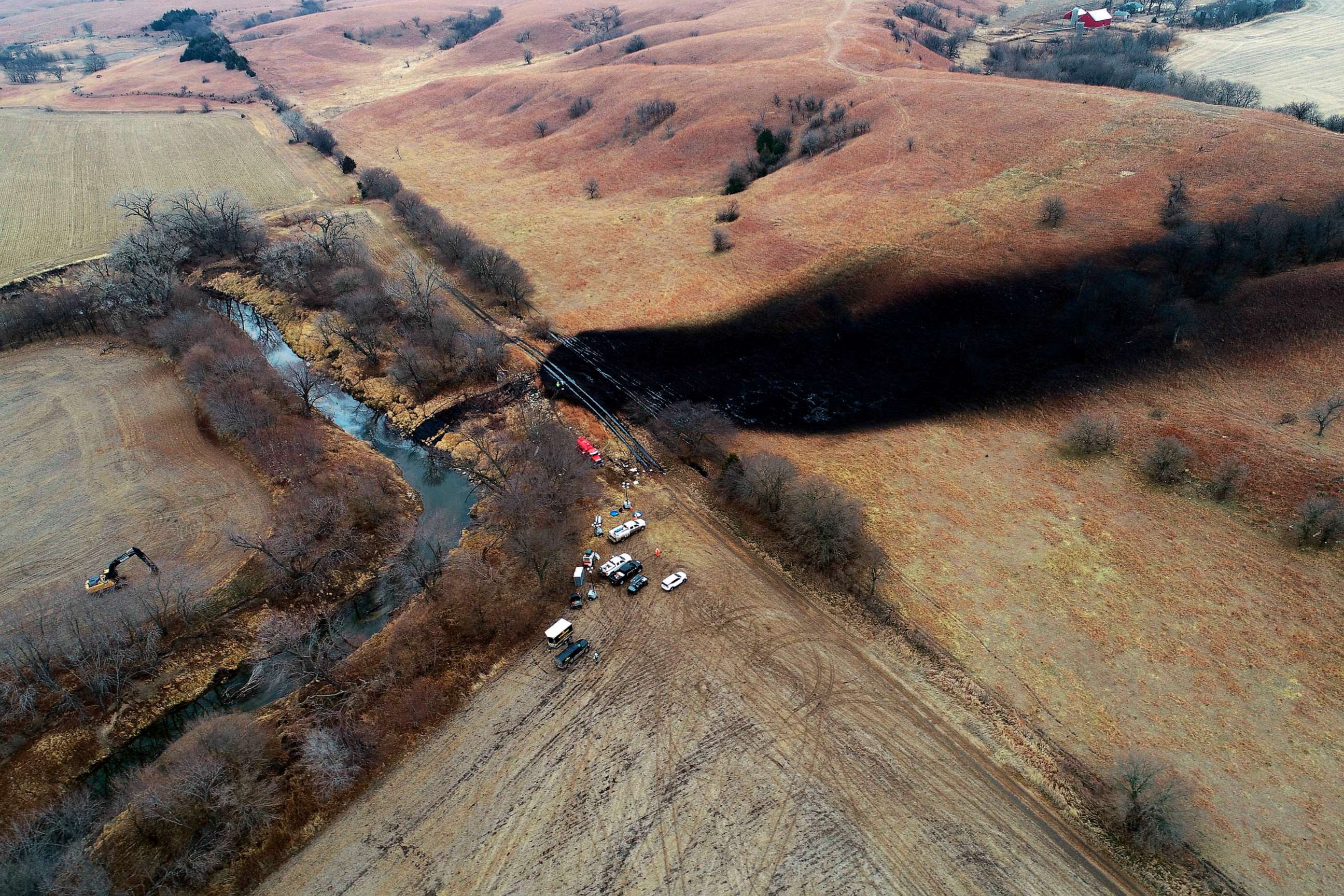 The cause of the bending stress of the pipeline remains under investigation.
At full operation, the pipeline normally pumps about 622,000 barrels, or more than 26 million gallons of oil per day from Alberta, Canada, to refineries in Texas, Illinois and Oklahoma, according to the company.
"The metallurgical analysis identified no issues with the strength or material properties of the pipe or manufactured fitting. The pipeline was operating within its operational design and within the pipeline design maximum operating pressure," the company said.
TC Energy estimated that cost of cleaning up the oil spill was $480,000.
The Kansas oil leak is the biggest in the United States in more than a decade and the largest in the 12-year history of the Keystone Pipeline.
The leak in Washington County, Kansas, was first detected Dec. 7, about 20 miles south of the pipeline's Steele City, Nebraska, terminal. The leak in the 36-inch diameter pipeline spilled down a hill and into a creek, prompting TC Energy to shut down the entire line.
The leak was the latest in a series of accidents on the pipeline. A federal report released in 2021 showed the conduit recorded 22 accidents between 2010 and 2020 and found the severity of spills has "worsened" in recent years. The report conducted by the U.S. Government Accountability Office showed the previous incidents leaked a total of 11,975 barrels of crude oil, or a little over 500,000 gallons.
The report found that four of the biggest Keystone Pipeline oil spills between 2010 and 2020 were caused by issues related to the original design, manufacturing of the pipe or construction of the pipeline.