— -- The proximity of two different military offices and the mystery surrounding a lone gunman caused confusion as local and federal authorities tried to respond to a fatal attack in Chattanooga.
Now investigators have been able to outline how the attack on Thursday unfolded and left four Marines dead and three other people injured. The shooter also died.
Here is the deadly sequence of events.
10:45 a.m. Thursday
The first shooting was reported at the Combined Armed Forces Recruiting Center on Lee Highway.
The shooter reportedly took aim while still in his silver Ford Mustang convertible with the top down.
One Marine was reportedly wounded in this shooting. The individual has not yet been publicly identified.
FBI Special Agent in Charge Ed Reinhold said the suspect, who officials later identified as Mohammod Youssuf Abdulazeez, then drove for "probably five minutes" to a second shooting site.
Reinhold said that the Chattanooga Police Department "started a pursuit," at this point.
11 a.m. Thursday
The second shooting scene was the Naval Operational Support Center and Marine Reserve Center on Amnicola Highway. The complex contains facilities for the Navy and Marine Corps Reserve, including their armory.
Abdulazeez ran his car through a security gate, entered the building and killed four Marines, officials said.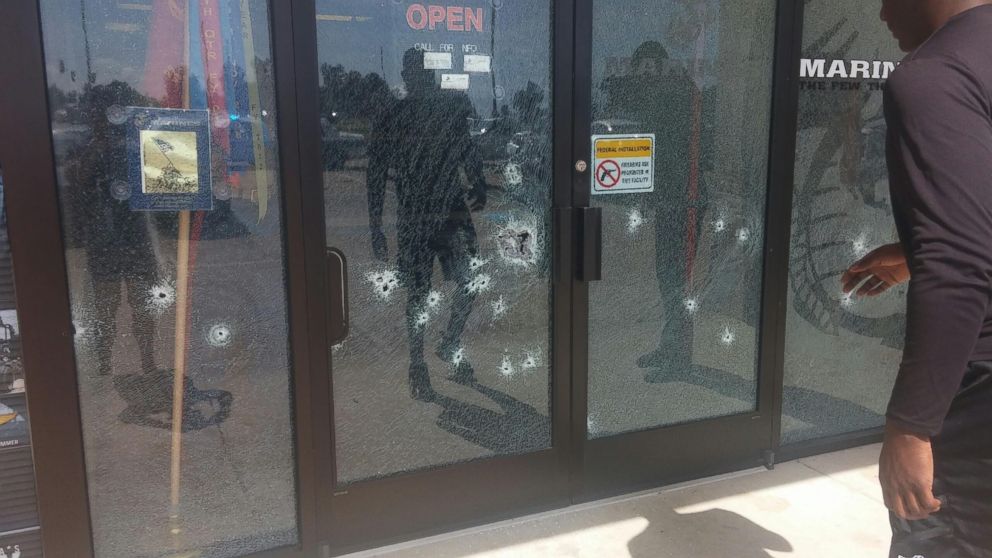 A witness who works nearby, Marilyn Hutcheson, told The Associated Press that she heard many shots.
"I couldn't even begin to tell you how many," she said, according to the wire service. "It was rapid-fire, like pow-pow-pow-pow-pow, so quickly. The next thing I knew, there were police cars coming from every direction."
The suspect died at the scene amid a firefight with police in which he was wounded multiple times, according to a U.S. official. One Chattanooga police officer was wounded. Local police said this afternoon that Abdulazeez hit one officer with gunfire and fellow officers "pulled him to safety while continuing to return fire."
"All indications are that he was killed by fire from the Chattanooga police officers," Reinhold said today. "We have no indication that there was any self-inflicted wounds. However, we will examine that to make sure that's the case."
Also injured was a sailor, who was wounded at the Marine Reserve Center, and a Marine recruiter, who was treated and released.
A defense official said the sailor was in critical condition. The condition of the officer was not clear.
Chattanooga Mayor Andy Berke said that a local police officer was shot in the ankle at the second scene.
Reinhold confirmed Thursday that the shootings "ended within 30 minutes" of when they started.