The violence in ultimate fighting is supposed to stay inside the Octagon, but Ultimate Fighting Championship star Conor McGregor apparently ignored that Thursday outside Barclays Center in Brooklyn.
McGregor was arraigned in a New York City courtroom Friday, hours after turning himself into police for an attack on a bus carrying UFC fighters and others. McGregor surrendered at a New York City Police Department precinct in Brooklyn the night before at around 9:30 p.m. ET. The 29-year-old Irish fighter has been charged with three counts of assault and one count of criminal mischief, police said.
McGregor and his entourage showed up unannounced at a UFC media event Thursday night at Barclays Center in downtown Brooklyn, where the group apparently caused chaos in the arena's loading dock. Video footage appears to show McGregor grabbing a dolly and hurling it through the window of the bus. The former UFC lightweight champion is also seen being prevented from tossing a barricade at the vehicle.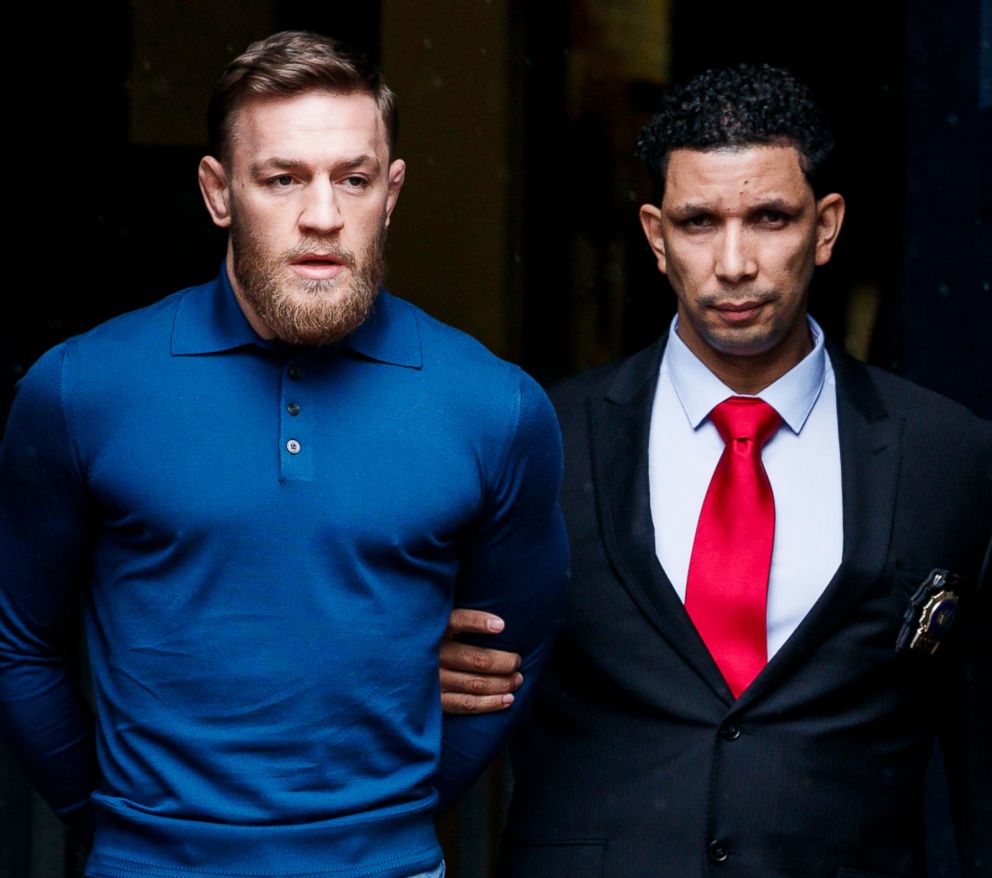 Police said the violent incident, which took place ahead of fights scheduled Saturday for UFC 223, stemmed from an argument between McGregor and a fighter who was aboard the bus.
"There was a dispute about a vacated title, and the person [McGregor] was arguing with was not injured. He was on the bus though," said Chief of Detectives Robert Boyce of the New York City Police Department.
A second fighter, Cian Cowley, 25, has been charged with one count of assault and one count of criminal mischief in connection to Thursday's altercation, police said.
McGregor's bail was set at $50,000, and Cowley's bail was set at $25,000.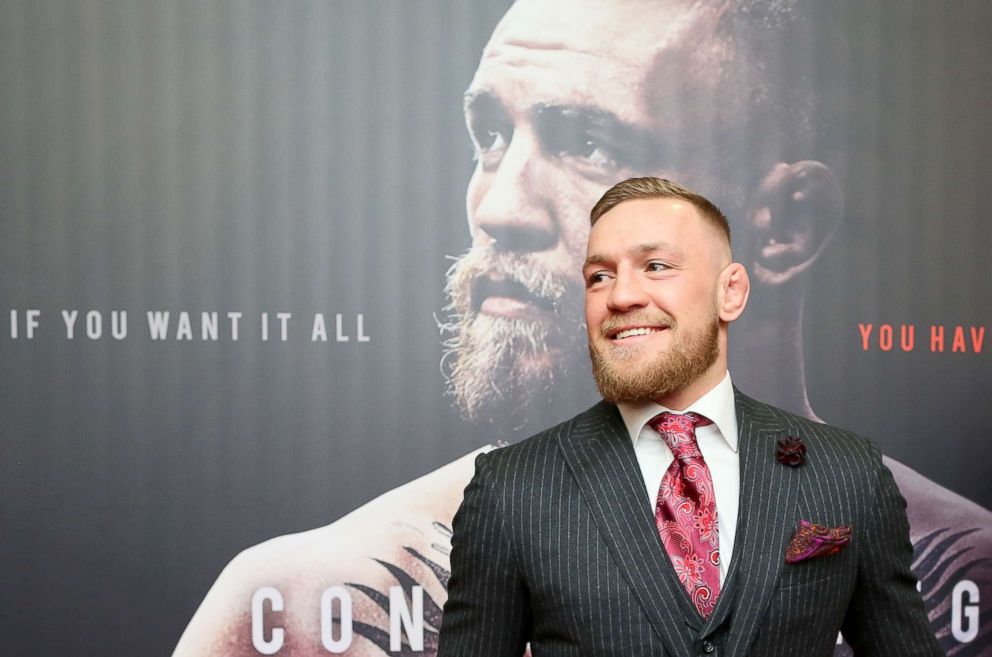 Two athletes who were slated to fight in Saturday's event were injured in the incident, according to a statement from the UFC. After sustaining "several facial cuts," American fighter Michael Chiesa was deemed "unfit to fight" and removed from his bout against Anthony Pettis
Ray Borg, another American fighter who was set to square off against Brandon Moreno, was also deemed "unfit to fight" due to "multiple corneal abrasions," the UFC said.
The judge also issued orders of protection against them and ordered them to have no contact with Chiesa, Borg and others.
Neither fighter entered a plea or spoke in court.
"Two individuals on the bus sustained injuries. The defendant also throws a punch at someone who was on a security detail," the prosecutor said.
Defense attorney Jim Walden asked that McGregor be allowed to keep his passport so he can travel and "pursue his craft." Walden said there was no risk McGregor would not return to court to answer the charges. "He's the most visible face on the planet. He has no criminal history."
June 14 is the return date.
The match between Russian-born Irish fighter Artem Lobov and American fighter Alex Caceres was removed from the UFC 223 card due to "Lobov's involvement in the incident," according to the UFC's statement.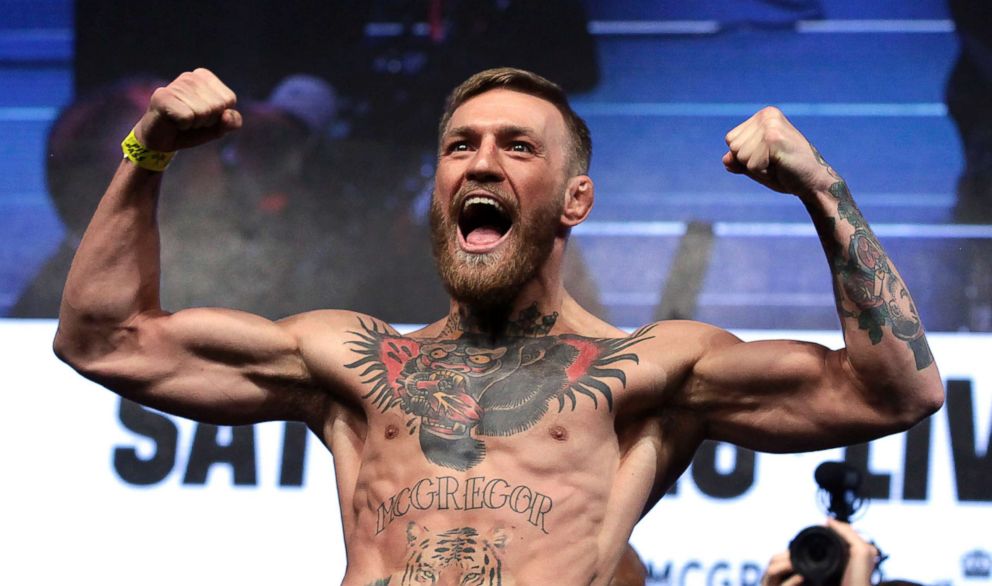 UFC President Dana White said he's "disgusted" with McGregor over the incident.
"I think everybody is going to be pretty disgusted with Conor McGregor right now," White told ESPN in an interview late Thursday.
White indicated the scrum may have been the culmination of bad blood between McGregor and Russian fighter Khabib Nurmagomedov, who was scheduled to fight for the UFC lightweight championship title in Saturday's main event. The UFC president had officially announced at a press conference earlier this week that McGregor would lose the 155-pound title once Nurmagomedov's match began.
"Listen, you don't like Khabib and you don't like what happened or whatever? Then fight Khabib. You can come in here and do it legally," White told ESPN. "You want to grab 30 f------ friends and come down here and do what you did today? It's disgusting, and I don't think anybody is going to be a huge Conor McGregor fans after this."
McGregor hasn't fought for the UFC since November 2016. But he stepped into the boxing ring last year for a highly publicized match against undefeated boxer Floyd Mayweather, who came out of retirement for the fight. McGregor lost by technical knockout in the 10th round.