Crowdfund gives Daniel Penny millions for legal defense in alleged killing of homeless man Jordan Neely
He's charged with second-degree manslaughter and criminally negligent homicide.
Daniel Penny, the man charged in the subway chokehold death of Jordan Neely, is one of the latest figures at the center of a controversial case to publicly fundraise for his legal defense.
Penny has raised more than $2.9 million in defense funds against the charges of second-degree manslaughter and criminally negligent homicide in connection with the death of Neely aboard a New York City subway train in May. Penny has pleaded not guilty to the charges. His next court appearance is October 25.
The collected money that doesn't go toward legal funds -- which could "easily cost in the hundreds of thousands of dollars," according to Andrew M. Stengel, a defense lawyer in New York City -- will be donated "to a mental health advocacy program in New York City," according to the fundraising page.
According to court documents and statements, Neely, a homeless man, entered the train at the 2nd Avenue station and began making verbal threats to passengers. According to one witness who recorded and posted about the incident on Facebook, Neely had said: "'I don't have food. I don't have a drink. I am fed up. I don't care if I go to jail, and if they give me life in prison … I am ready to die.'"
Neely boarded the train and, shortly after, Penny put Neely in a chokehold, which lasted for several minutes.
Penny, 24, pleaded not guilty to the charges and is free on $100,000 bail.
Neely's family raised $150,099 for funeral and burial expenses before closing their GoFundMe to new donations.
GoFundMe restricts certain fundraisers
Fundraisers like Penny's are not allowed on GoFundMe and is instead hosted on another fundraising website.
According to a statement released by GoFundMe in 2021, the website's Terms of Service prohibit raising money for the legal defense of an alleged violent crime.
The company has removed fundraisers in connection with the defense before and during the trial of Kyle Rittenhouse, who claimed he shot three men, two fatally, in self-defense when he attended a 2020 protest in Wisconsin against police brutality.
Rittenhouse was acquitted on two felony counts of first-degree recklessly endangering safety, as well as charges of first-degree reckless homicide and first-degree intentional homicide and attempted first-degree intentional homicide. GoFundMe also removed fundraisers for truckers protesting COVID-19 restrictions in Canada who were accused of violence.
People in legal trouble who have been prevented from raising money through GoFundMe have leaned on other fundraising sites that allow people like Rittenhouse and Penny to house fundraisers as long as "the stated purpose of the fundraising effort is itself a lawful purpose," according to a site representative.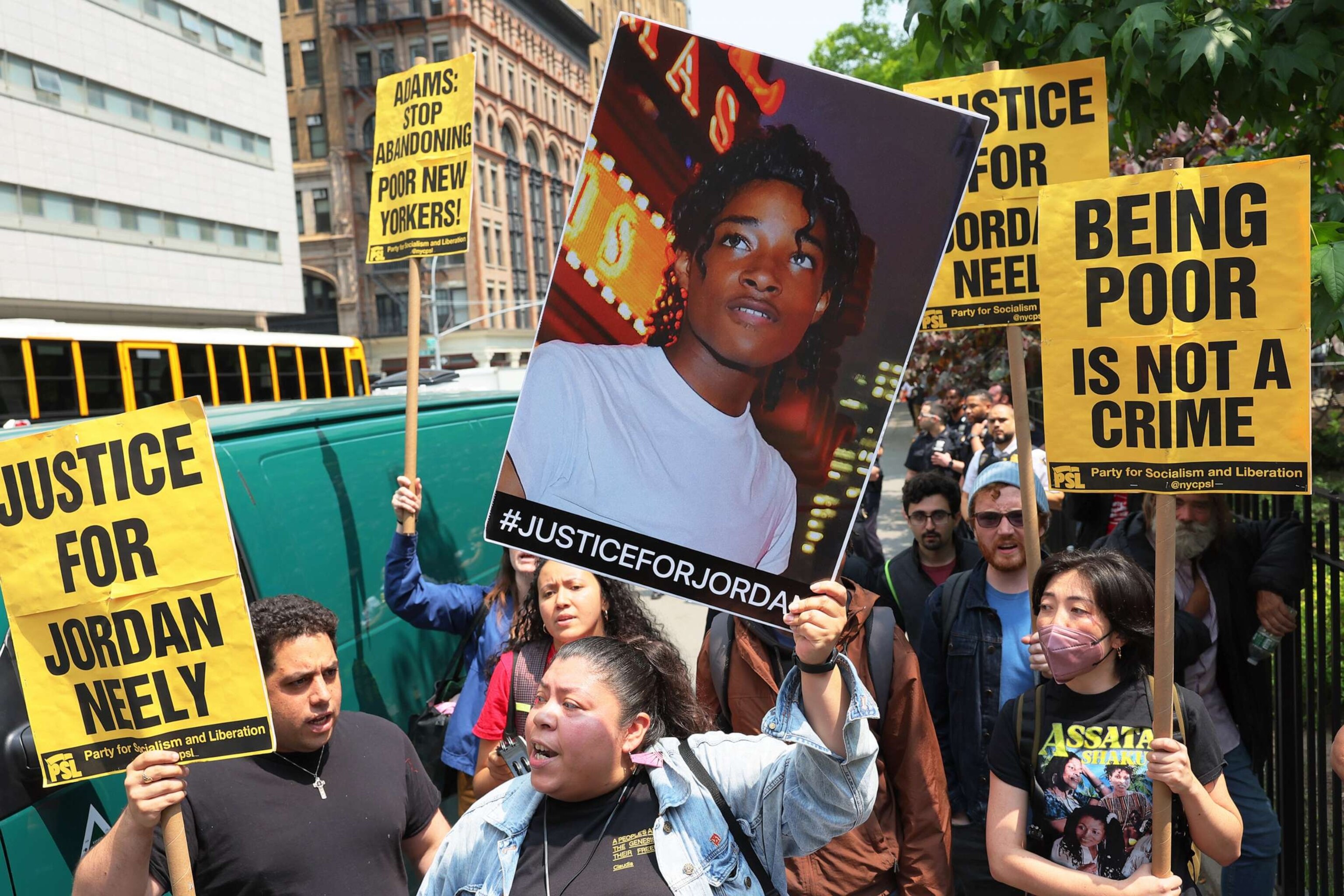 Support for Penny
Some conservative elected officials have supported Penny's actions, including Florida Gov. Ron DeSantis and Florida Rep. Matt Gaetz. DeSantis promoted Penny's fundraiser on his social media, saying, "America's got his back."
Those who study vigilantism and its historically violent use against marginalized communities say they are alarmed by the outpouring of support for Penny as well as other controversial figures accused of violent self-defense.
Amy Kate Bailey, a University of Illinois at Chicago professor and sociologist, said she fears the encouragement could promote further vigilante efforts.
"White men in this country, particularly those who can put on the mantle of being a veteran, I think typically get lots of support," said Bailey in an interview with ABC News. "There was lots of support for this kind of violence and particularly this violence that cloaked itself in the mantle of protecting the community."
Top online fundraising campaigns
These fundraising campaigns are overshadowed by some of GoFundMe's largest campaigns, which include: America's Food Fund at $45 million; Stand With Ukraine at $37 million; TIME'S UP Legal Defense Fund at $24 million; Official George Floyd Memorial Fund at roughly $15 million and more.
The other top campaigns include millions of dollars given to the victims of the 2017 Las Vegas mass shooting, the 2018 shooting at Marjory Stoneman Douglas High School, and a fund for first responders during the start of the COVID-19 pandemic.
The fundraising site Penny used told ABC News that their largest campaign to date was for the Canadian trucker convoy last year "that raised approx $10M USD," followed by Penny's fundraiser.
The so-called "freedom convoy" in Canada protested a federal requirement that truck drivers be fully vaccinated for COVID-19 if they want to avoid a 14-day quarantine upon re-entry from the United States in 2022, according to the Associated Press.
The news organization reported protesters formed a blockade of vehicles to close off traffic at the Ambassador Bridge, which is the busiest border crossing between Canada and the United States.
GoFundMe said the reports of the convoy's "violence and other unlawful activity" prompted an end to the fundraiser.
However, the funds raised for the truckers were refunded after the Canadian government criminalized the receiving of funds for the trucker campaign and attempted to seize the funds to redistribute, according to the fundraising website.