Millions of Americans on the East Coast are bracing for severe winter weather as a widespread storm system continues to march east.
The storm that brought dangerous conditions to Midwestern states on Saturday is expected to bring heavy snow that later turns to torrential rain and ice storms to Mid-Atlantic states, specifically Georgia and the Carolinas, by Sunday evening.
Weather alerts are currently in effect from Florida to Maine. A winter storm warning is in effect for cities such as Nashville, Tennessee, Charlotte, North Carolina and Buffalo, New York. A winter weather advisory is in effect for cities such as Atlanta, Richmond, Virginia, Washington, D.C., Philadelphia and Albany, New York.
Blowing snow and whiteout conditions are possible as well as heavy rain, coastal and localized flooding. The highest snow totals are expected from the Great Smokey Mountains to the Appalachian region, with 6 to 18 inches of snow possible in the mountains of Tennessee, North Carolina, Virginia and West Virginia.
Virginia State Police had responded to more than 650 traffic incidents, including 369 traffic crashes and 282 disabled vehicles, by 4:30 p.m. Sunday.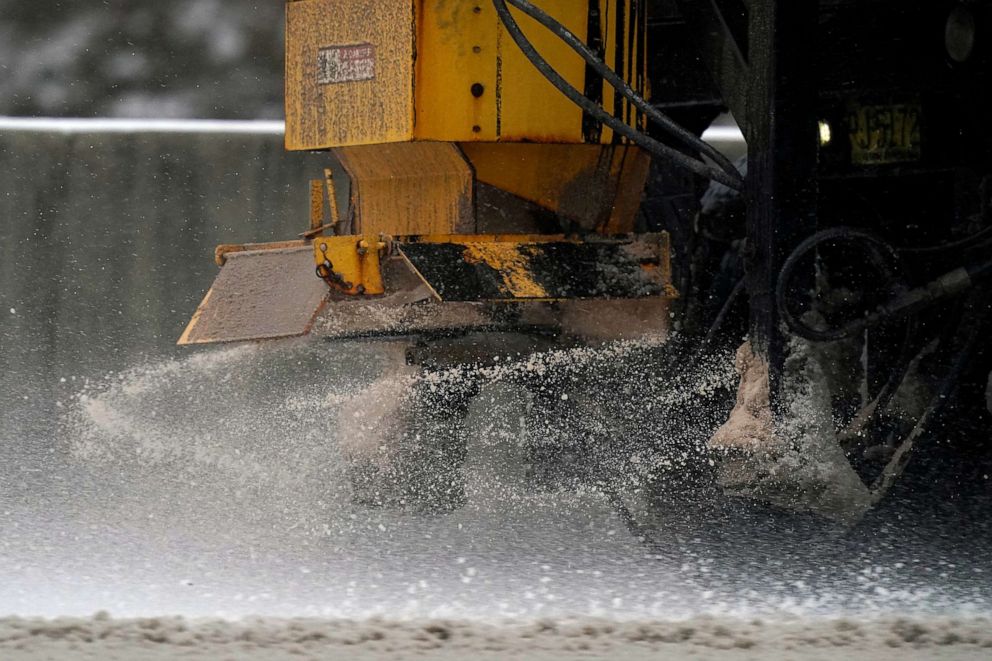 The Great Lakes region, especially the Cleveland towards Plattsburgh, New York and the upper Hudson Valley, could receive up to a foot of snow. Coastal areas of the Northeast, including Washington, D.C., Philadelphia, New York City and Boston, could see up to 3 inches of snow, though that will likely get washed away as the snow changes to rain by early Monday.
Parts of the South are also expected to get some snow accumulation, with 3 to 6 inches possible. Atlanta could see its first measurable snow total in four years. Parts of Jackson, Mississippi and southern Tennessee have already gotten more than half a foot of snow. Further north, some parts of the western Carolinas and southwestern Virginia are also reporting 6 inches of snow, and double digits have been reported in nearby mountain ranges.
An ice storm warning is in effect for parts of northern South Carolina, and significant ice accumulations -- up to a quarter inch in some areas -- had been reported in parts of North and South Carolina by 3 p.m. The ice caused accumulations caused widespread tree damage and power outages.
More than 190.000 customers were without power in North Carolina, South Carolina, Georgia, Florida and Arkansas on Sunday afternoon.
Many roadways in northern and western North Carolina were also covered in snow and ice on Sunday morning, the state's Department of Transportation spokesman Marty Homan told ABC News. While crews are working to clear the roads, Homan warned residents to continue to stay off of them to allow the emergency responders room to work.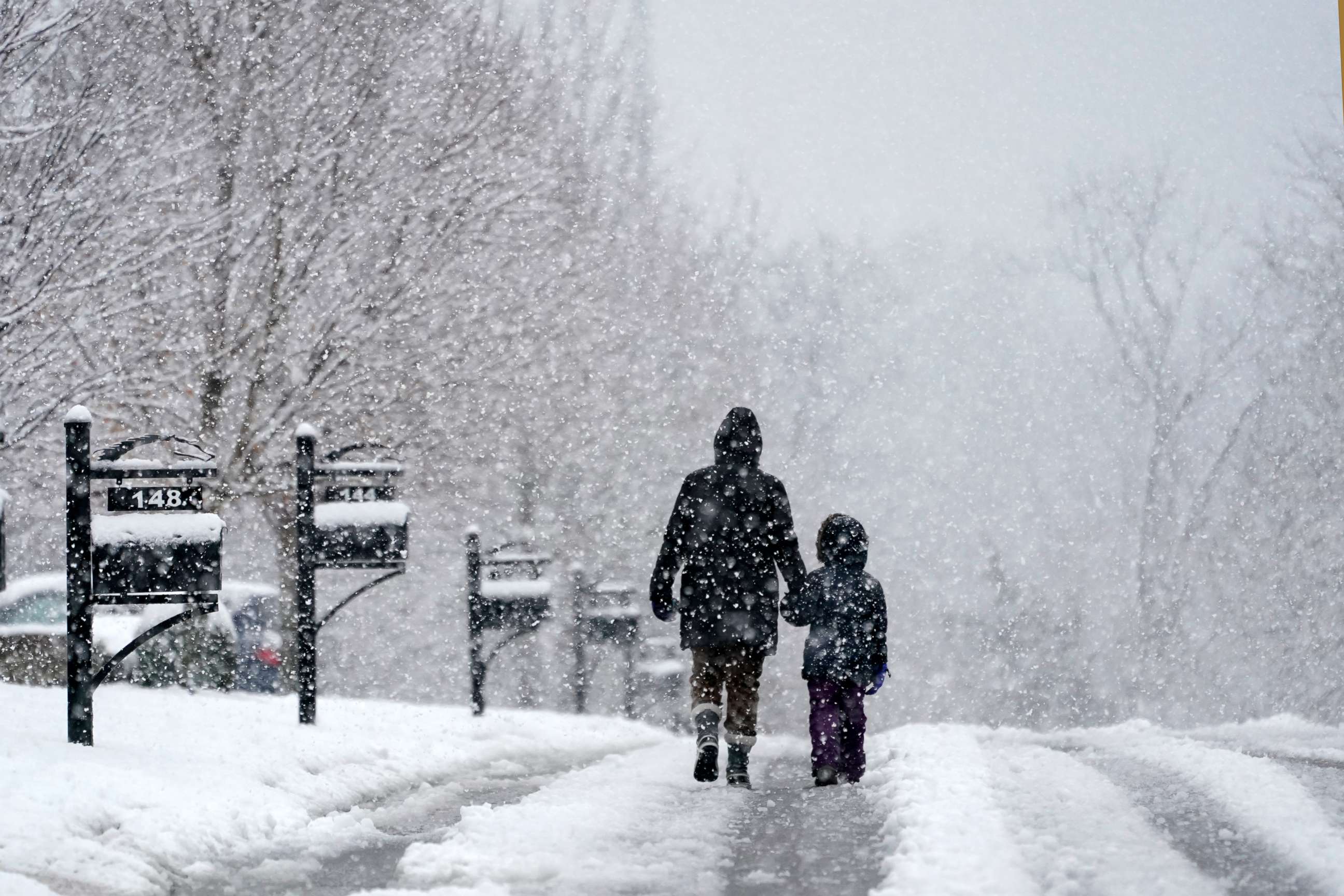 North Carolina officials said conditions across the state are "dangerous" in many areas, and that crews have already responded to 460 calls for service and 200 collisions as of this morning.
"Please don't take unnecessary chances with this dangerous winter storm. Stay put and stay safe. I want you to know too that we are very grateful for the people out there who are working hard right now in the cold," North Carolina Go. Roy Cooper said during a press conference Sunday.
A tractor trailer went off an overpass in Durham, North Carolina on Highway 147 over northbound U.S. 15-501 around 5 p.m., according to the Durham Police Department.
Close to 2.5 inches of rainfall is then expected across the Carolinas Sunday, with localized flooding likely stretching north towards the New York City Metro through Monday morning.
Heavy rain and strong, gusty winds will be sweeping up the I-95 corridor Sunday night into the early morning hours on Monday. While widespread flash flooding is not anticipated, isolated flooding issues could impact some urban areas when the heaviest rain is falling overnight.
New York Gov. Kathy Hochul also advised residents to prepare for the storm by having enough food, water and batteries in the home in case of power outages. Hochul warned people to avoid travel after Sunday evening due to potentially dangerous road conditions.
"This could be a very dangerous situation," Hochul said.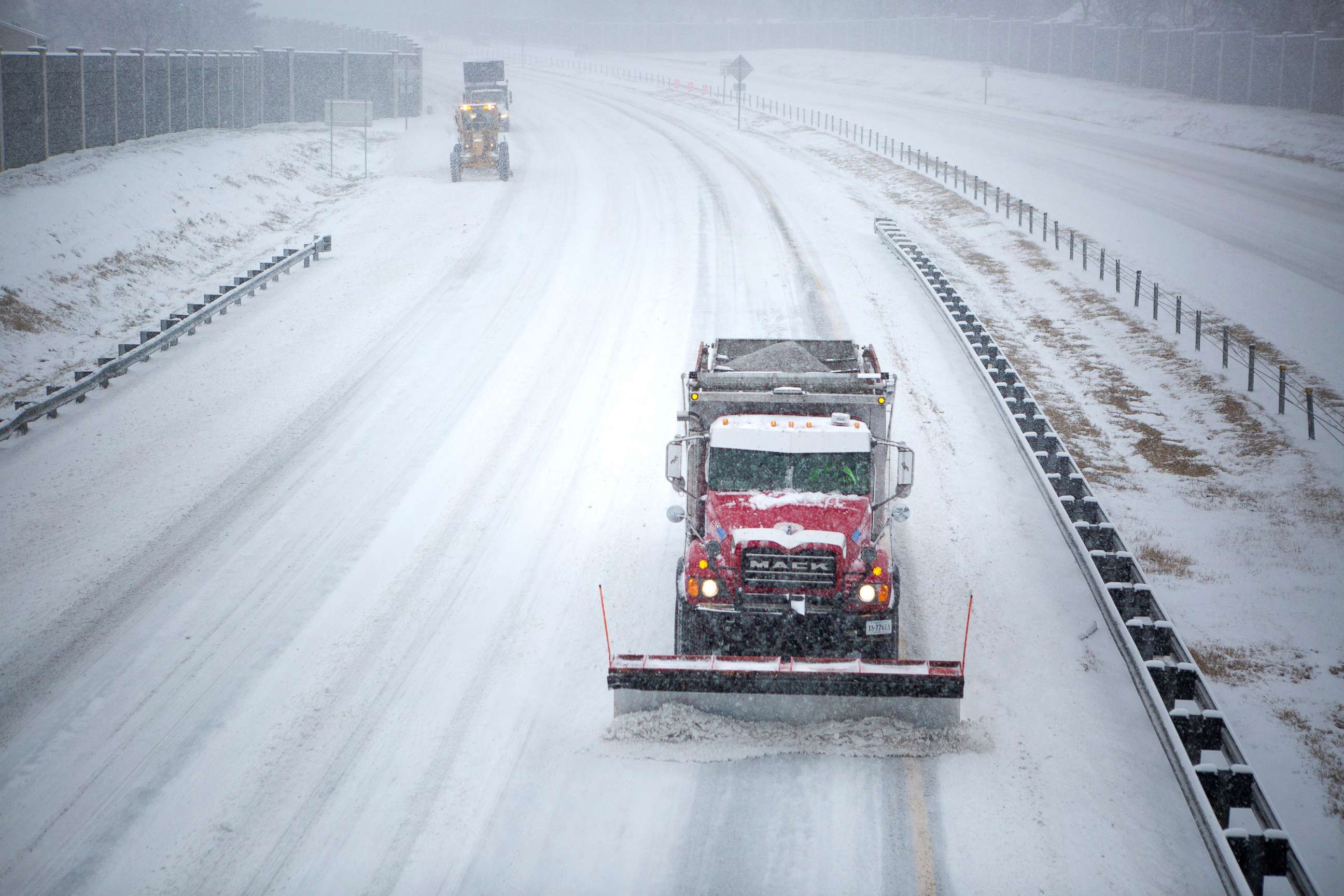 There will be lingering rain and snow showers as well as gusty winds in the Northeast throughout Monday, but the storm will mostly be over in the region by late Monday afternoon. The storm is then expected to exit New England by Monday evening.
More than 2,700 flights across the country were canceled Sunday, according to FlightAware. Georgia, North Carolina, South Carolina and Virginia declared states of emergency Friday ahead of the storm, while West Virginia declared a statewide "state of preparedness."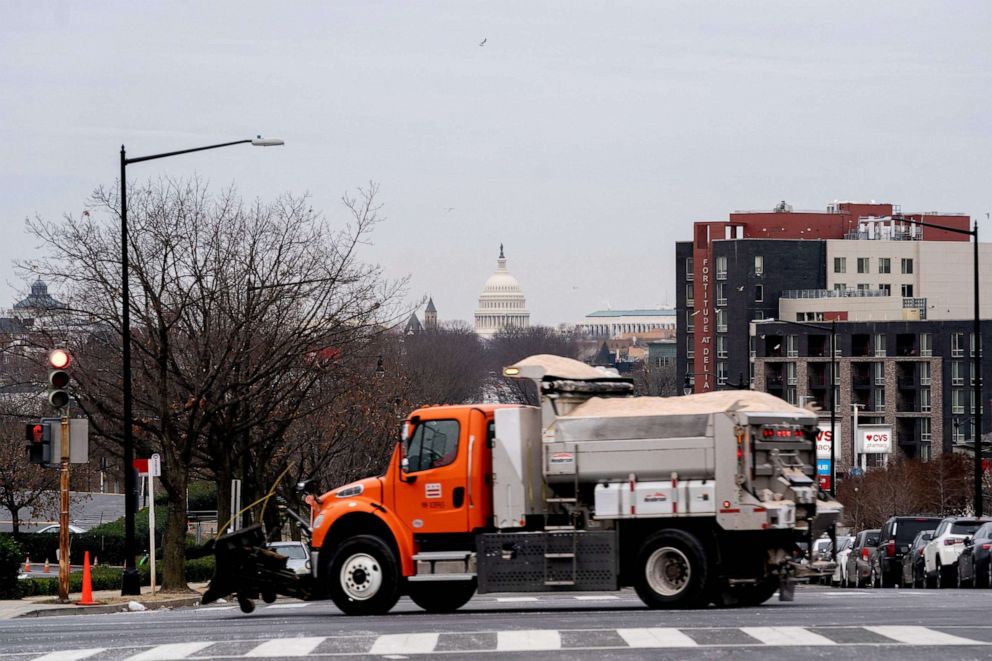 On Saturday, states such as Arkansas, North Dakota, Missouri and Iowa were hit by the storm as it traveled east. Images showed roadways in Kansas City, Missouri, and Little Rock, Arkansas, covered in snow and ice.
On Sunday, personnel responded to almost 1,000 traffic crashes and disabled vehicles across Virginia, the Virginia State Police said on Twitter.
The southern part of the storm system that triggered the line of strong thunderstorms and multiple reports of tornadoes/wind damage in Florida has now pushed off the coast and the tornado threat aspect of this system is over.
ABC News' Meredith Deliso, Hilda Estevez, Elwyn Lopez and Daniel Peck contributed to this report.