— -- A blizzard blanketing the East Coast from New York City to Washington, D.C., left at least 27 dead and paralyzed much of the region as it brought record-breaking snow to several major cities.
The blizzard dumped 26.8 inches of snow on New York City, falling short of tying its greatest snowfall ever by a tenth of an inch. Baltimore had its largest snowfall on record and Newark, New Jersey, had its second largest.
Here is the latest information.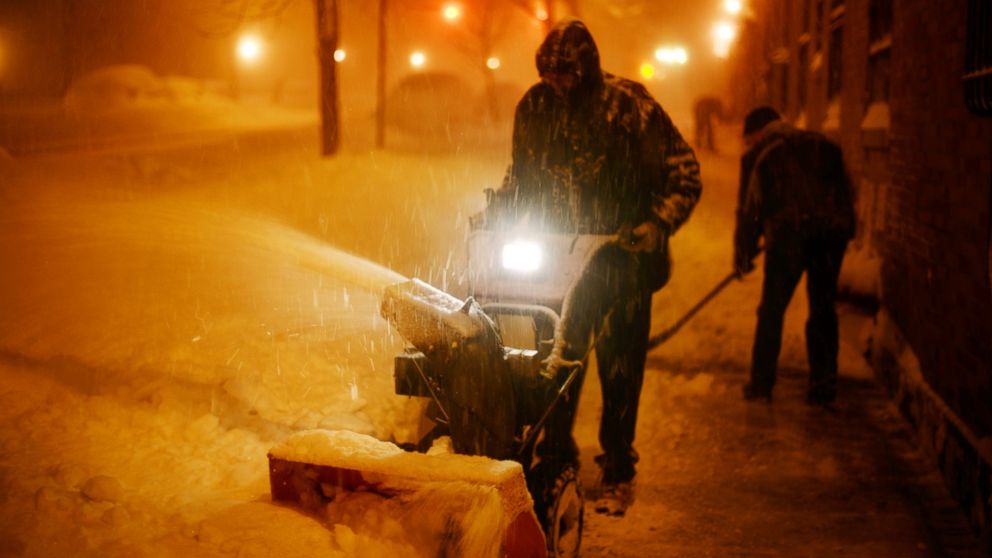 Snow Accumulations as of 5 a.m. Sunday
New Jersey
Newark: 28.1 inches (second greatest snowfall on record)
Elizabeth: 27.9 inches
New York
New York City: 26.8 inches (second greatest snowfall on record)
Port Richmond: 27.1 inches
Commack: 26.5 inches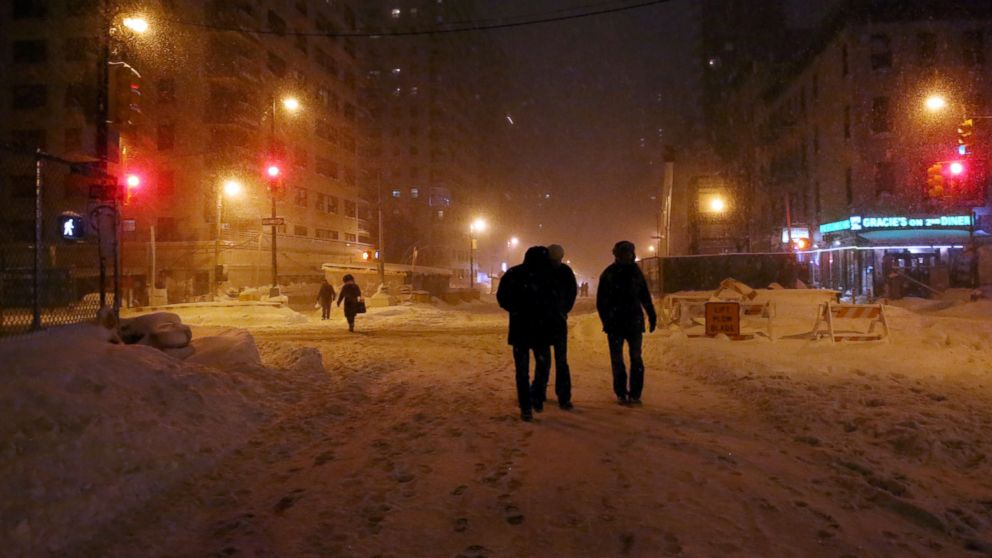 Connecticut
Greenwich: 16 inches
Delaware
New Castle County: 16.1 inches
Maryland
Baltimore: 29.2 inches (all-time greatest snowfall)
Ridgeley: 32.0 inches
Clarksburg: 34.3 inches
Cascade: 37.5 inches
Pennsylvania
Philadelphia: 22.4 inches (sixth greatest two-day snowfall on record)
Allentown: 31.9 inches (greatest two-day snowfall on record)
West Virginia
Jones Springs: 39.0 inches
Virginia/District of Columbia
Washington, D.C.: 17.8 inches (tied for fourth greatest snowfall on record)
Dulles: 22.1 inches
Fatalities
There were 27 storm-related deaths as of Sunday afternoon: five in New York, four in Virginia, two in South Carolina, three in North Carolina, two in New Jersey, one in Kentucky, one in Delaware, one in Alabama, one in Pennsylvania, one in Georgia, and one in Maryland.
Roads and Public Transportation
A travel ban in New York City was lifted Sunday morning as the Metropolitan Transportation Authority planned to restore bus, subway, and regional railroad services throughout the day, according to Gov. Andrew Cuomo's office.
New York City Mayor Bill de Blasio thanked those living in the city with their patience.
"They heeded the travel ban we put in place, which allowed our sanitation workers to get out clear the streets and our first responders to move around," he said. "The snow pile is going to be with us for awhile, but I think we'll be in good shape in the next 24 hours."
Cuomo said today all rail service in and out of New York's Grand Central Terminal is expected to resume later today as well as Metro-North lines in New York and Connecticut. Service on the Long Island Island is still suspended but the MTA said it's working to bring back service for the Monday morning commute.
In Washington D.C., the Metro system is closed today, but it will reopen Monday with limited service for Metrorail and Metrobus.
In Pennsylvania, travelers were stuck on the Pennsylvania Turnpike for almost 24 hours Saturday as 500 vehicles came to standstill on a seven-mile stretch.
In Maryland, State Police said Sunday that I-270 and I-70 were reopened after being closed on Saturday.
Monday Closures
While de Blasio said today New York City schools will be open Monday, Bowser said D.C. Public Schools will be closed Monday.
In Virginia, Fairfax County schools will be closed Monday and Tuesday.
Federal offices in Washington will also be closed Monday, the U.S. Office of Personnel Management said.
Plane Travel
Airlines have cancelled more than 11,000 flights for Friday, Saturday, Sunday and Monday, according to FlightAware.com.
Baltimore–Washington International Airport said late Saturday all runways were closed as snow removal continued. The airport suggested flyers contact their airlines about their flights.
Reagan National Airport and Dulles International Airport in the Washington, D.C., area were expected to remain closed through Sunday, the Metropolitan Washington Airports Authority said Saturday.
The Philadelphia Airport said "a number of airlines will have reduced arrivals, departures" on Sunday.
In the New York City area, travelers were urged to contact their airlines:
Delta Airlines said Saturday it was evaluating its operation at New York City area airports and "as of Saturday evening, the airline anticipated a metered restart of operations beginning Sunday afternoon."
United Airlines said in a statement Saturday it "plans to start very limited operations on Sunday afternoon" at Newark Airport and other New York City area airports.
ABC News' Max Golembo, Dan Peck, Margaret Chadbourn, Matthew Foster, Gillian Mohney and The Associated Press contributed to this report.
Get real-time updates as this story unfolds. To start, just "star" this story in ABC News' phone app. Download ABC News for iPhone here or ABC News for Android here.