Favorite Easter eggs and reveals: Unlocking the hidden secrets of Star Wars: Galaxy's edge
The new, 'official' Millenium Falcon has arrived.
ABC News recently spent a few days at the headquarters of Lucasfilm, Walt Disney Imagineering and then onto Disneyland for a sneak peek at the creation of Star Wars: Galaxy's Edge lands coming this summer to California, and Florida in the fall. This is a collection of some of the cool Easter eggs and reveals we learned along the way, in no particular order.
WARNING: SPOILERS AHEAD!
The new, 'official' Millenium Falcon
Over more than four decades of Star Wars, the decorative detailing on everyone's favorite bucket of bolts has changed slightly depending on how and why it was built: as a plastic model for special effects shots, as interior and exterior sets for actors, or a computer graphic.
For example: take a look at our behind-the-scenes feature on "Solo: A Star Wars Story" for a fun nerdy discussion on the changing number of Falcon landing gear.
And during the making of the original 1977 "Star Wars" movie, a Falcon model built in California had a slight mistake that wasn't corrected before a photo was sent to set builders in England, who faithfully recreated the error onto the full-size ship.
But now, Disney Imagineers and Lucasfilm have apparently agreed that the size, details, and look of the Galaxy's Edge Millennium Falcon officially make it the Falcon of record.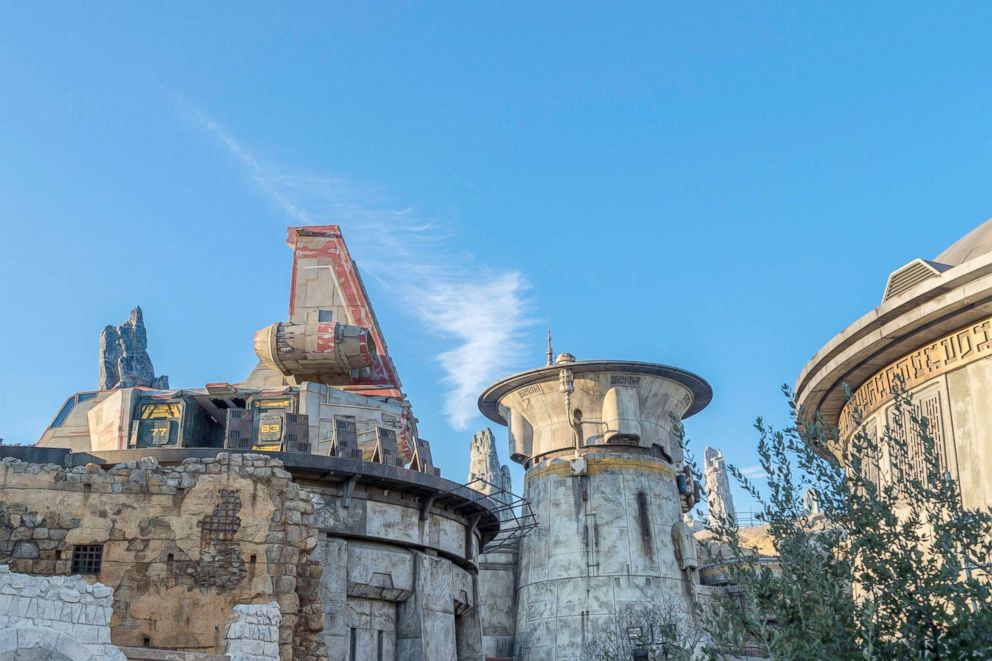 "The ship that you see behind us is the quintessential, definitive Millennium Falcon," says Imagineering creative executive Asa Kalama as he leads a tour. "This is the real deal."
The ship is 110 feet tip-to-tip. And Kalama says designers built the queue area for the Millennium Falcon: Smuggler's Run attraction so that guests could pore over every detail.
"We know people love it, they want to see it, and we want to make sure they can see it from everywhere," Kalama says.
Easter Eggs
In a land that stretches 14 acres and draws on 42 years of Star Wars history, movies, comics, books, TV shows and video games, you can bet there are going to be a lot of Easter eggs baked in to Galaxy's Edge.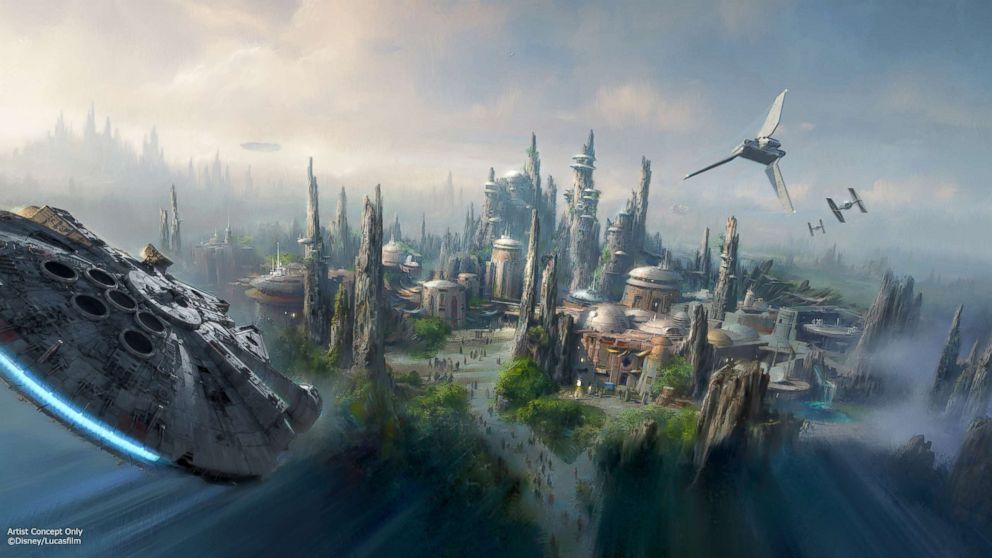 "There are so many visual Easter eggs that you'll have many, many hours trying to discover them all," says Doug Chiang, the legendary Lucasfilm concept artist and creative director. "There's some new vehicles, new things that you'll be seeing for the first time."
Some Easter egg inspiration is drawn from the original trilogy movies like "Star Wars: A New Hope", including the slimy one-eyed dianoga creature that nearly drowned Luke Skywalker in the trash compactor. Be careful when you use the drinking fountains, because the dianoga just might pop up unexpectedly.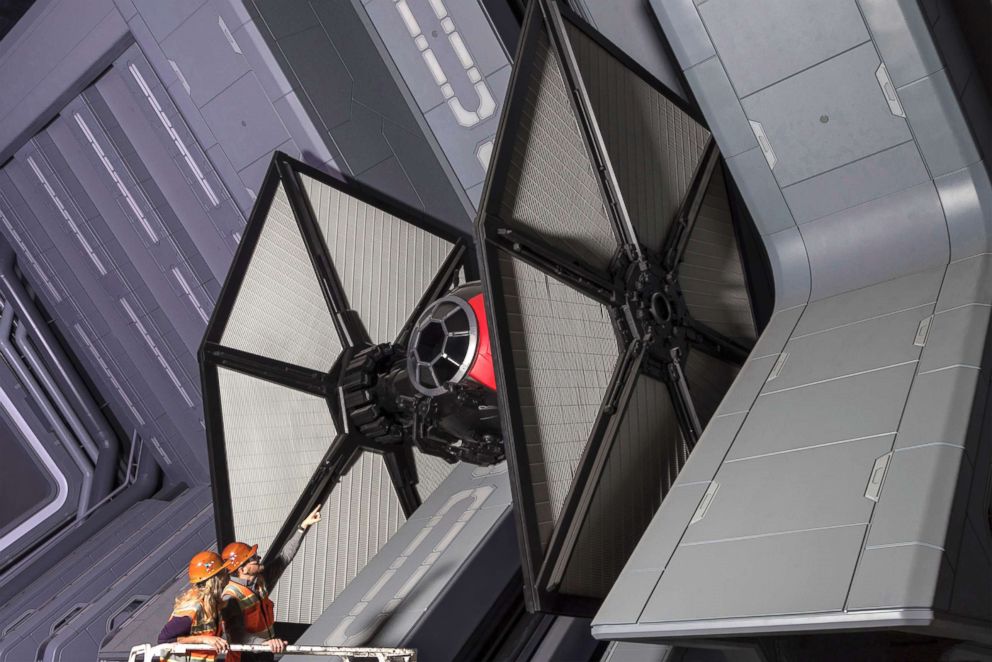 Another creature, called a Loth-cat, first appeared in the "Rebels" animated series. Look for an animatronic version of this furry planet Lothal native curled up in one of the marketplace shops.
Matt Martin, a member of the Lucasfilm Story Group, is a huge fan of Disney parks. (He has a giant Haunted Mansion tattoo on a forearm.)
"It's funny, because I'm not one hundred percent sure that my favorite Easter egg is in the park," Martin says. "But there's one book character that gets a mention on a sign somewhere that is one of my favorite characters. When I suggested putting that on there and no one argued against it, I was very excited."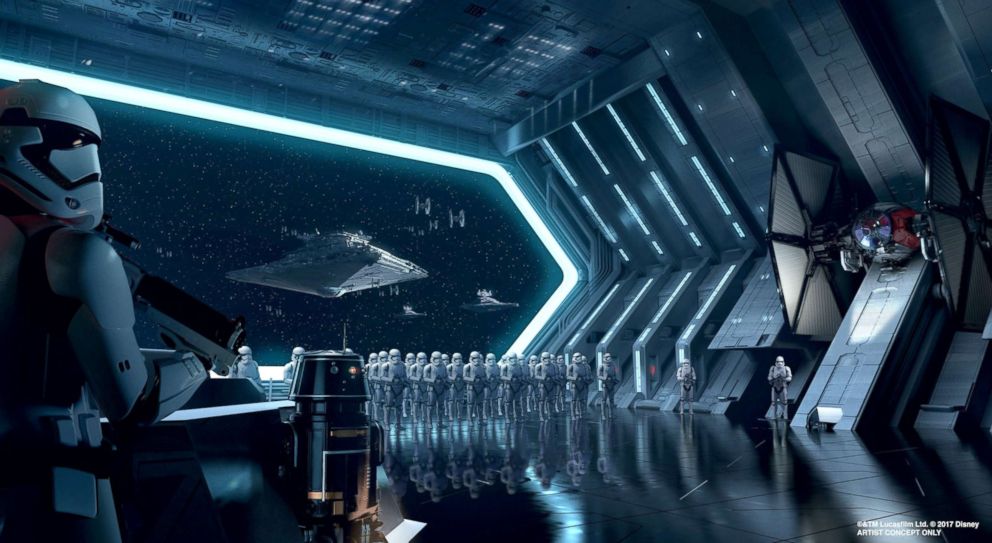 In Oga's Cantina, the DJ droid Rex is a throwback to the original Star Tours ride that debuted at Disneyland in 1987. He is once again voiced by Paul Reubens, famous for creating the character Pee Wee Herman.
Other Easter Eggs you have to listen for. Sources say longtime Star Wars voice actor and sound designer Matt Wood can be heard singing on some of the new alien tunes recorded for Rex's catalog.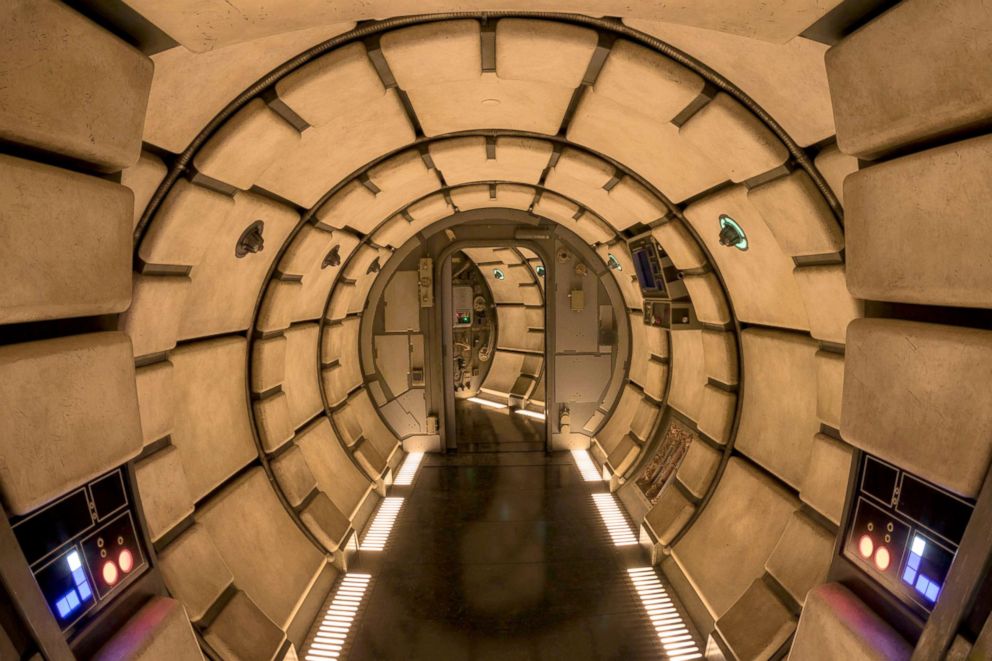 Finally, there's apparently a "Hidden Hidalgo" somewhere on Batuu, a nod to Pablo Hidalgo, longtime Star Wars fan and creative executive on the Lucasfilm Story Group.
Galaxy's Edge laying groundwork for future Star Wars stories
It sounds like the locations, characters and stories that unfold on the streets of Black Spire Outpost could one day show up beyond the theme parks.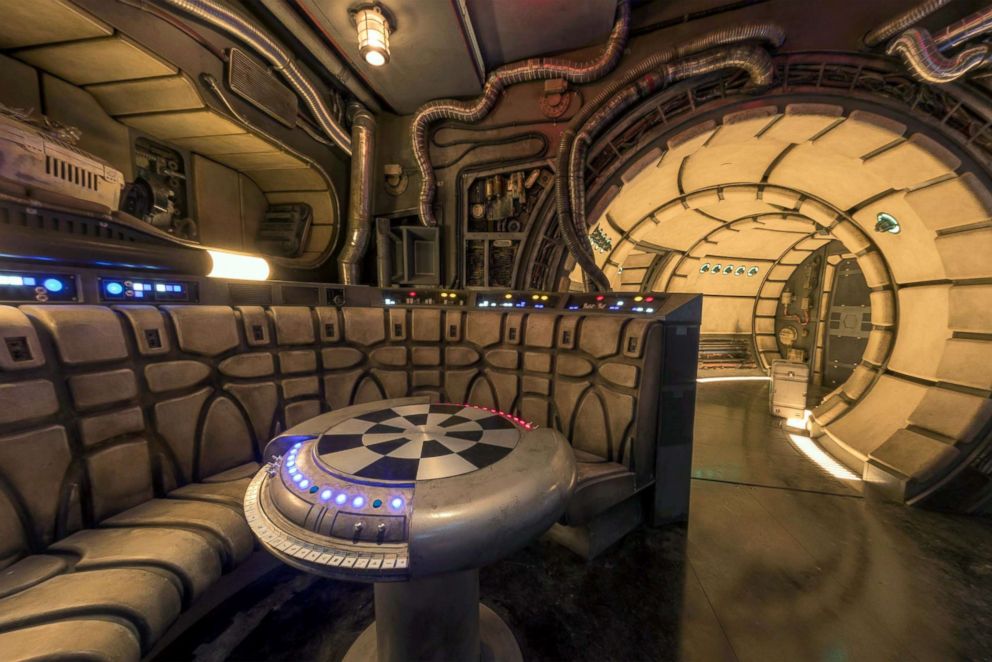 Hidalgo hints that at least some of what was created for Galaxy's Edge could be perfect for future Star Wars stories.
"There will always be situations where the art department will have a design solution for something that's in the parks," Hidalgo explains. "And because they cracked it so well for the parks, that same solution works for a movie or a TV show."
Hmmm.
Hidalgo is careful not to give anything more away. But then there's this from Disney Imagineering creative executive Scott Trowbridge:
"Have we planted seeds for the future? The answer is, unquestionably, yes," he said.
The return of Rey, Finn and Poe
In the Star Wars timeline, Galaxy's Edge is set roughly at the same time as the current movies. So it would make sense that Rey, Finn, and Poe would play an important part of the story on Batuu.
The question was, would these roles -- played by actors Daisy Ridley, John Boyega, and Oscar Isaac -- be performed in-person by Disney cast members in costume? As animatronic figures?
Now it can be revealed that all three will appear in the roles they made famous, for the Rise of the Resistance attraction.
Disney Imagineering spokesman Frank Reifsnyder tells me Galaxy's Edge teams visited film sets for both "The Last Jedi" and "Episode IX" to work with all three actors.
Their characters will appear on monitors, says Imagineering creative executive John Larena, during key moments of the Rise of the Resistance attraction.
The Walt Disney Co. is the parent company of ABC News.