Fiery Scene After Train Derails in North Dakota
Residents in a nearby small town were forced to evacuate this morning.
— -- An early-morning oil train derailment today has led to the evacuation of a small town in North Dakota.
About 40 residents of Heimdal, North Dakota, were forced to leave their homes around 7:30 a.m. today after the Burlington Northern Santa Fe tanker car derailed and caught fire.
In a statement, BNSF said the train was carrying 109 cars, 107 filled with crude oil and the other two loaded with sand. The fire, involving six derailed cars, was still going as of early evening.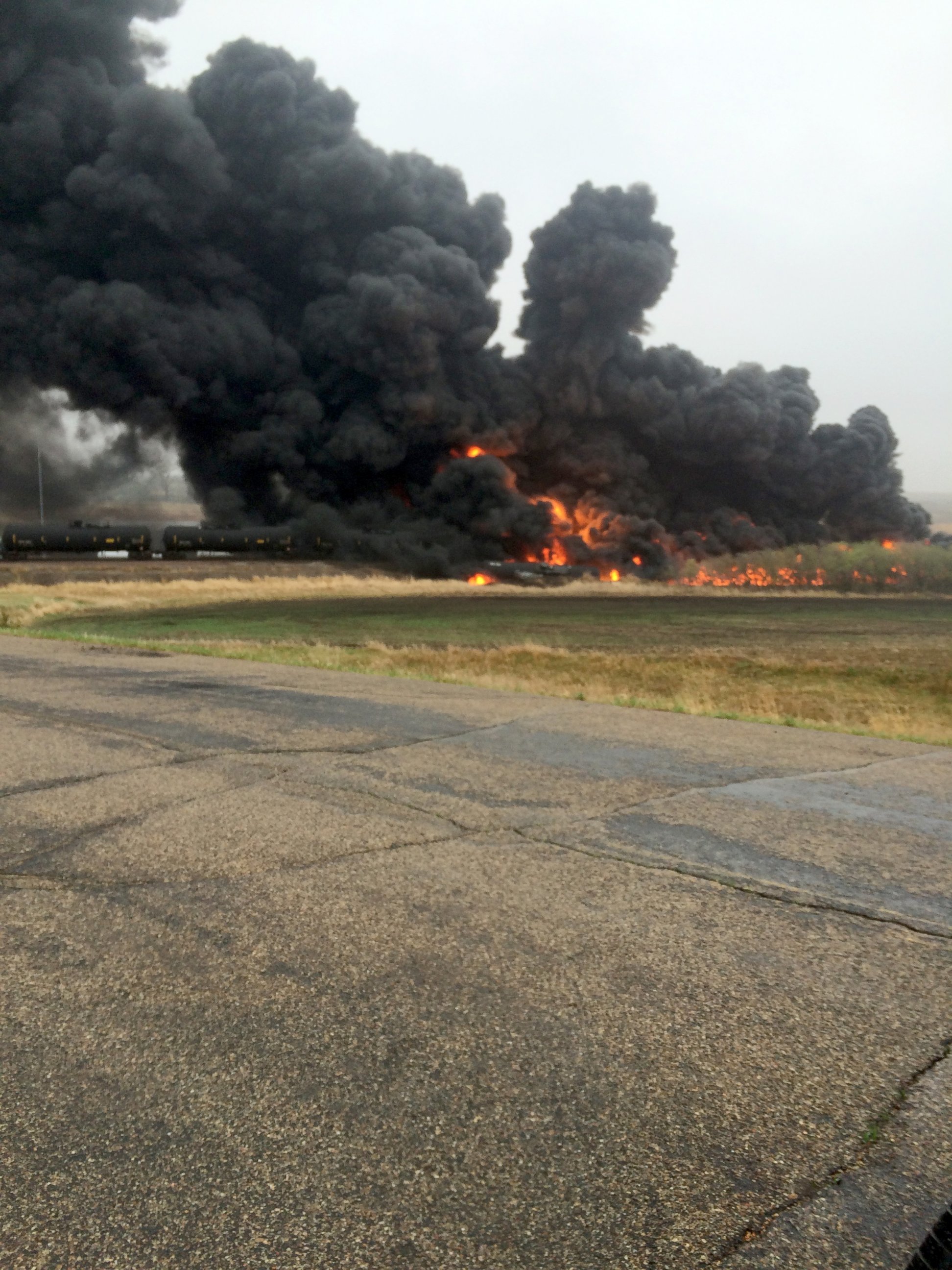 The engine and cars that were not burning were decoupled and moved to safety, according to state emergency services spokeswoman Cecily Fong. State emergency services said that six tanker cars were ablaze. There were no injuries or fatalities reported.
Sarah Feinberg, acting federal railroad administrator, said in a tweet that an investigative team was headed to the site.
"Today's incident is yet another reminder of why we issued a significant, comprehensive rule aimed at improving the safe transport of high hazard flammable liquids. The FRA will continue to look at all options available to us to improve safety and mitigate risks," Feinberg said in a statement.
"It looks a lot like Casselton," Wells County emergency manager Tammy Roehrich said, according to the Bismarck Tribune today.
Roehrich was referring to the December 2013 derailment of a freight train believed to be carrying crude oil in rural Casselton, North Dakota. The derailment created a massive explosion. Black smoke smothered the surrounding area as the wreckage continued to burn.
A statement from Burlington Northern Santa Fe said the company's personnel remained at the scene assisting first responders.
"There are no injuries but there is a fire at the scene," the company's statement said. "The tank cars involved in the incident are the unjacketed CPC-1232 models. Local first responders are on the scene as is BNSF personnel. Additional BNSF personnel are en route. BNSF team members will continue to assist first responders."
On Friday, new rules were announced for a new generation of tank cars that are reinforced and may reduce explosions after derailments. Critics have called these tank cars "train bombs" because crude oil is known to be more flammable than other types of oil.
"Today's derailment of a crude oil train is the second one in our state in the past year and a half," US Sen. Heidi Heitkamp said in a statement. "We cannot allow these to become the norm. ... This derailment reinforces that all sides need to work together to prevent such derailments from happening.