Hammerhead shark dragged to shore by beachgoers may die, expert says
"It broke my heart," said Leigh Cobb, a shark activist that caught it on video.
February 14, 2018, 10:40 AM
— -- A great hammerhead shark in distress was pulled ashore by beachgoers on an island off the coast of Florida, Thursday morning.
Leigh Cobb, a shark activist and educator, shot video of the moment, which she described as "devastating."
At 9:30 a.m. on Singer Island, just north of West Palm Beach, Cobb told ABC News she was on a boat headed out to dive with sharks when spotted a commotion on the beach.
"I saw the dorsal fin and I screamed," she said. "I screamed, 'Oh my god, that's a great hammerhead!'"
She took out her phone to record the scene: Beachgoers trying to remove a hook from the shark's fin and taking selfies with the beached animal.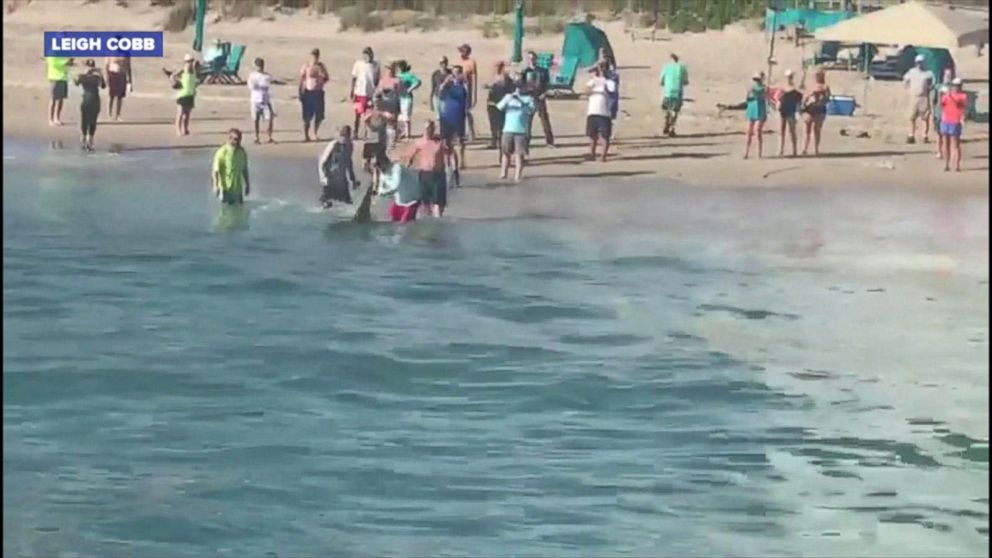 "[Great hammerhead sharks] don't survive after being taken out of the water," Cobb explained, saying that the stress usually causes a hammerhead shark to have lactic acid build up that cannot be reversed, which often leads to death.
"It will die within two weeks," she said. "Absolutely no doubt about it."
In the video Cobb recorded, she was heard screaming at the people on the beach to "get the shark back in the water."
"It broke my heart," said Cobb. "They are the most graceful, beautiful animals ever."
The crowd of beachgoers cheered at the end of the video when they release the shark back to the ocean.
Cobb claims that the shark may have been lured close to shore because of a technique called "blood baiting," which is when fisherman drop fish blood in the ocean to attract sharks.
After witnessing the incident, Cobb said she returned to shore and canceled her plans to dive because she couldn't catch her breath or slow her adrenaline.
"I don't understand why they do it," Cobb said of "blood baiting," which is also known as chumming. "Is it for the trophy photo with a hook in shark?"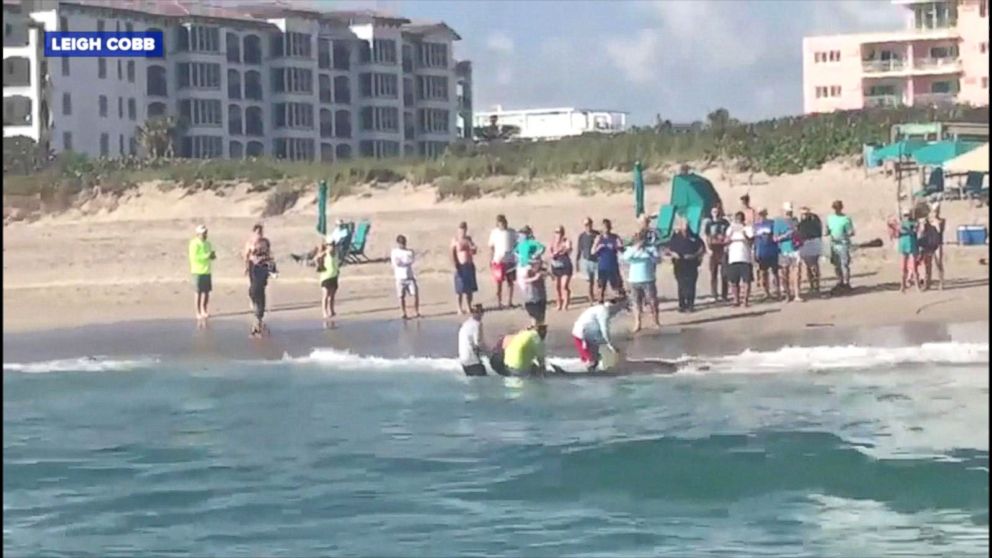 "[Chumming is] unfortunately too prevalent," Marie Levine, the executive director of the Shark Research Institute, told ABC News.
"Sharks don't normally survive [being pulled ashore] because the sharks sustain damage," she added.
Levine says hammerhead sharks, which are endangered, don't usually come colose to shore unless they are baited.
"[Hammerhead sharks] do not normally come close to shore. They had to have lured it," Levine said, adding that hammerhead sharks are endangered.
However, the laws around shark fishing vary based on country, state, and species, and the consequences can range from fines to jail time, Levine said.
Cobb reported the incident to the Florida Fish and Wildlife Conservation Commission.
"FWC law enforcement is aware of the video and is looking into the incident," a spokesperson for the agency told ABC News in a statement.
The FWC advises that fishers should not chum for sharks from the beach or in close proximity to swimming beaches or near swimmers.
"Hammerhead sharks are prohibited from harvest in state waters," the statement added, "and if caught must be released immediately and unharmed."
The FWC is encouraging anyone with information about the incident to contact them.