— -- The mounting sexual misconduct allegations against Hollywood producer Harvey Weinstein have raised questions about why at least 17 women who are speaking out now remained silent for so many years.
Actresses including Angelina Jolie, Ashley Judd, Rosanna Arquette, Mira Sorvino and Gwyneth Paltrow have recently come forward, sharing their own personal accounts of the alleged harassment they said they faced while working with Weinstein.
The accusations of sexual harassment, unwanted touching and even alleged rape made against Weinstein by actresses, writers, assistants and more date back decades, which he has vehemently denied.
"These allegations are so extreme and they've been circulating for decades in Hollywood," Marisa Guthrie, TV editor for the Hollywood Reporter, said on "Good Morning America" today. "So I think this is a wake-up call and there are other shoes to drop here."
When asked whether she believes the revelations will help to end the infamous Hollywood "casting couch," the term for demanding sexual favors in exchange for career advancement, Guthrie replied, "I hope so. I think everybody hopes so."
Weinstein, through a spokeswoman, has denied claims of any nonconsensual sexual relations. His wife, fashion designer Georgina Chapman, announced Tuesday she is leaving Weinstein after 10 years of marriage.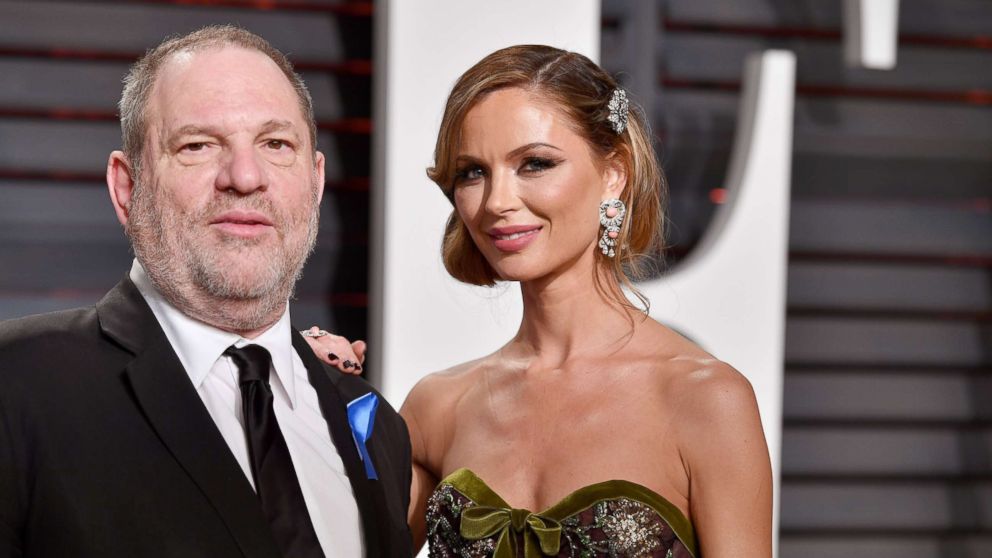 'Not an easy thing to do'
Ashley Cullins, a staff writer for the Hollywood Reporter who has covered the Weinstein scandal, told ABC News that his outsized power in the movie industry likely affected how long women stayed silent about his alleged misconduct.
"When you're just starting out in this industry, you know there are hundreds, if not thousands, of people who want your job," Cullins said. "Coming forward about sexual harassment and sexual assault is not an easy thing to do, especially if your entire career is on the line."
Sexual harassment in the workplace, however, is an issue that extends far beyond Hollywood.
ABC News' chief business correspondent Rebecca Jarvis, citing 2016 data from the U.S. Equal Employment Opportunity Commission (EEOC), said sexual harassment allegations are not discussed as much as 94 percent of the time.
"They don't file a complaint and part of the issue is the imbalance of power and the fear that many women face, and men who are in the situation, in that imbalance of power," Jarvis said on "GMA." "We've heard of EEOC research that 75 percent of the time those who do complain face retaliation."
While the Weinstein scandal has thrust the issue into the national spotlight, an ABC News interview late last year with 10 women from 10 different industries found that sexual harassment knows no occupational boundaries.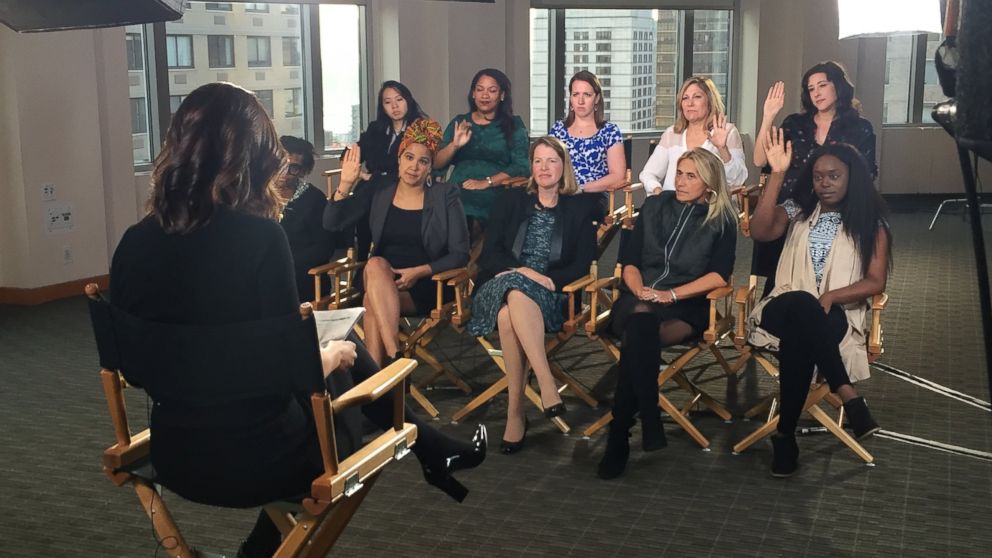 When asked how many of the participants had been sexually harassed over the course of their career, all 10 women raised their hands.
Of the 10 women who said they were sexually harassed, only two said they ever filed a human resources complaint against their harasser.
Dr. Janet Taylor, a New York City-based psychiatrist, said women may not feel comfortable going to the human resources department because often the harassers are in a position of power and the women may feel they could lose their jobs.
"Typically, the women are younger, they may be in a socioeconomic status that means they're very dependent upon their job," she said. "And the perpetrators know this and in fact prey on them and count on their silence."
Amanda, a participant who wished to only go by her first name, told ABC News that speaking out about sexual harassment "always feels like an uncomfortable choice."
"I really have to think about my values and what's important to me and weigh them against my career," she added.
'Strength in numbers'
ABC News chief legal analyst Dan Abrams noted that one issue with women's silence on sexual assault or harassment violations is they often run up against statute of limitations and their alleged harasser can avoid charges.
"The statute of limitations is a real problem in cases like this. Why? Because women are afraid to come forward. They don't want to come forward," he said. "They don't know what the impact will be on their lives, et cetera, which is why you see more and more states trying to change the statute of limitations."
Weinstein, 65, was investigated by the New York Police Department in 2015. The Manhattan District Attorney's Office decided not to file charges after a two-week investigation and Weinstein was never prosecuted.
The Manhattan District Attorney's Office told ABC News in statement Tuesday, "If we could have prosecuted Harvey Weinstein for the conduct that occurred in 2015, we would have. Mr. Weinstein's pattern of mistreating women, as recounted in recent reports, is disgraceful and shocks the conscience."
It continued, "While the recording is horrifying to listen to, what emerged from the audio was insufficient to prove a crime under New York law, which requires prosecutors to establish criminal intent. Subsequent investigative steps undertaken in order to establish intent were not successful. This, coupled with other proof issues, meant that there was no choice but to conclude the investigation without criminal charges."
At least one Weinstein accuser, Louisette Geiss, has hired discrimination attorney Gloria Allred, who is asking Weinstein to agree to arbitration.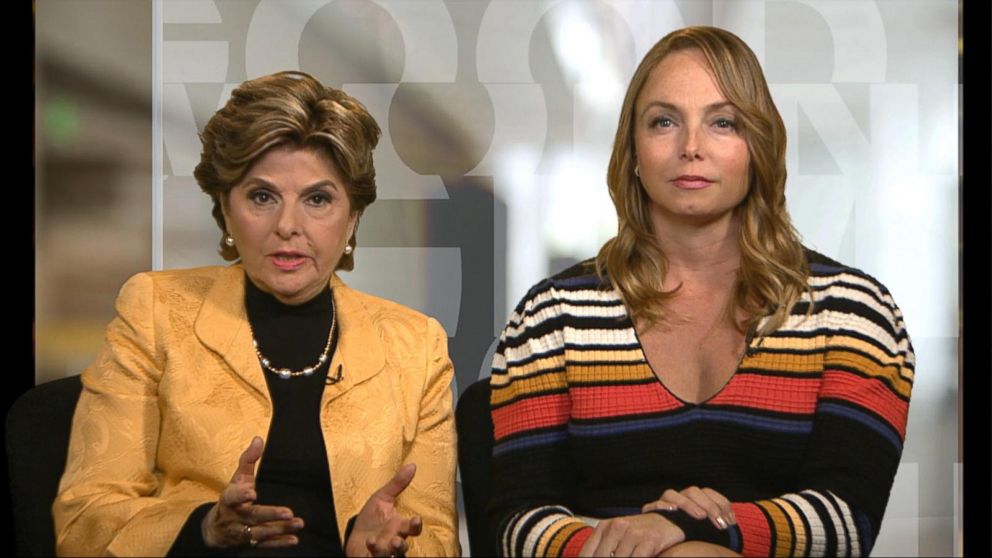 "We could agree on a retired judge and let's let the alleged victims come in, present their evidence against Mr. Weinstein," she said on "GMA." "Mr. Weinstein can present his defenses. If the judge finds in favor of the alleged victims, the judge can order damages, according to proof at trial."
Jarvis said she believes the fallout from the Weinstein scandal could have a real impact on how sexual harassment violations are treated in workplaces across all industries.
"I think there is strength in numbers and I think the outcome here is really going to ultimately dictate how other women perceive this," she said. "If Harvey Weinstein, for example, goes back to his career, if there are not ultimately issues and the women who are coming out face issues and retaliation in their careers, there are going to be women who are fearful to do the same."
She continued, "If the opposite happens, if justice is served, if the women who have come forward go on to flourish in their careers and this isn't an issue or a stain on their reputation, then you're going to see more women feel comfortable."
Guthrie echoed that the more women speak out, the greater the impact.
"It can't be the girls, the sisterhood against the old boys club," he said. "It has to be everybody speaking out about this and raising their hand and saying, 'I saw this and we can't tolerate this.'"
She said of Weinstein, "That's part of the reason … he could keep doing this for so long because everybody kept quiet about it and people who knew about it kept quiet about it. I think we're going to hear from more people coming forward or being outed as having known."