— -- Steve McQueen racing through the hilly streets of San Francisco in his Mustang GT fastback will go down as the most daring and iconic car chase in Hollywood history. The nine-minute scene in "Bullitt" took four weeks to shoot, cemented McQueen's status as the "King of Cool" and made a star of the Ford Mustang.
Car enthusiasts always wondered what happened to McQueen's dark highland green Mustang. Two were used in the 1968 movie, and one, a heavily-damaged stunt car, was discovered in a junkyard in Mexico in early 2017. The other, the so-called "hero" car, seemed to have vanished. Warner Bros. had sold the car to a private buyer post-production but it quietly appeared again in a 1974 Road & Track classified ad.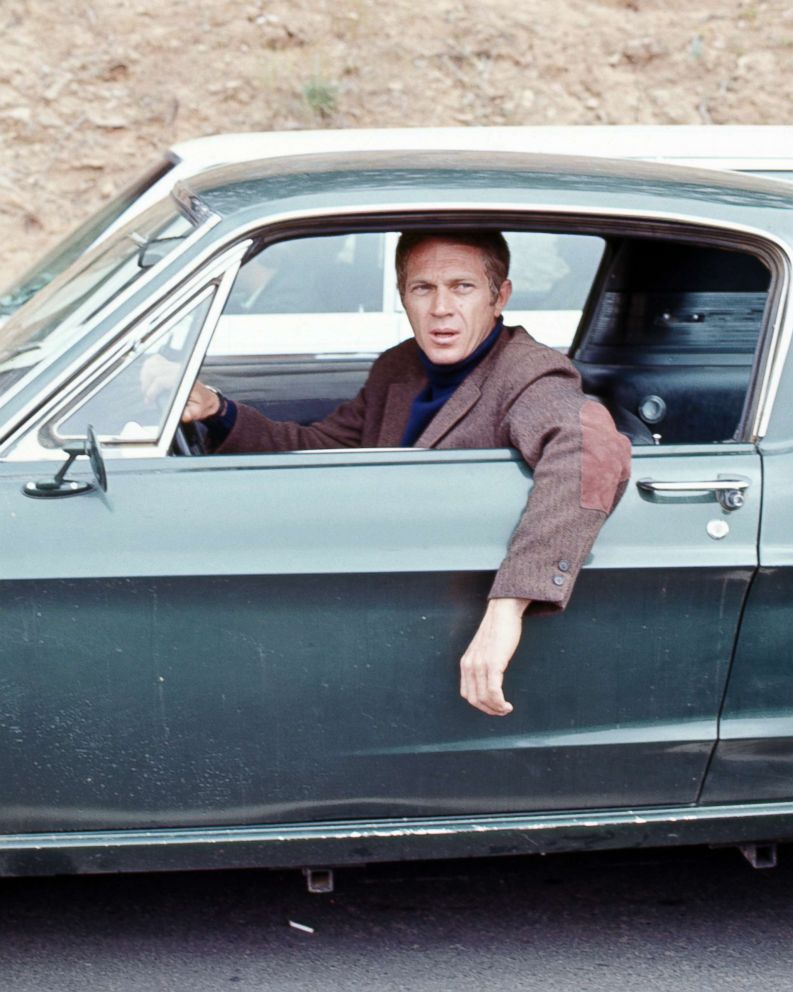 "1968 'Bullett' [sic] Mustang driven by Steve McQueen in the movie 'Bullett'. British Racing Green, 4 speed, new tires, 19,000 miles, mint condition, can be documented. Best offer," the ad, printed near the bottom of page 121 in the magazine's October 1974 issue, read.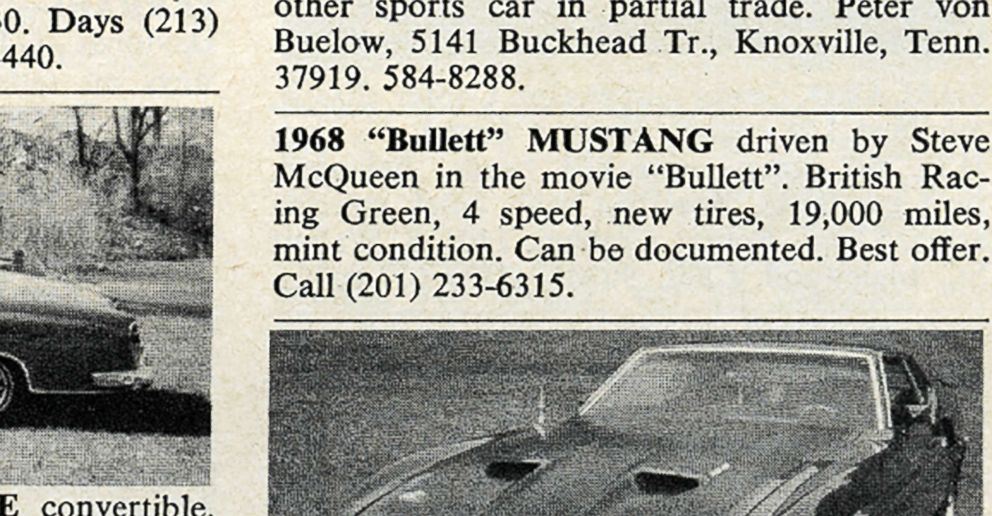 Only one person responded to the ad: 26-year-old Robert Kiernan of Madison, New Jersey. He paid $6,000 to a man named Frank, who happened to live just an hour away from the Kiernans.
"My father and mother had seen 'Bullitt' and knew about the car," their son, Sean Kiernan, told ABC News. "My dad was definitely a car guy."
Robert Kiernan, a fan of classic cars, had already owned a 1966 Mustang, a 1970 Alfa Romeo Spider and a 1973 MGB GT.
Robert Kiernan and his wife, Robbie Kiernan, would take their new Mustang for weekend trips to Maine and Upstate New York. It was also the car that Robbie would drive everyday to St. Vincent's Parish, where she worked as a third-grade teacher.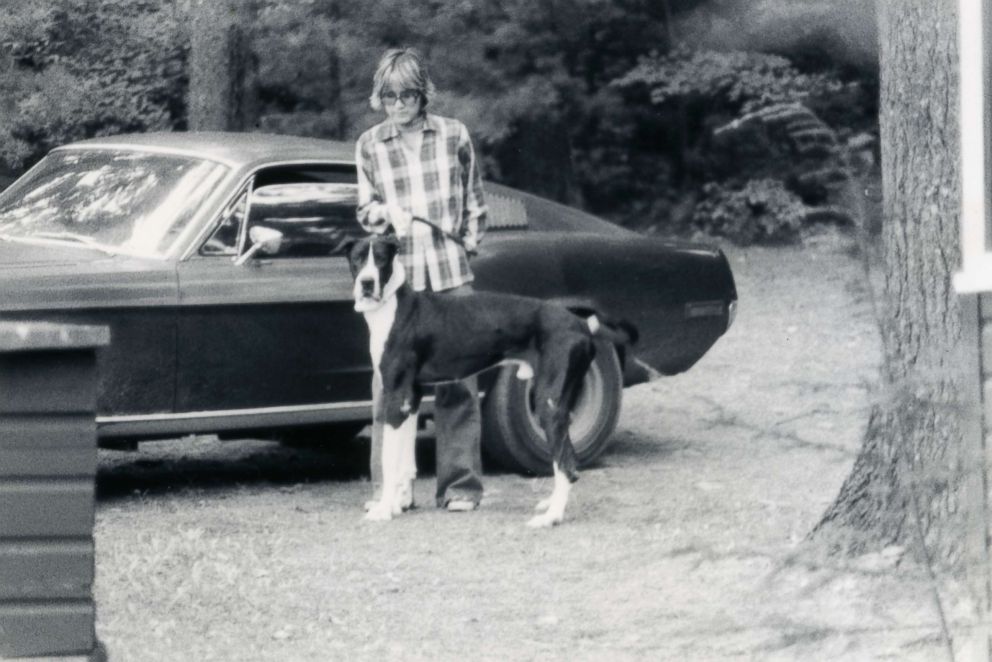 "The body was not in the best of shape but it was a daily driver," Sean Kiernan, 36, said. "We never referred to it as the 'Bullitt Mustang.' Some people were even skeptical that it was the same car from the movie."
The Kiernans chose to leave the Mustang in the same condition that McQueen had driven it: no headliner or sound-proofing installation (both were removed for the movie), a straight pipe exhaust (to improve performance) and gaffer tape on the rear seat belts. Even the car's paint is original.
"The car didn't impress me much back then," Kelly Cotton, Sean's sister, told the Detroit Free Press this month. "You could hear the car before you saw it. And there were holes in the floorboard on the passenger side where the camera mount was used for the movie. I could watch down at the road as we drove along."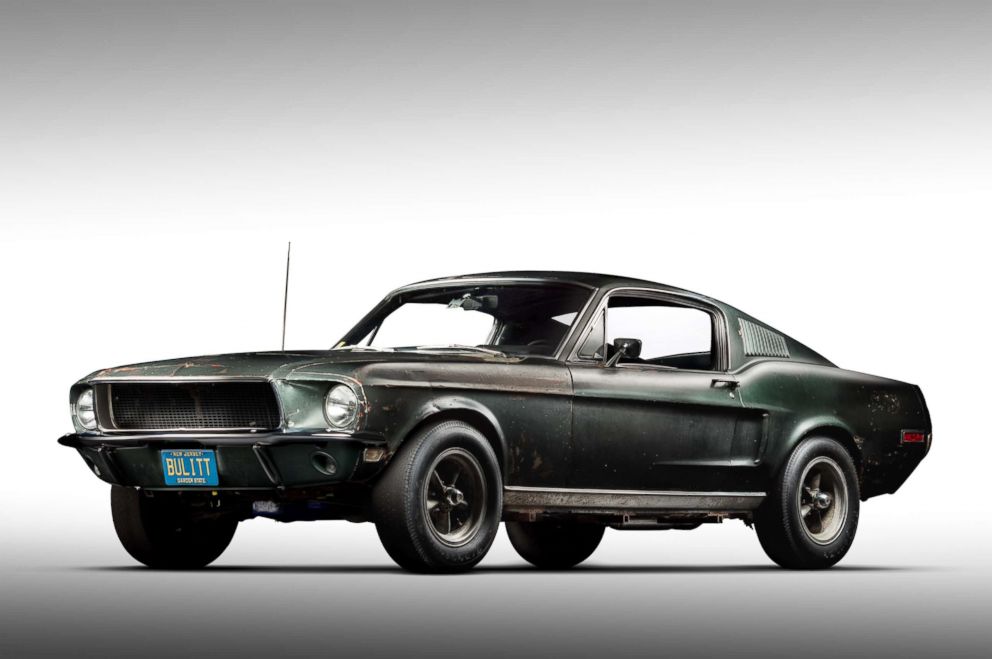 McQueen must have sensed that his former partner-in-crime was living out its life in suburbia. He called the Kiernans a few years after they purchased it, asking for his car back. The answer was no, according to Sean Kiernan. A week later a letter arrived in the mail from McQueen.
"Again, I would like to appeal to you to get back my '68 Mustang. I would like very much to keep it in the family in its original condition as it was used in the film, rather than have it restored; which is simply personal with me," McQueen wrote in his letter, dated Dec. 14, 1977.
"I would be happy to try to find you another Mustang similar to the one you have, if there is not too much monies involved in it. Otherwise, we had better forget it," he concluded. "With kindest regards, I remain very truly yours, Steve McQueen."
Sean Kiernan said his dad never budged and eventually McQueen stopped his pursuit of the car. The Kiernans ultimately moved to a horse farm in Kentucky, parking the Mustang in the garage. It had stopped running in 1980 and languished in that barn for decades, unbeknownst to the world.
"I didn't understand the car, and what we had, until I was 25," Sean Kiernan said.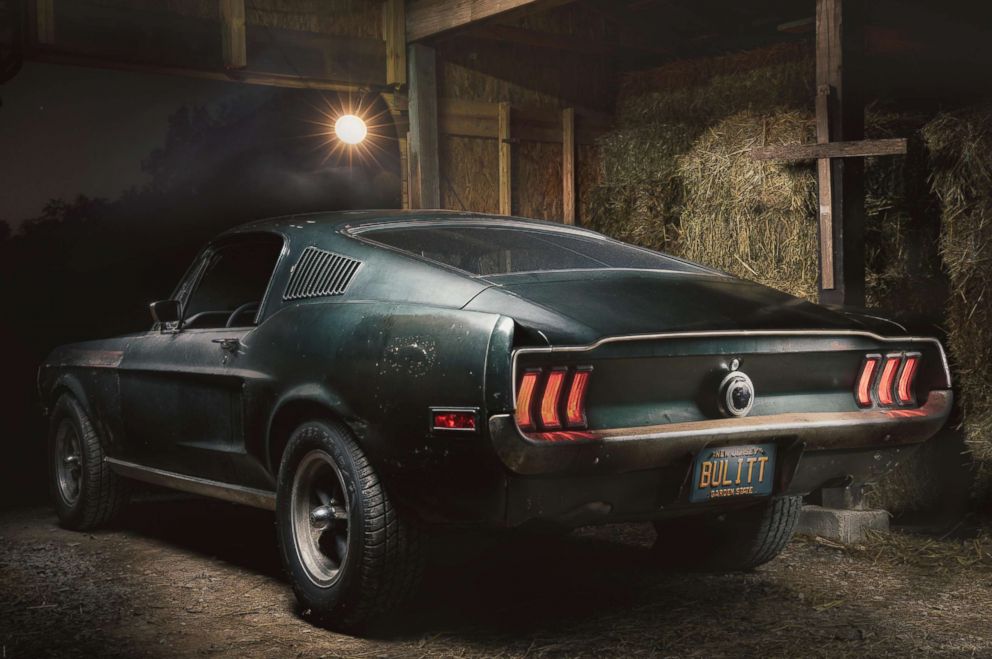 Now, after showing off the car to the world at the Detroit auto show in conjunction with Ford, which is releasing its 2019 Mustang Bullitt to commemorate the 50th anniversary of the movie, Sean Kiernan has hired a broker to field calls about his car. He said he's not selling, but admitted that he would reconsider if the right offer presented itself. Until then he's taking what could be cinema's most revered car on a road show, including stops in Washington, D.C., and London. And after some routine maintenance, this bad-ass legend is charging through the streets once again.
"As a designer, it's one of my favorites," Darrell Behmer, Mustang chief designer, told ABC News. "The colors are muted, there are no stripes or spoilers … it's a very clean, very sexy and cool car. I have a young design team and I told them their first assignment was to see the movie."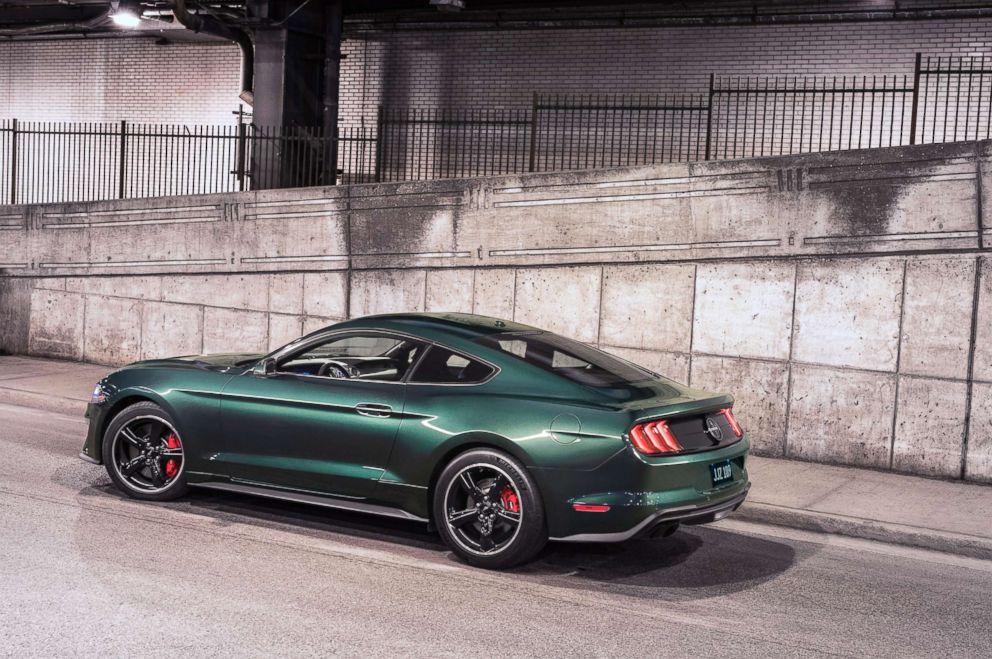 Sean Kiernan said the feedback in Detroit was overwhelmingly positive.
"People told me, 'Thank you for sharing the moment,'" he said. "A lot of people are really happy I didn't touch it."
Molly McQueen, Steve's granddaughter, was on hand for the big unveiling in Detroit. She said the event has brought her closer to her famous grandfather, who died seven years before she was born.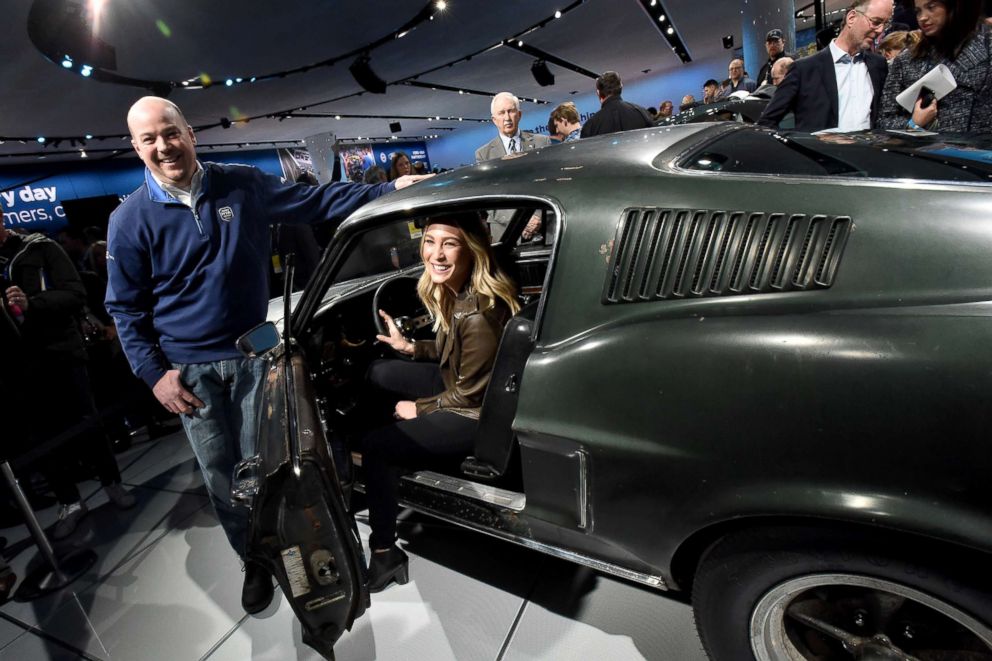 "He would have fully supported this," she said in a phone interview from California. "He shouldn't be forgotten, and this is a cool way for him to be remembered."
She added, "Sean is paying homage to his father, as am I with my grandfather."